Feb 15, 2007 — by LinuxDevices Staff — from the LinuxDevices Archive — 2 views

FIC has announced an on-sale date for its Neo1973, expected to be the first low-cost, high-volume phone with a user-modifiable Linux-based operating system. Additionally, the OpenMoko project building open-source software for the phone has published a wealth of technical resources.
FIC's Neo1973 phone was announced last November, at the first Open Source in Mobile conference, by FIC product development manager Sean Moss-Pultz. Moss-Pultz positioned the device as the first low-cost, mass-market mobile phone to feature a user-modifiable Linux-based operating system.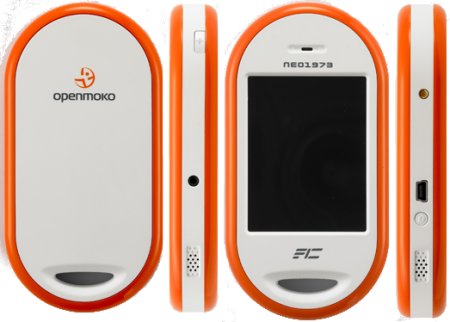 OpenMoko Neo1973, in orange
(Click to enlarge)


Neo973, in Silver
(Click to enlarge)
Concurrent with his Neo1973 announcement, Moss-Pultz announced that FIC would sponsor an ambitious OpenMoko project aimed at maintaining a completely open-source mobile phone operating system. Seeded by 30 software developers and 15 hardware developers on staff or paid by FIC, OpenMoko uses an open, community-based development model patterned after Nokia's Maemo project and the One Laptop Per Child Project, which Moss-Pultz characterizes as "the premium open source projects, that are really changing some things in embedded systems."
LinuxDevices recently caught up with Moss-Pultz, who confirmed that the Neo1973 had been delayed. He said, "I was thinking the hardware would be ready 3-4 months ago, but we're just now getting it stable. The shame is that the software needs the hardware before you can do true integration work."
Depite the delay, Moss-Pultz described the OpenMoko community as "going berserck," with several thousand mailing list subscribers, and hundreds of emails posted daily. Additionally, he noted that Wikis have been established to filter the best ideas and information from the lists. He said, "We're getting high-quality feedback and development ideas, and people already are starting on projects. People are cool with the delays — it's just life."

Neo1973, in Green
(Click to enlarge)
Moss-Pultz said that Apple's iPhone announcement in January helped validate the concept of a GPS-enabled mobile phone with a high-resolution screen, but no hardware keypad. He said, "More and more, articles are comparing us to the iPhone. Both phones use Unix-based OSes. There are UI comparisons, look and feel comparisons, articles on the 'open system vs. the closed system.' We couldn't ask for a better foil."
Moss-Pultz adds, "Of course, the Neo1973 will ship 4-6 months before, for half the price."
When exactly will the Neo1973 ship, and how much will the unlocked, quad-band GSM/GPRS phone cost? Moss-Pultz said, "We were hoping for January. Now, there will be two phases. The first [was] Feb. 11, with free phones for prominent open source community members. The real sale date will be March 11. That's when the online store opens, and everyone can buy one direct, for about $350."
New OpenMoko community resources
Several new OpenMoko community resources were announced on the OpenMoko-announce mailing list on Feb. 14 by core developer Harald Welte. Among other contributions, Welte wrote the modem multiplexing code that enables OpenMoko-based devices to simultaneously browse the web and take/make calls, for example.
In his note announcing the resources, Welte listed the following new OpenMoko resources:
"Please also note that [OpenMoko mailinglists] now has a number of more mailinglists," Welte added. "To understand which list is used for what, I suggest reading [the OpenMoko mailinglists list]."
The GPE (GPE Palmtop Environment) also recently announced an open source mobile phone software development project.
---

This article was originally published on LinuxDevices.com and has been donated to the open source community by QuinStreet Inc. Please visit LinuxToday.com for up-to-date news and articles about Linux and open source.