Aug 24, 2006 — by LinuxDevices Staff — from the LinuxDevices Archive — 2 views

Japan's largest mobile operator will power-up a 3.5G network next week, and launch a Linux-based phone capable of using it. The N902iX phone, supplied by NEC, offers features most U.S. and European users can only dream of — such as 3.6Mbit/s peak download speeds.
HSDPA (high-speed downlink packet access) is based on the same WCDMA technology used in DoCoMo's currently available 3G network, FOMA ("Freedom of Mobile Access"). However, HSDPA offers peak download speeds approximately 10 times greater than the 384Kbit/s rates offered by FOMA.
DoCoMo's HSDPA service will launch on August 31, with initial coverage limited to Tokyo. Other major Japanese cities will be brought online by October, and 90 percent of DoCoMo subscribers will have access to the service before 2008, according to a Telecompaper report.
In the meanwhile, where HSDPA service is not yet available, the N902iX mobile phone can fall back to FOMA, DoCoMo says. The phone operates on licensed 2GHz and 800MHz frequency bands. It additionally supports 1.7GHz, and can use DoCoMo's "WORLD WING" W-CDMA international roaming service, said to be available in 33 countries/regions.
The featureful N902iX
The Linux-based N902iX is a relatively large flip-phone that measures 4.1 x 2 x 1 inches, folded, and weighs 3.3 ounces (133 grams). It will be available initially in "Cygnus White" or "Titanium Silver."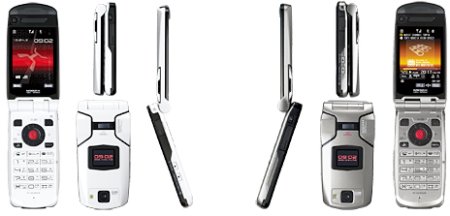 N902iX in white (left) and titanium (right)
The N902iX is likely powered by an Intel XScale processor — possibly the same next-generation "
Monahans
" model (PXA29x) used in Panasonic's newest P902-series phones. NEC and Panasonic have long collaborated on the Linux OS used in phones for DoCoMo's 3G networks, most recently forming a
joint venture
dedicated to producing Linux phones. The N902iX runs a MontaVista-based Linux kernel, MontaVista spokesperson Dwaynne Vanderhorst confirmed.
The N902iX has two displays, including a 1-inch, 120×90 external screen with 65K colors, and a 2.5-inch "QVGA+" (345 x 240) TFT LCD display supporting 262K colors. NEC claims the internal display can render 72 percent of all colors in the visible spectrum, giving it the highest "color expression power" (NEC's phrase, via Google's translation engine) of available phone displays.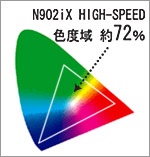 NEC's "color expression power" chart for the N902iX's display
The phone eschews a touchscreen, in favor of an 8-way "neuro pointer."
The N902iX has two cameras. An internal CMOS camera captures images at all popular conferencing resolutions from 128 x 96 to VGA (640 x 480). The external camera has a 4-megapixel (2,304 x 1,728) CCD (charge-coupled device) sensor, along with a 9x, 16-stage digital zoom. Additional features include 2-axis image stabilization, autofocus, and "DPOF/ExifPrint/PIM III/PictBridge" printing.

Image stabilization reduces low-light blurriness, NEC says
The N902iX also has a biometric security system capable of authenticating users via voice, face, or fingerprint recognition.
Lots more functions
Music appears to be the N902iX's main focus. Topping the phone's long list of multimedia capabilities is a "Music Channel" service. Subscribers' phones connect to the Channel during the night, automatically downloading up to an hour's worth of programming. Only one program at a time appears to be stored on the phone, however.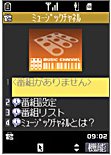 The Music Channel interface
The N902iX also supports several other music download services, including Chaku-Uta Full and SD Audio.
Some Linux-based music phones — Motorola's cool but relatively inexpensive ROKR E2, for example — offer extremely simple media players. Not so the N902iX. Its player can display album cover art, music videos, lyrics, and even link to band websites.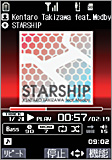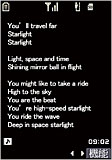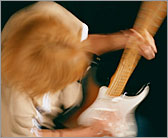 Now that's a music player
The N902iX appears to have about 4MB of user storage, expandable via a miniSD card slot. The phone comes with an "SD Jukebox" PC software application to help users manage their media files. The phone also includes an adapter for headphones with standard 1/8-inch stereo mini-plug jacks.


Media management software, and included headphone adapter
What else besides music?
The N902iX comes with a "full browser" capable of opening pages up to 300KB, as well as up to five window tabs simultaneously. The browser can display sites in "normal" mode, or adjust content to better fit the screensize. It supports only JPEG and GIF images, and does not appear to have a Flash plugin, however.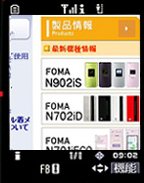 The N902iX's "full browser"
Other network services supported by the N902iX include:
A photographic search feature said to allow users to take pictures of CD covers, wine labels, images from catalogs, and other items, and then be directed to online retailers offering the same or similar items
"mopera ANSHIN manager" enables corporate administrators to lock phones and delete/backup phonebooks remotely
"Chaku-moji" service allows a 10-character message to be displayed on the receiver's screen as the phone rings
Integrates with DoCoMo's DCMX credit card system, and Osaifu-Keitai e-wallet services, "including mobile-phone credit cards, e-money, e-ticketing, and membership programs," DoCoMo says
Integrates with the ToruCa electronic payment system, which can be used to buy train tickets or purchase restaurant meals, using touchless point-of-sale terminals
Includes high-speed real-time traffic, weather, and news services
Also supports iMode's iChannel "push" services, such as news, weather, and daily fortunes
"John the Don" network-based role-playing game
Other services that we could not decipher, based on computer translations alone
Additionally, the N902iX appears to offer several innovative security features, including an "Omakase Lock" service that allows DoCoMo to disable phones reported lost or stolen. The phone also includes a user-configurable "PIM lock" to safeguard access to the phonebook, calendar, and other sensitive data, and a "secret folder" whose contents — pictures, videos, or bookmarks, NEC suggests — are only accessible when the phone is run in "secret mode" or "secret private mode" (NEC's phrases, by way of Google translation).
Finally, additional features touted by NEC include:
"Mogic Engine" word-completion works with hirigana and kana
PTT (push-to-talk) with up to 5 others
Supports iApplications (Java apps) and iMotion (movie downloads)
PDF reader
Infra-red remote control for consumer devices
Email client with storage for 1,000 incoming and 400 outbound messages
Claimed standby time is 560 hours, when stationary, or 440 hours, when moving. Call time is listed as 150 minutes, or 100 when using the "viewphone" capabilities — presumably a kind of video-conferencing.
Availability
DoCoMo's 3.5G HSDPA service and the Linux-powered NEC N902iX mobile phone launch August 31.
---

This article was originally published on LinuxDevices.com and has been donated to the open source community by QuinStreet Inc. Please visit LinuxToday.com for up-to-date news and articles about Linux and open source.