Nov 25, 2008 — by Eric Brown — from the LinuxDevices Archive — 113 views

CaptiveWorks has announced a Linux IP set-top box (STB) and digital video broadcast receiver that offers FTA satellite HD video reception, and media center features. The CW-4000HD Linux Media Center is based on Gentoo Linux and other open source projects, says the company.
(Click for larger view of the CW-4000HD)
Based in Los Angeles, CaptiveWorks has designed, manufactured, and distributed Linux-ready digital video broadcasting receivers since 2005. Earlier products included the CW-1000S and CW-3000HD satellite STBs, as well as the earlier CW-600S, also aimed at FTA users.
FTA loosely describes a collection of digital video broadcast technologies that do not require subscription services to enjoy. Service availability varies greatly by country; one source of availability information may be Wikipedia's FTA page, here.
The CW-4000HD
The new CW-4000HD is a compact Linux desktop equipped with a satellite receiver and media playback capabilities. The core component is the FTA satellite receiver, which is designed to receive no-cost, unencrypted FTA satellite transmissions of HDTV and SDTV signals. Additional features include an electronic program guide, live-TV pause, and zoom.
The CaptiveWorks system can also play FTA TV channels made available via IPTV broadcasts over the Internet, says the company. In addition, it supports peer-to-peer P2P-TV Internet video stream interfacing, in which users broadcast streaming video as well as receive it, somewhat like BitTorrent. An ATSC receiver for digital broadcast reception is optional, and is said to include cable TV support.
The CW-4000HD's media center capabilities include Internet radio reception, an MP3 player, and a picture viewer application. The box comes with a Firefox web browser, and offers DVR and the ability to burn videos to DVDRW, says CaptiveWorks.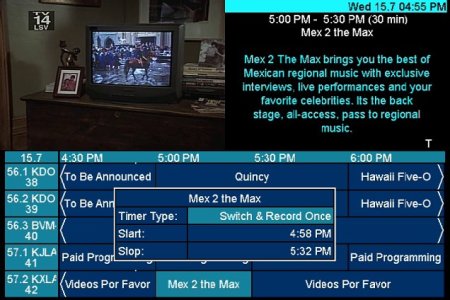 Satellite program guide from similar application on the earlier CW-3000HD STB
(Click to enlarge)
Based on an AMD 5000 X2 processor (clock rate unspecified), the CW-4000HD is said to offer 512MB of RAM, expandable to 8GB, and 1GB of flash. The system lacks hard drive storage, but hard drive expansion is presumably available via the six USB 2.0 ports. The box includes a gigabit Ethernet port, but CaptiveWorks does not appear to tout any networked media functions at this time.
Specifications for the CW-4000HD include the following:
Processor — AMD 5000 X2; Nvidia GeForce 7050 graphics chipset
Memory — 512MB DDRII RAM, expandable to 8GB
Flash — 1GB flash
Video — HDMI/SVGA/Component/S-Video out
Audio — analog and SPDIF Dolby Digital out
Networking — 1 x gigabit Ethernet port
USB — 6 x USB 2.0 ports (two front-facing)
Optical media — DVDRW drive
Satellite Tuner — Genpix Skywalker-CW3K (internal):

Input terminal — F-type 75 Ohm
Receiving frequency — 950~2150 MHz tuning range
Input level — -65~-25dBm
Supports MCPC and SCPC
Symbol rate — 256Ksps~30 Msps
FEC codes — 1/2,2/3,3/4,5/6,7/8 and Auto
QPSK, 8PSK, 16QAM
LNB/switch control — 13/18V (or 14/19V), 22khz, tone burst, DiSEqC 1.0/1.2, legacy switch commands, 450 mA

ATSC Tuner (optional) — LG 5th-generation tuner with QAM 64/QAM 256 cable support; TV antenna 75 ohm reception port; stereo jack
Dimensions — 14.5 x 3.9 x 13.8 inches (367 x 99 x 350mm )
Operating system — Gentoo Linux (2.6 kernel)
The CW-4000HD runs Gentoo Linux with a 2.6 kernel, says CaptiveWorks. The bundled software borrows from open source projects such as FFMpeg, Xine, Mozilla, and VDR (Video Disk Recorder), says the company. Other integrated open source applications include a Java 1.4.2 GUI, X Windows, the GQview image viewer, Roaster, the Lighttpd web server, the EPDFview PDF viewer, and the Samba file server.
The company sponsors a CaptiveWorks.org support site and developer community for its Linux DTV receivers, including the CW-4000HD. The site does not appear to offer development tools, but it does provide documentation, firmware updates, recovery images, and a support forum.
Availability
The CW-4000HD appears to be available now at an undisclosed cost. More information on the CW-4000HD may be found here. The CaptiveWorks.org Linux developers forum may be found here.
---

This article was originally published on LinuxDevices.com and has been donated to the open source community by QuinStreet Inc. Please visit LinuxToday.com for up-to-date news and articles about Linux and open source.