Nov 28, 2007 — by LinuxDevices Staff — from the LinuxDevices Archive — 12 views

Zonbu has started shipping a laptop version of its Linux-based computing appliance for home users. The Zonbu Notebook or "Zonbook 1" is based on a power-efficient Via processor, runs Gentoo Linux and 20 open source applications, and sells for $280 with a managed service plan.
(Click for larger view of Zonbook-1)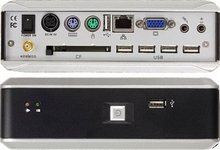 Zonbu's Zonbox
(aka "Desktop Mini")
(Click for details)
The Zonbu Notebook is the second hardware platform to ship from Palo Alto, Calif.-based Zonbu. Its first, the Zonbu "Desktop Mini" (formerly known as the "Zonbox," pictured at right), continues to be available, and in fact earlier this month gained its first stable, 1.0 firmware release, about five months after shipping this July.
The Notebook uses the same Gentoo Linux-based OS as the Desktop Mini, Zonbu says, with a few extras. CEO Gregoire Gentil explained, "It's the same software for both [the Mini and the Notebook]. The Mini will get the [Notebook's] fancy/cool new features, [including the] Facebook plugin, public folder on the desktop that is accessible on the web, sharing files, [and so on]."
Just as the Mini shipped initially with beta software, so has the Notebook. Its operating system will be considered to be in "beta testing" until early next year, when users can expect to experience a "transparent" upgrade to a 1.0 release, Zonbu says.
Both the Notebook and the Desktop Mini are available for purchase at full price as bare hardware, pre-installed with a community-supported version of Zonbu's Gentoo-based operating system. However, both systems are primarily marketed at a discount accompanied by monthly service plans. The Notebook costs $480 free and clear, $380 with a year's commitment, or $280 with a two-year commitment to the $15/month service plan. The Mini costs $100 with a two-year plan.
Besides transparent software upgrades, Zonbu's managed plans aim to remotely backup up to 58GB of user data, scan emails and other documents for viruses, provide the user with access to their data from any Internet PC, and other niceties. Another touted benefit is rapid recovery from hardware failure: since the user's files are in theory backed up, they may be able to resume without a hitch once Zonbu has shipped out a new device (and they can re-use the replacement's packaging when returning the damaged goods, Zonbu suggests).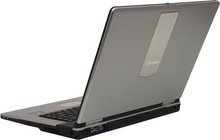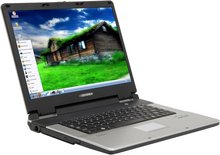 Zonbu Notebook or "Zonbook-1" front and back
(Click either to enlarge)
Zonbu's managed plans resemble the "network computing" model used by many enterprises to reduce support costs. Centralized management keeps all users on the same software version, and in theory lets users un-shoulder administrative burdens like backups, virus scanning, hard drive crash recovery, and so on. Application and user data is at least theoretically de-coupled from the device itself, potentially enabling Zonbu users to upgrade their hardware (say, from a Mini to a Notebook) without changing their computing environment.
The downside, of course, is that a network is required. Zonbu's managed plans currently leverage Amazon's S3 online storage service, although users are not required to know that, as authentication happens in the background. Zonbu's original Desktop Mini lacks a harddrive, and thus seems almost entirely dependent on a network connection. The Notebook, in contrast, has a harddrive, and so is more usable offline, CEO Gregoire Gentil confirmed.
Gentil told LinuxDevices, "The [Notebook's] cache is much bigger, and we have optimize our architecture to work offline. So you can stay offline as long as you want and then, when you are back to the Internet, the software will synchronize back your data with the Internet servers."
In a press statement, Gentil said, "The Zonbu Mini freed [people] from the hassles [of] computer maintenance. Now they can have the same benefits on-the-go."
What's under the hood?
The Notebook is based on a hardware platform supplied by Everex, the U.S. division of Taiwanese PC manufacturing giant FIC (First International Computing). Everex — currently the eighth-largest U.S. PC maker — has also been in the news recently for its TC2502, a gOS Linux- and Via-based PC available at WalMart for $200.
Touted specs for the Notebook include:
Processor: 1.5GHz, VIA C7-M Intel-compatible, low energy use
Display: 15.4-inch WXGA (1440×900) LCD, VGA out
Memory: 512MB
60GB hard drive (58GB for user data)
Optical drive — DVD-RW/CD-RW dual layer
Graphics — Via Chrome9 HC IGP (64MB shared memory, 128MB maximum)
Audio — built-in speaker, microphone, headphone connectors
3 x USB 2.0 ports
Ethernet — 10/100 Mbps
Wifi — built-in 802.11b/g
Power supply — 65 Watt AC-DC adapter
Battery — rechargeable Lithium-Ion, 2h30 to 3h, depending on usage
Size — 14.1 x 10.7 x 1.5 (358 x 272 x 38 mm)
Weight — 5.3lbs (2.4kg)
Keyboard: American QWERTY
The software is really what's noteworthy about the Zonbu, though. The kernel is based on 2.6.22-4. Installed open source applications include:
Internet — Firefox, Evolution, instant messenger, Skype, P2P/BitTorrent
Office — Acrobat Reader, GnuCash personal finance manager, and OpenOffice.org office suite (including database and math components)
Multimedia — Banshee, mplayer, fspot
Publishing — GimpShop, Scribus desktop publisher, Nvu web page editor
Games — Supertux, Tiltball, Tron, Breakout, Frozen Bubble, Penguins, Pingus, Tetris, Chess, Crossword Puzzles, Solitaire, Sodoku, Swap Attach, Blobwars, Chromium, Billiards, Civiliziation, Ataxx, Five or More, Four in a Row, Iagno, Klotski, Mahjongg, Mines, Nibbles, Robots, Same GNOME, Tali, Tetravex
Developer Edition
Another downside of traditional managed clients has been that users cannot install applications of their own. Here, the Zonbu breaks tradition, offering a Developer Edition sure to sate the geekiest Linux user's appetite for root power.
The Developer Edition adds about 280MB of software, including compilers, development libraries, and an entire Linux kernel tree, pre-configured with .config file and various Via patches. This makes it trivial to build additional kernel modules and device drivers. The screenshot below shows how the author added NFS, in order to access a network fileserver.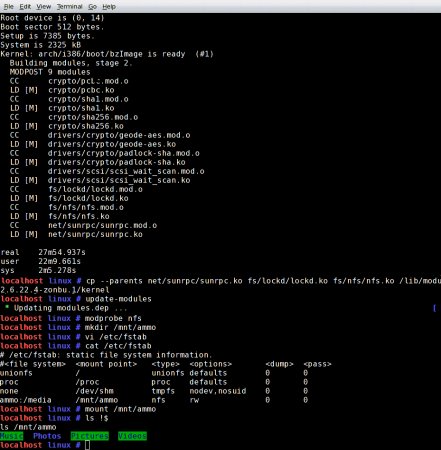 Adding NFS to the Zonbu
(Click to enlarge)
The Developer Edition also lets users compile additional applications using Gentoo's BSD ports-like "portage" system. However, in practice, Zonbu admits that its portage software collection is not exactly maintained at bleeding edge levels, which can cause problems for users that do 'emerge sync' and then attempt to install the most recent versions of things like apache (if you must know, we were trying to add ultimate Linux-based MP3 server features to the Desktop Mini).
Availability
The Zonbu Notebook is available now, priced at $480 without a service plan; $380 with a one-year, $15/month service plan; or, $280 with a two-year, $15/month plan. The service plan includes "12×5" email and chat support, and 50GB of on-demand, continuously backed up storage.
---

This article was originally published on LinuxDevices.com and has been donated to the open source community by QuinStreet Inc. Please visit LinuxToday.com for up-to-date news and articles about Linux and open source.