Jun 29, 2009 — by Eric Brown — from the LinuxDevices Archive — 8 views

Timesys announced that its subscription-based LinuxLink online build service and development environment supports high-end Xilinx Virtex-4 and Virtex-5 field programmable gate arrays (FPGAs). The company also announced a LinuxLink design win with Silicon Turnkey Express (STx) on an upcoming hardware/software development kit.
In January 2008, Timesys announced that Xilinx Virtex 4 FPGAs were being supported by LinuxLink, the Timesys suite of online services for embedded Linux developers creating and maintaining their own Linux distros. Now the automated LinuxLink 3.0 service supports both Virtex-4 and the newer, high-end Virtex-5 FPGAs, says Timesys.
The Xilinx subscription is designed to work hand in hand with Xilinx reference boards, currently including the Xilinx Virtex-4-based ML405 board (pictured below) and the Xilinx ML507 hardware/software kit, which incorporates a Virtex-5 FXT FPGA based on a single embedded PowerPC 440 processor block.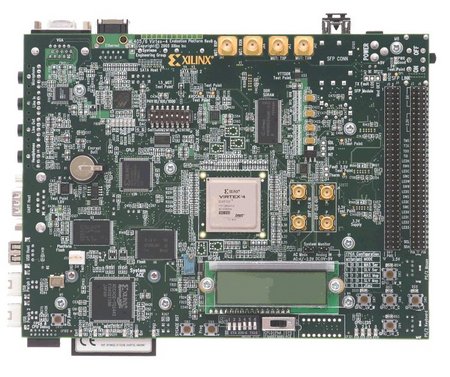 Xilinx ML405 reference board
(Click to enlarge)
The LinuxLink subscription for the Xilinx Virtex FPGAs is said to enable the following activities:
Quickly assemble and boot an initial embedded Linux image on the FPGA
Integrate with Xilinx EDK development tools, which are said to help design teams choose and customize from several IP blocks
Patch/configure/rebuild/update on the desktop
Debug/profile/tune with common open source development tools, including required kernel patches and development libraries/utilities
Obtain help on common development tasks with technical assistance and Timesys library of how-to documentation
LinuxLink is said to enable the design, customization, and integration of a custom Linux image matching the Xilinx hardware platform. LinuxLink supports a wide variety of peripherals for integration with the Xilinx FPGAs, including Ethernet, Serial, and System ACE, says the company.
With the LinuxLink 3.0 upgrade earlier this year, the subscription service introduced a new build engine, web-services-based automation, and a new interface and Toolkit. It also launched more robust versions of the "Factory" and "ReadyKit" programs, which debuted last year. Each Factory-built Linux platform includes a GNU-based cross toolchain, hundreds of application-specific root filesystem (RFS) package sources, and commonly used open source development tools, including GDB, OProfile, and Mpatrol, says Timesys. Subscribers also receive technical support and targeted documentation, says the company.
To complement its new Virtex support, Timesys also announced an FPGA design service. The service is said to include an optimized hardware design and accompanying Linux platform support.
The high-end Virtex-5 FXT, which comes in single- or dual-core versions, integrates 32KB instruction and 32KB data caches in each core. The FPGA offers a claimed 1,100 DMIPS performance at 550MHz, says Xilinx. The blocks are closely integrated with a 5×2 crossbar processor interconnect architecture that is said to enable simultaneous access to I/O and memory. DSP performance runs to over 190 GMACs, claims the company.
STx ADS512102 design win
Last week, Timesys announced a design win with Silicon Turnkey Express (STx), in which the company is offering a pre-installed Linux distribution for the upcoming STx ADS512102 hardware/software development kit. The default Linux image installed on the new STx ADS512102 board is based on LinuxLink , says the company, and the kit is said to include a Timesys Development Center CD.
The ADS512102 kit supports DVI video output, audio, network connectivity, and flash storage support, says Timesys. Neither Timesys or STx offered further details on the board, but the company sells an Apollo AESOP5121 board based on Freescale's PowerPC-based MPC5121e automotive telematics processor. The Mini-ITX board is equipped with Wind River Linux and Freescale's MPC5121eADS development system. The board supports LVDS 24bit (LCD), XGA, and HDMI video, and offers Ethernet, USB, and serial interfaces. It also provides PCI expansion, and support for SATA and flash storage.
Stated Les Hantak, VP of Marketing at STx, "Together, we provide an outstanding out-of-the-box experience for our customers, while offering commercial open-source Linux support and expertise via expert Timesys engineers. Our customers can now easily build a complete embedded Linux product based on the ADS512102 design and leverage the benefits of all the Linux features provided by the Timesys environment."
Availability
More information on the LinuxLink subscriptions for Xilinx Virtex FPGAs may be found here. No information was provided on the availability of the STx Apollo AESOP5121 board.
---

This article was originally published on LinuxDevices.com and has been donated to the open source community by QuinStreet Inc. Please visit LinuxToday.com for up-to-date news and articles about Linux and open source.