Mar 28, 2005 — by LinuxDevices Staff — from the LinuxDevices Archive — 95 views

[Updated Mar. 29, 2005] — German electronics company Kleinhenz Elektronik will ship in April a network-enabled Linux system barely larger than a standard RJ-45 Ethernet jack. "Picotux" is based on the DigiConnect ME module from Digi International, along with a 2.4.27 uClinux port developed by Kleinhenz.
(Click for larger view of the NetSilicon DigiConnect ME, on which Picotux is based)
The Digi Connect ME
Digi International's DigiConnect ME measures 0.75 x 0.75 x 1.4 inches (19 x 19 x 36mm), and weighs 0.64 ounces (18 grams), packaged in a metal housing only slightly larger than a standard RJ-45 module.
The DigiConnect ME is based on an SoC (system-on-chip) from Digi subsidiary NetSilicon. The NetSilicon NS7520 SoC features a 32-bit ARM7TDMI core supporting clock rates of 36, 46, or 55MHz. Kleinhenz lists 55MHz as the clockspeed for Picotux. The NS7520 integrates a 10/100 Ethernet MII and ENDEC MAC, as well as a serial port, external memory controller, JTAG, and 13-channel DMA.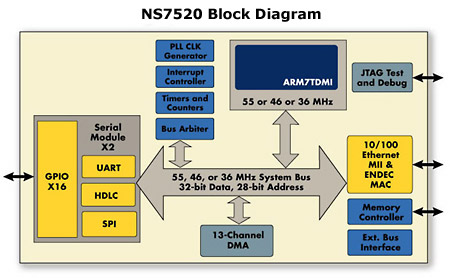 The NetSilicon NS7520 includes an Ethernet MAC
The DigiConnect ME has a 20-pin male connector supporting a serial interface with data rates up to 230,400bps, full modem control, and GPIO ports, NetSilicon says. The tiny system also includes link status and activity LEDs. A developers version adds a JTAG connector.
The DigiConnect ME is available with 2MB or 4MB of Flash, and Kleinhenz lists 2MB of Flash for the Picotux product, along with 8MB of RAM. The device requires 3.3V of DC power, and draws 250mA. Operating temperature range runs from -40 to 85 degrees Celsius.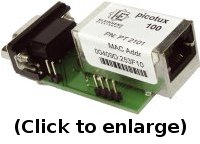 Digi offers a generously-sized development board for the DigiConnect ME. Kleinhenz, however, bundles a small application board with Picotux (pictured at left). The board offers a serial port and five pins for GPIO.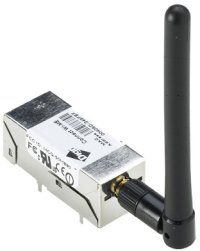 Digi also offers a DigiConnect WI-ME model (pictured at right), which supports wireless 802.11b networking and includes an RP-SMA antenna port in place of the RJ-45 port. The WI-ME measures 0.75 x 0.70 x 1.85 inches (19 x 18 x 46mm), not including the antenna port, and is available from NetSilicon in both standard and developer (with JTAG interface) models. A version of Picotux based on the WI-ME is currently under development, according to company founder Karlheinz Kleinhenz.
uClinux port
According to Kleinhenz, Picotux is based on a 2.4.27 uClinux kernel that was ported to the DigiConnect ME by Kleinhenz over the course of six months. "The starting point was uClinux 2.4.27, which included support for NS7520 already, but would not work on the Connect ME, which natively runs in big-endian mode. So, we had to build our own toolchain and adapt the kernel."
According to Kleinhenz, Picotux will enable developers to prototype and produce products more rapidly than if they used NetSilicon's proprietary Net+OS RTOS (real-time operating system) and tools for the DigiConnect ME platform. "NET+OS is designed for single (multithreaded) applications with realtime constraints, while the Picotux system allows multiple processes, but without any realtime support. The key element is the lower learning curve for developers coming from a Linux environment, so new applications can be developed faster."
In the past, NetSilicon has partnered with German embedded software specialist FS Forth Systeme on Linux ports. FS Forth worked with NetSilicon to develop a uClinux port for the NS7520 processor — the same used in Picotux — in November of 2003. And, FS Forth says it is currently working to port generic Linux — as well as its LxNETES uClinux distribution — to several of NetSilicon's "Digi" products, including the DigiConnect ME. However, FS Forth's NS7520 port is little-endian, according to Kleinhenz.
In addition to a 2.4.27 uClinux kernel, Picotux includes a shell based on busybox 1.0.
Availability
Picotux will be available in April, priced at 99 Euros, from Kleinhenz Elektronik.
Additional details about Picotux are available from Kleinhenz. Details on the DigiConnect ME, including an extensive hardware PDF manual, are available from NetSilicon. Details about Forth Systeme's LxNETES and Linux ports can be found here.
Lantronix also offers a webserver built into an RJ-45, although that device is not based on Linux.
---

This article was originally published on LinuxDevices.com and has been donated to the open source community by QuinStreet Inc. Please visit LinuxToday.com for up-to-date news and articles about Linux and open source.