Apr 15, 2009 — by LinuxDevices Staff — from the LinuxDevices Archive — 30 views

Livio has announced a Linux-based Internet "radio" that plays back customized streams from Pandora, as well as approximately 11,000 other stations. The "Livio Radio" includes 802.11 wireless networking, an RJ45 port for wired Ethernet, plus "thumbs-up" and "thumbs-down" controls for rating songs, according to the company.
(Click here for a larger view of the Livio Radio)
As opposed to most Internet radio stations, which either simulcast existing programs or otherwise feature preselected playlists, Pandora streams customized stations based on the so-called Music Genome Project. Evolving since 2000, the Project is the work of more than 50 trained musicians, who analyze songs via "up to 400 distinct musical attributes, encompassing melody, harmony, rhythm, etc."
According to Pandora, this information is used to build playlists based on musical similarity. By simply entering a favorite song or artist, a listener is "instantly launched into a personalized listening experience," and can create up to 100 personal radio stations, the company says.
Pandora, which claims to have a user base of more than 18 million registered listeners, plus major national advertisers, is usually heard via personal computers, but there are also software clients for smartphones such as Windows Mobile devices, Apple's iPhone, and RIM's Blackberry. The mobile clients rely on a user to create personal radio stations via their PC, but can then log onto Pandora and play the stations back from anywhere.


The Chumby is an Internet-age clock radio
(Click image for more information)
Stand-alone devices
Until now, there have been relatively few stand-alone devices that can play back Pandora radio. One device that is compatible with the service is the Linux-based Chumby, conceived as an Internet-era clock radio. The Chumby, pictured at right, is based on a 350MHz ARM processor with 64MB of RAM and 64MB of flash storage, and includes a 3.5-inch touchscreen display.
Now, there's another option, also Linux-based. The Livio Radio, pictured at the top of our story, looks like an old-fashioned table radio, but includes both wired and wireless networking, and has an ARM-based SBC (single board computer) inside. In addition, the Livio is claimed to be the first hardware device to include both front-panel buttons and a remote control that let a user inform Pandora — via thumbs-up and thumbs-down buttons — whether they like the music they're hearing.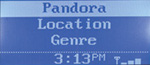 In addition to Pandora, the Livio is also said to play back approximately 11,000 Internet radio stations from around the world, streamed in Real Audio, Windows Media, or MP3 formats and aggregated by U.K.-based Reciva. To use the device, an owner must register it with both the Reciva and Pandora websites, and use a web browser to build a list of stations they want to hear. From that point on, the stations appear in the Livio radio's menus, and must be selected using the device's rotary control and the three-line display pictured at right.
Inside the box …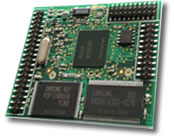 No hardware details of the Livio Radio have been released, but all Reciva-compatible "radios" sold to date — including models from Acoustic Energy, Grace, Logik, Oxx, Revo, Sangean, Sanyo, and others — have relied on one of two tiny SBCs (single board computers) manufactured by Reciva itself. The "Barracuda" (right), which measures 2.36 x 1.77 inches (60 x 45mm) is compatible only with Internet radio, while the pin-compatible "Stingray" (below) measures 3.34 x 1.81 inches (85 x 46mm), adding FM and DAB (digital audio broadcasting) receivers.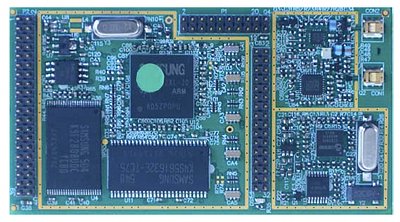 Reciva's Stingray plays Internet radio, FM, and DAB broadcasts
(Click to enlarge)
Reciva discloses few details of its hardware or software, but according to the
Sharpfin Project
, a group of hobbyists engaged in disassembling and analyzing Reciva-based radios, the Barracuda uses a Samsung S3C2410 processor clocked at 202.8MHz, and also incorporates an Atmel Tiny 12 microcontroller. The operating system, meanwhile, is said to be
Familiar Linux
, a Debian derivative.
According to Reciva, the Stingray and Barracuda include support for SD card readers and a USB host port, the latter being used to add networking capabilities. The company says the SBCs also support graphical LCD and OLED (organic light-emitting diode) displays, though all Reciva radios seen to date have used single- or multiple-line character displays.
Further information
Livio says its eponymous radio is available now for approximately $150. More information may be found on the company's website, here.
Meanwhile, more information on the Barracuda and Stingray may be found on the Reciva website, here, respectively.
For what appears to be a comprehensive list of Reciva radios, along with extensive details on their hardware and software, see the Sharpfin Project website, here.
---

This article was originally published on LinuxDevices.com and has been donated to the open source community by QuinStreet Inc. Please visit LinuxToday.com for up-to-date news and articles about Linux and open source.