Jan 12, 2011 — by Eric Brown — from the LinuxDevices Archive — views
The Linux Foundation announced its 2011 event schedule, as well as a new conference called LinuxCon Europe, scheduled for October 26-28, 2011 in Prague. Meanwhile, the annual Linux.conf.au conference is still set to go off in Brisbane, Australia on Jan. 24-29 — featuring a keynote from Internet pioneer Vinton Cerf — despite expectations of historic flooding.
The Linux Foundation launched a new LinuxCon event to be held in Europe, and announced its 2011 event schedule, including a Call for Presentations. LinuxCon Europe joins LinuxCon conferences to be held in North America, Japan, and Brazil, says the nonprofit Linux advocacy and support group.
For the first time, the Linux Foundation (LF) will organize and host the Embedded Linux Conferences (ELC) in North America and Europe, as a result of the October merger of the Consumer Electronics Linux Forum (CELF) into the LF. The new LinuxCon event is combined with the ELC Europe (ELCE) event in Prague, and is also co-located with the Linux Kernel Summit and GStreamer Conference.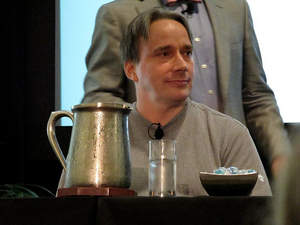 Linux creator Linus Torvalds at a recent LinuxCon event
Stated Amanda McPherson, vice president of marketing and developer programs at the Linux Foundation, "As we approach the 20th anniversary of Linux and the operating system experiences increasing adoption throughout Europe, it is only fitting that we host LinuxCon where Linux originally took root."
The LF's 2011 event schedule is listed as follows (follow the links for further information):
The Linux Foundation is featuring an early bird promotion for the LinuxCon North America and Europe, offering a discounted registration fee of $200 available to the first 50 people who register for each event. (Hint: These will go quickly.)
The LF has recently been racking up a number of influential new members, including, believe it or not, Broadcom. This would suggest that more open source Linux wireless chipset drivers are on the way.
Linux.conf.au conference braces for floods
Australia's annual Linux.conf.au conference in Brisbane will go off as scheduled, despite massive floods bearing down on the Queensland, Australia city, according to the conference's website today.
The event will be held Jan. 24-29 at the QUT (Queensland University of Technology) Gardens Point campus, which is currently closed in anticipation of flooding. The venue is on high ground, but located within a block or two from the river.
States the Linux.conf.au site, "At 0800hrs on Wednesday 12/01/2011 the conference has not been canceled even though the venue remains closed. According to all reports there is an expectation that the river will rise later today with a peak on Thursday. We should know the full extent of the floods around this time and will continually keep people updated via the web and social networking sites."
According to a story in Builder.au.com, water levels on the Brisbane River were sitting at 11 meters, almost double the level designated as "major" flooding, and are expected to rise above the 1974 peak of 6.6 meters by Thursday. A backup site is available if necessary, says the story.
Meanwhile, LWN.net posted an update from editor Jon Corbet after walking around Brisbane today. According to Corbet, the chief concern for the event appears to be power outages.
This year's Linux.conf.au event features a keynote by one of the chief developers of the Internet, Vinton Cerf. Now vice president and chief Internet evangelist at Google, Cerf will also host a session on "Search of transmission capacity — a multicore dilemma." Other keynotes are expected from Mark Pesce, Eric Allman, and Geoff Huston.
Linux.conf.au starts with two days of 15 "miniconfs," including conferences on Mobile FOSS, Multicore and Parallel Computing, and Multimedia + Music.
There is also a full slate of sessions and tutorials running in parallel with the conference presentations. Topics include a mix of desktop, enterprise, embedded, and open source business sessions. Embedded oriented sessions include, but are by no means limited to MeeGo, multicore vs. FPGAs, HA clusters, robots, mobile app development, and tablet PCs.
Availability
More information on LF events may be found at its Linux Foundation event page. More on Linux.conf.au, including registration and full schedule may be found at the Linux.conf.au 2011 site.
---
This article was originally published on LinuxDevices.com and has been donated to the open source community by QuinStreet Inc. Please visit LinuxToday.com for up-to-date news and articles about Linux and open source.