Jul 16, 2010 — by Eric Brown — from the LinuxDevices Archive — views
Linux.conf.au announced a Call for Papers for its 12th annual open source Linux conference for developers, to be held in Brisbane, Australia, on Jan 24-29. Linux.conf.au 2011 (lca2011) starts off with two days of mini-conferences, and is followed by three days of main sessions and an "Open Day" of events and presentations that is open to the general public.
Billed as a "fun, informal, seriously technical conference," Linux.conf.au is not only the premier Linux event in Australia and South-East Asia, but has emerged as one of the more influential global conferences of the Linux open source community. Despite its off-the beaten-track location, the event regularly draws the leading luminaries of the Linux world. (Or perhaps it's the time and location that are the key draws — in January, it's summer in Brisbane, and beautiful Queensland beaches beckon nearby.)
The show starts with "Miniconfs" on Monday Jan. 24 and 25, catering to special interests such as the Linux kernel, gaming, wireless security, OpenOffice.org, education, and virtualization. The main conference runs from Jan. 26-28, with each day starting with a keynote consisting of multiple streams of presentations, tutorials, and birds of a feather sessions.
The final day, Saturday, Jan. 29 is an open day, free to general public, "where IT experts will be given the opportunity to showcase their products/services in the format of either a display or exhibition," say the organizers.
This year's theme is said to be "follow the flow," relating not only to the nearby Brisbane River, but to the growing flow of open source software, whether "at the kernel level or over in libre graphics," say the organizers.
The event will also celebrate the 20th anniversa

ry of the Linux kernel, so one would imagine that Linus Torvalds himself might make another visit to the event. One such visit to an event held in Hobart, Tasmania, led him to temporarily change the Tux mascot to a "Tuz" (pictured) to draw attention to the endangered status of the Tasmanian Devil.
The event organizers are looking for proposals for papers "from all areas of the open source community." Papers may be submitted for presentations (45 minutes), short tutorials (one hour, 45 minutes), or long tutorials (three and a half hours). In addition, community groups may also propose a one-day Miniconf event, say the organizers.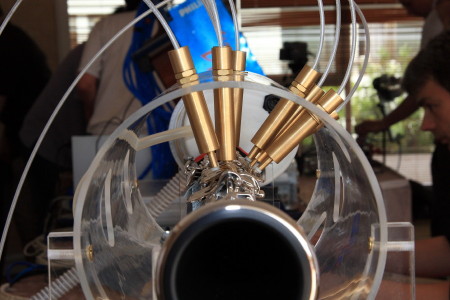 UNSW's Robo-Clarinet
The core of each paper must relate to open source in some way. For example, if discussing software, the software should offer an open source license. Although embedded Linux is not a central focus, embedded presentations on open source topics are common and sought, and in the past there have typically been one or more embedded-focused Miniconf events.
In 2008, for example, visitors were treated to presentations on OLPC's XO netbook, a Linux-powered solar hot water balloon, and a Linux-based robot clarinet (pictured above).
Possible topics are said to include (but are not limited to):
Aspects of kernel development, including recent data structures and algorithm developments
Database and file-system developments
Desktop topics, covering aspects of the user experience
Networking topics, from device drivers to servers
Novice user's introduction to exploring FOSS
Professional development, including software engineering and system administration techniques
Scalability, both embedded and enterprise
Development topics, including concurrency and toolchain advancements
Open source software usage, including business, education and research
Graphics and sound advancements, from low level drivers to end-user applications
Open source culture, including open content creation
Stated Shaun Nykvist, director of lca2011, "We're mindful of the important role that this conference plays in the F/OSS community both here in Australia and internationally. We are focused on bringing knowledgeable and exciting speakers, the latest and finest of Linux and F/OSS expertise, and also a few innovations to Brisbane lca in January 2011."
Availability
The Linux.conf.au 2011 conference will be held in Brisbane, Australia, on Jan 24-29 at the QUT Gardens Point. The Call for Papers concludes on Aug. 7, and accepted speakers will be notified in September, say the organizers.
More information, including further details on paper submissions, may be found here.
As a reminder, the O'Reilly Open Source Convention (OSCON) starts up next week in Portland, Oregon, scheduled for July 19-23, and LinuxCon will be held in Boston from August 10-12.
---
This article was originally published on LinuxDevices.com and has been donated to the open source community by QuinStreet Inc. Please visit LinuxToday.com for up-to-date news and articles about Linux and open source.