Apr 10, 2008 — by Eric Brown — from the LinuxDevices Archive — 46 views

[Updated: Apr. 14] — D-Link is shipping a two-bay, RAID 1-enabled networked attached storage (NAS) device that runs embedded Linux. Based on an ARM9 "Orion" processor from Marvell, the DNS-323 offers RAID mirroring, UPnP support, and remote access via a built-in FTP server, says D-Link.
(Click for larger view of the D-Link DNS-323)
Aimed at the SOHO and home markets, the DNS-323 is formally referred to as a "2-Bay Network Storage Enclosure." The storage appliance is designed for sharing and backing up a variety of data types, including music, photos, and video, says D-Link. It supports one or two internal 3.5-inch SATA hard drives, and offers RAID 1 mirroring and the ability to stream media to UPnP AV-compatible network media players. The device also permits the creation of users and groups, each of which can be assigned either read or read/write permissions.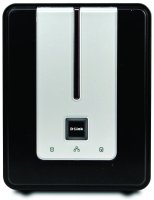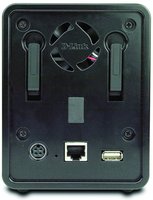 DNS-323, front and back
(Click either to enlarge)
The DNS-323 runs on a 500MHz Marvell 88F5181 "Orion" system-on-chip (SoC), which is based on Marvell's "Feroceon" micro-architecture implementation of the ARM9 ISA (instruction set architecture). Support for the Orion, which is used in numerous Linux-based NAS devices, is currently being integrated into the 2.6.25 mainline kernel. In addition to one or more Feroceon cores (one in the case of the 88F5181), the Orion chips integrate I/O-intensive optimizations such as mixed-signal interfaces and a high-speed crossbar switch.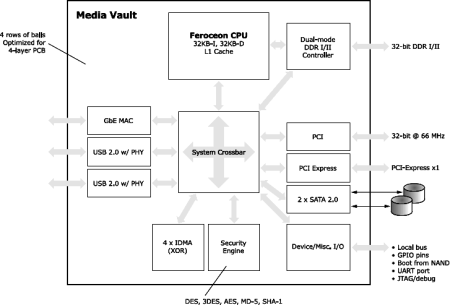 Typical Orion SoC architecture
(Click to enlarge)
The DNS-323 is equipped with 64MB of RAM and 8MB of Flash ROM. There is also a USB 2.0 port, a gigabit Ethernet connection, and a serial link. The device runs a Linux-2.6.12.6 distribution provided in the Marvell board support package (BSP), and uses firmware including U-Boot, uClibc, Busybox, and Samba. The user software, which includes search and backup utilities, resides on an attached Linux, Mac, or Windows-based PC with a minimum configuration of a 1GHz processor and 512MB of RAM.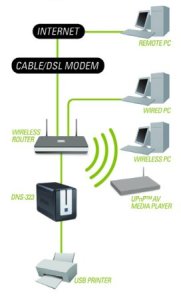 Typical DNS-323 network
(Click to enlarge)
The DNS-323 provides a choice of four hard drive modes:
Standard — creates two separately accessible hard drives
JBOD — combines drives in linear fashion to maximize space, i.e. configured as "just a bunch of disks" (JBOD)
RAID 0 — combines drives in 'striped' configuration for best performance, up to a claimed 23MBps (Read) and 15MBps (Write) throughput when using gigabit Ethernet
RAID 1 — drives mirror each other, providing maximum protection
The following are the specs listed for the DNS-323:


Other Orion- and
Linux-based NAS servers
(Click for details)
Processor — 500Mhz Marvell 88F5181 ("Orion") SoC with Feroceon ARM9 core
Memory - 64MB (via two 32MB Nanya NT5DS16M16CS-6K memory modules)
Flash ROM — 8MB (Spansion S29GL064M90TFIR4)
Storage — supports two internal 3.5-inch SATA hard drives; Marvell 88X7042 IDE controller
Networking — 1 x gigabit Ethernet (Marvell 88E1111)
USB — 1 x USB 2.0 print server port
Serial — 1 x serial port (115200 8N1 TTL)
Cooling — speed-controlled 40mm fan
Dimensions — 4.1 x 7.8 x 5.2 inches
Weight — 2.7 lbs
Operating temperature — 32 to 131 degrees F
Features– mirroring, user rights assignments, UPnP streaming media sharing, search, backup, FTP-based remote Internet access
Firmware — Linux-2.6.12.6 (Marvell BSP distribution); U-Boot 1.7.3; uClibc 0.9.28 library; Busybox v1.00-pre1; Samba 2.2.8a 3.0.24
In an email interview, Aaron Campbell, Product Manager, NAS Storage/IP Cameras at D-Link, suggested that keeping costs down was the key reason for choosing Linux for the DNS-323. "Linux has allowed us to provide quality products at a cost that is reasonable to our customers, as well as open up development on some of our open source projects," wrote Campbell. "We plan to use it more and more in the future."
Availability
The DNS-323 is available now for $210 (without hard drives). More information on the DNS-323 can be found here, or in a community development wiki with internal photos, tech details, benchmarks, and forum discussions. The wiki is available here. To learn more about other NAS devices based on Linux and Orion, try here.
---

This article was originally published on LinuxDevices.com and has been donated to the open source community by QuinStreet Inc. Please visit LinuxToday.com for up-to-date news and articles about Linux and open source.