Sep 5, 2008 — by Eric Brown — from the LinuxDevices Archive — 1 views

[Updated Sep. 8] — A blogger on KDEdevelopers.org has ported the KDE-based KOffice office suite to the Maemo distribution used with Nokia's Internet Tablets. The port between the two Linux-based environments is functional, but still has some problems, according to the poster, "mkruisselbrink."
The application port follows up on last year's port of the KDE desktop environment to Maemo and the Nokia tablets, including the N800 and 770 Internet Tablets. It also follows a release this spring by Penguinbait of a KDE installer with a full-sized KOffice. Both the earlier KDE port and the new KOffice implementation are also likely to run on the newer N810, which runs the same Nokia-sponsored Maemo distribution as the N800.
According to an entry on a "KDE packages for maemo, page" mkruisselbrink also packaged KDE applications including "automoc, akonadi, strigi, soprano, and kdelibs," not to mention the interesting Phonon multimedia framework.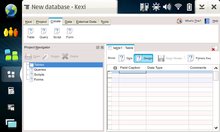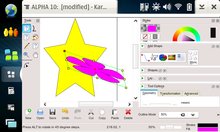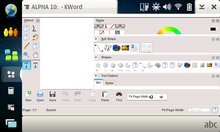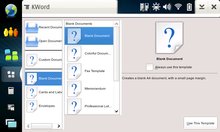 KOffice on Maemo
(Source: KDEDevelopers.org. Click to enlarge)
The KOffice port still has a few problems, the blogger admits. "I didn't manage to get kspread to link as apparently the old gcc version I'm using has some problems with inner classes in templated classes and duplicate symbols," he writes. Still, based on this work, he says, "I think it is very realistic to create a slimmed-down UI for koffice applications to make a very usable office suite for maemo using a lot of the existing koffice code." He also credits Thomas Zander for paving the way toward the KOffice port.
With Maemo, Nokia broke with a long tradition in PDAs and other mobile devices, by eschewing "embedded" software development frameworks such as Trolltech's Qt/Embedded, and instead using a slimmed down implementation of the GNOME desktop environment and GTK+ development framework, which competes with KDE/Qt in the desktop Linux market. Then in April, prior to completing its acquisition of Trolltech, Nokia announced that it would be porting Trolltech's Qt libraries to Maemo. When completed, the port should enable developers of C++ desktop applications based on the Qt cross-platform libraries to add Maemo to their target platforms, alongside Windows, Mac OS, desktop Linux, and Windows Mobile (which gained support with May's Qt 4.4 release).
In another community port related to Nokia, a Nokia-sponsored project announced in April that it was porting the Ubuntu Linux distro to ARM.
Availability
Screenshots and discussion of the KOffice port to Maemo should be available here, and downloads of this and other KDE to Maemo ports should be here.
---

This article was originally published on LinuxDevices.com and has been donated to the open source community by QuinStreet Inc. Please visit LinuxToday.com for up-to-date news and articles about Linux and open source.