Dec 2, 2010 — by Eric Brown — from the LinuxDevices Archive — 49 views
Embedded software vendor Mentor Graphics, which supports Linux, Android, and Nucleus OS, has acquired "certain assets" of GNU-based toolchain vendor CodeSourcery, Inc., including Sourcery G++ and Sourcery VSIPL++. The deal essentially amounts to an acquisition of CodeSourcery, as the appointment of its CEO Mark Mitchell as director of embedded tools at Mentor demonstrates.
In July 2009, RTOS vendor Mentor Graphics made a bid to compete with the likes of Wind River and MontaVista by acquiring embedded Linux vendor Embedded Alley. The company is now further strengthening its Linux and Android positioning by acquiring key assets of the leading GNU Linux toolchain vendor.
The announcement mentions only the acquisition of "certain assets" of the Granite Bay, Calif. firm by the publicly held Mentor Graphics, but Mentor's new CodeSourcey website says it is "pleased to announce" the acquisition of the company.
The site lists the flagship Sourcery G++ toolchain development package and related signal- and image-processing version, Sourcery VSIPL++, which together comprise the two major products offered by CodeSourcery. (The two other products not listed are the C++ ABI TestSuite for the the Itanium C++ Application Binary Interface, as well as the general-purpose testing software, QMTest.)
In response to a request for clarification on what assets might not be part of the deal, a spokesperson from Wilsonville, Oregon based Mentor Graphics declined to comment.
CodeSourcery CEO Mark Mitchell is now director of embedded tools, Mentor Graphics Embedded Software Division, says Mentor. The company did not reveal which other employees had been retained.
Stated Mitchell, "Our service customers, many of whom already work with Mentor Embedded, will benefit from new offerings that integrate tools with Linux and/or Android environments. The future of embedded software development is based on open-source tools, and as part of Mentor Embedded, CodeSourcery will be able to participate in the open-source community on an even greater scale than before."
Meanwhile, Glenn Perry, general manager, Mentor Graphics Embedded Software Division, stated, "CodeSourcery and its industry-recognized toolchain services and products significantly increase the value of embedded solutions that Mentor Embedded can provide its customers, as well as contributions to the open source community."
Most of the testimonials from ARM, Freescale, MIPS, NetLogic, and TI, call the deal an acquisition of CodeSourcery (see farther below).
CodeSourcery background
CodeSourcery is primarily known for Sourcery G++, a GNU toolchain development package that contains enhanced versions of popular open source tools. As of the most recent major version, Sourcery G++ 4.4, these included an integrated development environment based on Eclipse 3.5 (Galileo) and the Eclipse C/C++ Development Tools (CDT 6.0), C/C++ compilers (GCC 4.4.1), an assembler and linker (Binutils 2.19), runtime libraries, and a source- and assembly-level debugger (GDB 6.8.50), according to the company.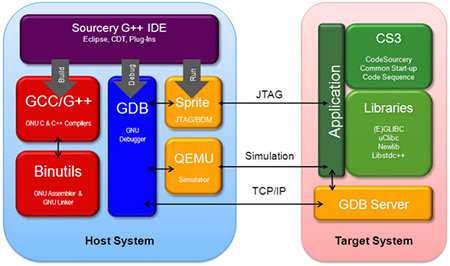 Sourcery G++ architecture
(Click to enlarge)
Sourcery G++ runs on GNU/Linux or Windows hosts and targets bare metal, RTOS, uClinux, GNU/Linux, or Windows systems. The
earlier Spring 2009 release
of the software improved compiler speed, updated runtime library routines, and added a QEMU emulator and new IDE debugging support. Sourcery G++ Professional edition customers receive unlimited technical support from CodeSourcery's expert engineers, the company adds.
Version 4.4 added support for the ARM Cortex-A5 processor, and improved performance, said CodeSourcery. It also added a terminal emulator, as well as integration with the CVS version-control system. A new "task-focused" Mylyn interface also debuted in version 4.4.
The more focused Sourcery VSIPL++ is billed as "a portable, parallel signal- and image-processing toolkit that boosts performance and increases productivity for radar, sonar, and imaging applications." Sourcery VSIPL++ is said to implement the open standard VSIPL++ API, providing routines for FFTs, FIR filters, QR decomposition, and linear algebra.
Mentor Embedded Linux background
Embedded Alley had already released its first embedded Linux development platform before the company was acquired by Mentor Graphics in June 2009. The Embedded Alley Development System for Linux was released in December 2008.
In May of 2009, the platform was updated with tools to create software Bills of Materials, track open source components, trace binary sources, and help OEMs comply with open source license obligations. The new version also added specific support for Freescale's ARM11-based i.MX31 processor and hardware development kit.
The Embedded Alley team was integrated in the Mentor Graphics Embedded Software Division, which spans earlier embedded projects with Mentor Graphics' Nucleus OS RTOS, as well as new Linux and Android technology. The division is said to offer embedded software intellectual property, tools, and consulting services.
In October 2009, the Mentor Graphics Embedded Software Division announced an Android port to the PowerPC architecture, initially targeting Freescale's PowerQUICC III MPC8536E processor. This was followed by a partnership deal with Freescale covering its PowerPC-based PowerQUICC and QorIQ processors.
Mentor Graphics has continued Embedded Alley's strong relationship with MIPS, as well as with RMI, a manufacturer of MIPS-based processors that was later acquired by NetLogic Microsystems. Prior to being acquired by Mentor a year ago, Embedded Alley announced it had ported Android, previously available only for ARM, to the MIPS architecture.
Earlier this year, Mentor and NetLogic Microsystems announced an agreement to spin a version of Mentor Embedded Linux for NetLogic's MIPS-based XLP, XLR, and XLS multicore SoCs. This culminated last month in an availability announcement for the NetLogic-ready package.
Mentor Graphics is also continuing its expansion into ARM development. In November of last year, Mentor released an Android development kit for the Texas Instruments (TI) OMAP35x SoC family.
Testimonial quotes

Stated Eric Schorn, vice president of marketing, Processor Division, ARM, "Mentor's acquisition of CodeSourcery, and its recent acquisition of Embedded Alley, is a clear demonstration of the company's commitment to the future of open source services across the entire embedded industry."
Stated Raja Tabet, vice president of Solutions and Enablement Technology, Freescale Semiconductor, "Mentor's acquisition of CodeSourcery is good news for our shared customers and further strengthens Mentor's position as the leader in independent embedded software and open source solutions."
Stated Art Swift, vice president of marketing and business development, MIPS Technologies, "CodeSourcery has an established reputation as a leader in GNU toolchain development, and the company's technology will be a valuable addition to Mentor Graphics' embedded portfolio."
Stated Chris O'Reilly, vice president of marketing, NetLogic Microsystems, "We congratulate Mentor and CodeSourcery on their combination that will bring enhanced value to the eco-system for our industry-leading XLP, XLR, and XLS multi-core processors."
Stated Jake Alamat, director of marketing, ARM MPU Business Unit, DSP Systems, and Application Specific Products, Texas Instruments, "Mentor's acquisition of CodeSourcery is a great complement to Mentor's existing open source capabilities with Linux and Android."
Availability
The acquisition of what appears to be all the major assets of CodeSourcery appears to be a done deal. More information may be found on Mentor Graphics' new CodeSourcery page, here, and more on Mentor Graphics embedded products may be found here.
---
This article was originally published on LinuxDevices.com and has been donated to the open source community by QuinStreet Inc. Please visit LinuxToday.com for up-to-date news and articles about Linux and open source.