Jan 28, 2011 — by LinuxDevices Staff — from the LinuxDevices Archive — 5 views
Microsoft has asked Intel and AMD to create 16-core versions of their low-end x86 CPUs. The new designs would be intended to head off ARM's entry into the server market, according to accounts of a keynote by Dileep Bhandarkar, the executive responsible for running Redmond's data centers worldwide.
Last month, ARM Holdings — whose chip designs dominate the smartphone market — acknowledged its plans to take on Intel, AMD, and other vendors of x86 CPUs in the server market. It's claimed that with a switch to ARM, the low-power servers increasingly being used for tasks such as virtualization and cloud computing would use about half the power of their x86 equivalents.
As we review later in this story, the first ARM server designs have already begun to appear. However, Microsoft has no server operating system it could run on them.
Redmond's CES (Consumer Electronics Show) announcement that it will port a forthcoming version of "big Windows" to ARM processors has been widely reported. Demonstrations (below) given at the event focused on client devices, however, not servers. Meanwhile, Microsoft's existing ARM OS, Windows CE — the latest Windows Embedded Compact 7 variant was updated just yesterday — has not been offered in a server version either.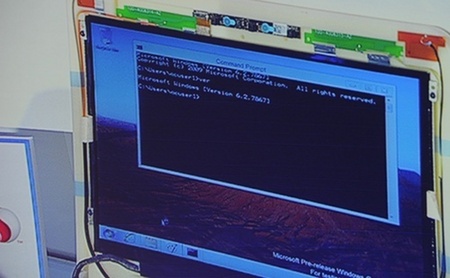 A pre-release version of Windows running on ARM
Source: Gizmodo

Microsoft executive Dileep Bhandarkar addressed the above issues yesterday in a keynote delivered to the Linley Tech Data Center Conference in San Jose, Calif. A summary of the talk, titled "Energy Efficiency in Data Centers," promised it would "discuss optimization of large scale data centers for energy efficiency" and "examine Microsoft's data center deployments as well as the company's data center strategy."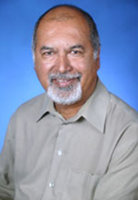 "ARM's an interesting thing to look at, and if nothing else, it lights a fire under Intel and AMD, … I'm happy," Bhandarkar (right) is quoted as saying in reports by Rick Merritt of EETimes and James Niccolai of the IDG News Service. But, he is said to have added, it won't be that easy for ARM to break into the server market.
"Instruction-set architecture transitions are extremely painful," Bhandarkar reportedly claimed. "As a general rule of thumb, you have to have a sustainable improvement per dollar per watt of at least 2x — some would say 5x — but it's at least 2x … and ARM is not there."
Instead, Bhandarkar called on Intel and AMD to develop 16-core SoCs (system-on-chips), respectively based on their Atom and Bobcat cores. "There's a huge opportunity using these smaller cores to be more energy efficient," he is quoted by Merritt as saying.
"When you look at these tiny cores, another way of making them work in a very efficient way is [not to] surround them with a whole bunch of south bridges and network controllers. … Essentially, the tiny cores and systems-on-chip should go together," Bhandarkar added, according to Niccolai's report.
Microsoft is enormously influential not just as a software vendor, but also as a buyer of server hardware. As the EETimes story notes, the company has between 10 and 60 data centers worldwide, each of them employing thousands of x86 servers.
According to EETimes, Microsoft has come up with a streamlined x86 server design that has already been shared with multiple server manufacturers, and will be publicized more fully in the next few weeks.
The design involves the following, Bhandarkar is said to have explained:
two low-power x86 CPUs
a half-size board with one PCI Express slot (left open, for a future switch to 10Gbit Ethernet)
four DIMM sockets per CPU, populated with low-power DRAM
four SATA connectors linked to four hard disk drives
It's said two of these servers, with eight drives overall, may be placed in a 1U rack-mounted unit, allowing 96 servers to be crammed into a standard rack. Microsoft is moving toward minimal use of air conditioning in its data centers, with temperatures being allowed to go up to 85 deg. F, Bhandarkar reportedly added.
According to his official bio, Bhandarkar is responsible for server hardware architecture and standard for Microsoft's "Global Foundation Services," which delivers the platform for more than 150 online services and Web portals. He's said to have joined Microsoft in 2009 from Intel, where he was "instrumental in driving the strategic decision to implement AMD compatible 64-bit x86 architecture … and pioneered the adoption of energy-efficient microprocessor cores across Intel's product line."
Background
In an interview with Bloomberg News Dec. 13, ARM CEO Warren East (right) said that his company's chip designs will help drive up the energy efficiency of data center systems, and that server makers "are actively considering ARM architectures.'
However, that will take time, East said, predicting that ARM won't start to eat into Intel's dominant server market share until 2014 or so. Intel currently owns more than 90 percent of the overall server market.
"We don't want to raise expectations that next year there are going to be a lot of ARM servers," he said. "Of course, there aren't."
But ARM, and some chip designers using designs licensed from the company, have begun the work to move in that direction. ARM officials in September introduced the Cortex-A15, their next major chip design that, they say, will offer features that are important for server designers — including support for virtualization and greater memory capacity.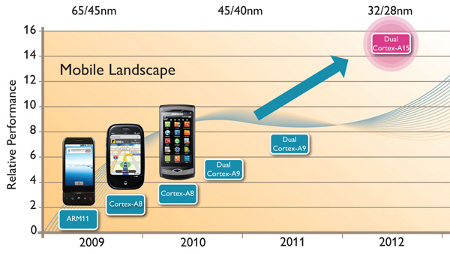 ARM's Cortex-A roadmap shows a 2012 debut for Cortex-A15 SoCs
(Click to enlarge)
According to ARM, the Cortex-A15 will include a five-fold increase in performance in a power envelope similar to current ARM designs. Chips using the design will be able to run at up to 2.5GHz and with as many as 16 cores, the company adds.
"It's a pretty big bump in performance," Nandan Nayampally, director of product marketing for ARM, said at the time of the announcement. "It opens up our markets to very new [products]."
A number of chip makers — including Texas Instruments, Qualcomm and Samsung — use ARM designs in manufacturing their processors. However, there are already several companies looking to take advantage of ARM designs to create low-power servers for such environments as cloud computing.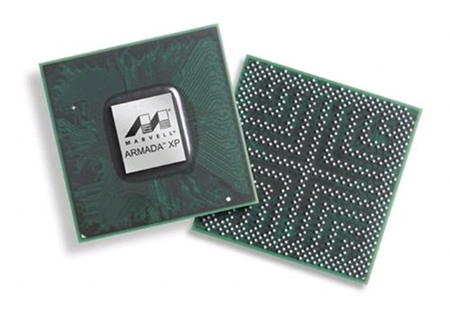 Marvell's Armada XP
Marvell officials in November started demonstrating their quad-core Armada XP chip (above), based on ARM designs. The chip runs at 1.6GHz and includes features that can be used in servers, including four enterprise-class networking ports, up to 2MB of Level 2 cache, 4 PCI Express Gen 2.0 units and multiple USB ports.
Another company, Calxeda, also is working on server chips based on ARM's Cortex-A9 design, with plans to release samples this year and start manufacturing the processors in 2012.
ARM's East said the key for his company is the ability now to free up their chip designs from the battery constraints found in mobile devices. Without those constraints, the ARM-based chips can run faster. They're also more energy-efficient than Intel processors, he said.
"We could certainly halve the power of these things," East said, noting that with data centers packing more servers, "the challenge is delivering the energy and taking the heat away."
Trouble for Microsoft?
Incursions by ARM into the server space could clearly be a blow to Microsoft, which — as we noted earlier in this story — currently offers no server operating system for ARM CPUs. ZT Systems recently announced a Ubuntu Linux-based 1U rackmount server with SSD (solid state disk) storage and eight ARM Cortex-A9 COMs (computer on modules) on board. The R1801e (below) provides 16 600MHz cores while using less than 80 Watts, according to the company.


ZT Systems' R1801e
(Click to enlarge)
ARM servers could offer a promising new market for Canonical and its Ubuntu Server OS. Back in 2008, Canonical and the Ubuntu community made the wise move of porting Ubuntu to ARM.
eWEEK's Jeffrey Burt contributed reporting to this story.
---
This article was originally published on LinuxDevices.com and has been donated to the open source community by QuinStreet Inc. Please visit LinuxToday.com for up-to-date news and articles about Linux and open source.