Dec 7, 2009 — by LinuxDevices Staff — from the LinuxDevices Archive — 1 views
VMware is refining technology that will allow mobile phones to run two operating systems — Android and Windows Mobile, for example — simultaneously. With the company's Mobile Virtualization Platform (MVP), both OSes would be live, and could coexist in as little as 256MB of RAM, an executive reportedly told Computerworld Australia.
Vmware first mooted its MVP product at its VMworld Europe 2009 technology conference in February, at the end of a keynote delivered by Stephen Herrod, the company's CTO. The technology will allow customers to run two operating systems on one phone, or simply move their phone's contacts, apps, and other data from handset to handset more easily, Herrod told his audience.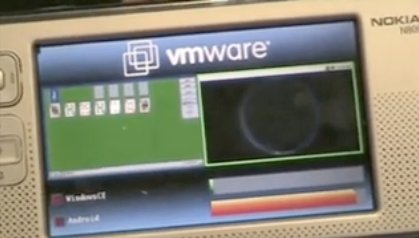 VMWare's MVP running on a Nokia N800 tablet
An "ARM hypervisor solution … that decouples application data from the underlying hardware," MVP runs on ARMv4 to ARMv7 CPU architectures, and supports "any proprietary or commercial OS and RTOS," according to VMware. It's said the product will allow vendors to build their mobile software in the form of a set of applications, along with an underlying operating system, that can then be deployed to any ARM phone with little additional work.
According to Herrod, MVP will benefit end users, who can install a single phone VM on multiple devices, backing up data and maintaining a familiar working environment as they migrate. Or, he added, users can have multiple VMs on a single device, each embodying a different "persona."
According to today's Computerworld Australia article, MVP was originally envisioned as enabling dual-boot solutions, where a user would have had to select his or her OS of choice when a phone was first turned on. Now, author Tim Lohman adds, VMware envisions that devices will run two OSes simultaneously, both being able to perform operations such as receiving phone calls or downloading data.
Srinivas Krishnamurti, VMware's head of mobile phone virtualization, is quoted as saying, "We don't think dual booting will be good enough — we'll allow you to run both profiles at the same time and be able to switch between them by clicking a button. You'll be able to get and make calls in either profile - work or home - as they will both be live at any given point in time."
OUR VERDICT:
We're virtualization fans, but wonder if running multiple operating systems might be confusing to the user on a small device

"We don't think that CPU, memory or capacity will be an issue for running two operating systems," Krishnamurti is said to have added. VMWare has tested MVP in as little as 128MB of RAM but will recommend that production devices sport 256MB of RAM, Lohman writes.
Microsoft is "keeping an eye" on phone virtualization, but so far isn't seeing market demand for it, the Computerworld Australia story adds. Zane Adam, senior director of virtualization strategy at Microsoft, is quoted as saying, "every time I change operating system profiles [on my phone] I'm getting different information on my email and all my contacts. It makes me extremely less productive."
Background
Touted as "very thin and very thrifty," is a hypervisor that loads on a phone's "bare metal" hardware in advance of any operating system, and takes up only about 20KB of memory, according to VMWare. The technology, which allows a phone to load single or multiple OSes in virtual machines (VMs), stems from VMWare's 2008 acquisition of Trango, which first shipped its Trango Hypervisor in 2005.
Explaining VMWare's expansion into the world of mobile devices, Herrod told his VMWorld Europe audience earlier this year, "The mobile phone is becoming the mobile personal computer. Those of us who've been involved in the personal computer world can look at our friends in the mobile space and warn them — a lot of the challenges we've seen in the PC space are coming to phones."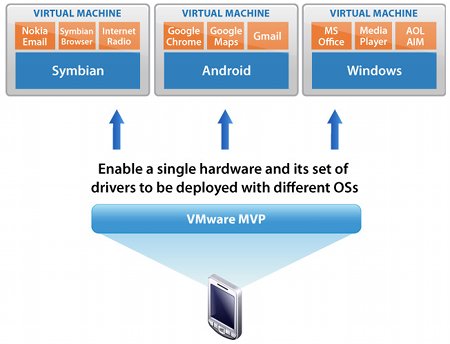 VMWare's MVP architecture
(Click to enlarge)
For example, a "completely isolated" work VM would contain the operating system chosen by an enterprise, with confidential emails, applications, and VPN software. Meanwhile, a separate VM would contain a user's personal emails, photos, and music files. "People don't want to have to carry two phones — the one that's approved by IT, and the cool one that has a little more personality to it," Herrod quipped.
Meanwhile, claims VMWare, MVP will also benefit carriers, who will no longer need to test their custom software stacks to ensure they'll work on multiple phones. And, the company adds, application developers will be able to distribute their products to phones as "virtual appliances."


A demonstration of the Nokia N800 running Android and Windows CE via MVP
Source: ITPro
(click to play)
Availability
According to Computerworld Australia, VMware has selected U.S. and European carriers to begin prototyping phones for enterprise beta testing during 2011. Mass production of the virtualized smartphones is not planned until 2012, the company is said to have added.
To read more of Tim Lohman's story, see the Computerworld Australia website, here.
More information on MVP may be found on VMWare's website, here.
---
This article was originally published on LinuxDevices.com and has been donated to the open source community by QuinStreet Inc. Please visit LinuxToday.com for up-to-date news and articles about Linux and open source.