Aug 29, 2007 — by LinuxDevices Staff — from the LinuxDevices Archive — 1 views

[Updated 4:30] — Zonbu has sweetened the pie for Linux enthusiasts wishing to purchase its low-cost, silent, eco-friendly, PC outright — without committing to an ongoing service contract. The $250 Zonbox PC includes OS upgrades, 2GB of free online storage, automatic backup services, and root access.
The Zonbox is a compact, passively cooled mini-PC that comes pre-loaded with a fairly polished and integrated set of applications aimed at typical home users. Zonbu launched the Zonbox in July, priced as low as $100 when purchased with an ongoing service contract with monthly fees.
Zonbu's service contracts aim to bring some of the benefits of thin-client computing to home users — centralized application updates, automated backups, and persistence of the user's computing environment across hardware failure/replacement/upgrade cycles. However, for real Linux users, there's one big negative: no root access.
For $250, though, users can now purchase the Zonbox free and clear. This version runs a community-supported version of Zonbu's Gentoo Linux-based software stack, and offers full root access. Unlike some of the initial Zonbox prototypes, it can also be booted from USB devices, according to "David S.," a Zonbu spokesperson.
The Zonbox comes with a Firefox browser and standard plug-ins (Flash, Acrobat, totem multimedia, etc), Skype Internet phone, f-spot digital photo manager, GnuCash personal finance software, Banshee iPod and MP3 music manager, lots of games, and of course the OpenOffice.org productivity suite, which can read and write both open document formats and closed formats like Microsoft Word and Excel. There are about two dozen applications in all, including GimpShop, Scribus desktop publishing software, and more. The Zonbox's OS comes ready to support about 800 different printers and an equally impressive number of digital cameras, too, Zonbu says.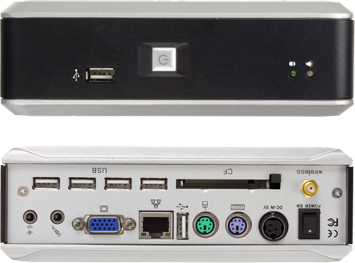 The first Zonbox
Hardware-wise, the Zonbox is powered by a Via C7 processor clocked at 1.2GHz. The C7 boasts a full-speed FPU, SSE2 instructions, support for power-efficient DDR2 RAM, and a 400MHz FSB (front-side bus), making it significantly stronger than Via's older (and relatively gutless) C3 desktop chip.
The Zonbox has 512MB of RAM, and 4GB of flash. There's no hard drive or CD/DVD drive, although users can add external USB drives (high-speed 480Mbps USB 2.0 is supported). And, the system is designed to integrate with Amazon's S3, an interesting online storage service with no monthly fees — just usage fees mostly dependent on data transfers.
Previously, users of the community supported Zonbox Gentoo implementation had to set up their own S3 accounts, a mild headache that involved a few semi-complicated registration and configuration steps. Now, users will apparently get 2GB of storage there for free.
The Zonbox draws an average of 15 Watts, under typical use, according to Zonbu. And of course, it's completely silent, with no moving parts at all, other than the power switch.
As someone who recently spent $600 building up a very similiar system, I find Zonbu's $250 pricing pretty appealing. The Zonbox is smaller than the system I built, yet uses the same integrated CX700M chipset, and even the same outstanding high definition audio codec.
The Zonbox has received several positive reviews, from PC Magazine's Patrick Norton, and from blogger Jeff "Mr. Zonbu" Campbell. More details can be found in our earlier coverage, here.
---

This article was originally published on LinuxDevices.com and has been donated to the open source community by QuinStreet Inc. Please visit LinuxToday.com for up-to-date news and articles about Linux and open source.