Oct 30, 2008 — by Eric Brown — from the LinuxDevices Archive — 7 views

The Small Form Factor Special Interest Group (SFF-SIG) announced it is working on a specification to standardize small-format storage. The SFF-SIG, which earlier this year announced a "SUMIT" spec for tiny single-board computers (SBCs), will base the MiniBlade spec on SiliconSystems's SiliconDrive II Blade… technology.
(Click for larger view of SiliconSystems's SiliconDrive II products )
The MiniBlade spec will target "small, rugged subsystems such as mass storage and other I/O technologies," says the SFF-SIG, which is formed by 18 embedded suppliers. The MiniBlade plug-in peripheral card is "retained with latches in its socket," says SFF-SIG, and is said to provide superior protection against embedded environments compared to consumer-grade dongles and thumb drives.
The spec is based on a "SiliconDrive II Blade Specification" (pictured below) that was jointly developed by SiliconSystems and interconnect vendor Samtec, both SFF-SIG members. MiniBlade will extend beyond storage to include applications in communications, GPS, and other I/O products that can plug into the MiniBlade socket, says the group.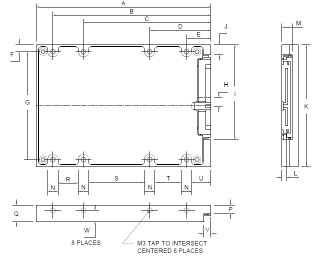 SiliconSystems's SiliconDrive II SATA card dimensions, part of the preliminary
SiliconDrive II Blade Specification that will form the basis of the MiniBlade spec
SiliconSystems sells SATA, PATA, and USB-based 2.5-inch SiliconDrive II storage cards in various formats ranging from 16GB to 64GB. The hot-swappable cards are designed for "high reliability and multi-year product lifecycle requirements" in "host systems that require low power and scalable storage solutions," says the company. Typical applications are said to range widely from broadband networks to military systems to industrial control systems. The SATA card version claims to offer a MTBF of more than 3 million hours.
Integrated IP in the SiliconDrive II is said to include:
"PowerArmor" technology for protecting against data corruption and loss from power disturbances
SiSmart early warning system that monitors and reports remaining storage system "useful life"
SiSecure security tools
In May 2007, SiliconSystems announced a Linux-ready SDK (software development kit) for its suite of hard drive and flash storage security products. The SiliconDrive Secure SDK includes specific support for its SiSecure tools.
SUMIT, pico-ITXe, and pico-I/O
In April, the SFF-SIG announced a Stackable Unified Module Interconnect Technology (SUMIT) stackable board interface. SUMIT defines expansion bus interfaces for PCI Express, LPC, I2C, SPI, and USB, on one or two high-density connectors, says the group.
Earlier this week, Via Technologies demonstrated the first SUMIT-based product, a Via Epia-P710 card that follows the SFF-SIG's SUMIT offshoot called "pico-ITXe". Via, which ceded control of its underlying pico-ITX format to the SFF-SIG earlier this year, has released new information on the card, which it says will ship in December.
The Via Epia-P710 will ship with a 1GHz VIA C7 processor along with a Via VX800 media system processor, which features Via Chrome9 graphics. The card supports up to 2GB of DDR2 memory, and offers one IDE channel, and dual SATA channels, says Via. The board is said to offer two SUMIT connectors that integrate PCI Express, LPC, SPI, and USB 2.0. Additional information may be found here.
Meanwhile, WinSystems announced a SUMIT-based PCO-UIO48 Digital I/O Card. The 48-line digital I/O card uses the SFF-SIG's "pico-I/O" form-factor, which offers digital I/O expansion for pico-ITXe SBCs. Due to be published formally by the end of the year, the pico-I/O spec defines a 2.3 x 2.8-inch (60 x 72mm) I/O card using the SUMIT A or SUMIT AB interface.
Available for order now at a price of $60, the WinSystems PCO-UIO48 card is said to offer interruptible event sense for monitoring real-time events. It can monitor 24 of the rising and falling digital edge transitions, latch them, and then signal the host processor that a change of input status has occurred, says the company.
Availability
The MiniBlade specification will be published "within the next few months," says the SFF-SIG. More information on the underlying SiliconSystems SiliconDrive II should be found here, with a preliminary draft for the SATA version found in this PDF.
---

This article was originally published on LinuxDevices.com and has been donated to the open source community by QuinStreet Inc. Please visit LinuxToday.com for up-to-date news and articles about Linux and open source.