Sep 22, 2009 — by Eric Brown — from the LinuxDevices Archive — 4 views
RMI Corp. announced a design win for its MIPS-based Au1250 processor in a Linux-based home energy monitoring system. Threshold Corp.'s Au1250-based device monitors and manages energy consumption in real time, and appears to incorporate the company's NFC-based "BlueSpot" auto-configuration technology.
Threshold is porting its energy monitoring software suite to RMI's Linux-based "Ultra Low Power" Application Developers Kit (ADK) for the Au1250 system-on-chip (see farther below for more on the SoC), the companies announced. The Linux-based energy-monitoring system — of which few details were offered — will "become available" in October, presumably in OEM-targeted reference designs, with commercial devices due in early 2010, according to RMI.
RMI said it will include Threshold's "patent pending" energy management solutions and BlueSpot auto-configuration technology as system options in the RMI ADK. Supporting applications for the Threshold-based additions to the ADK are said to include energy management, home automation, security, and monitoring devices.
Threshold's BlueSpot
Threshold's BlueSpot technology is billed as a way to quickly configure and sync multiple devices over a wireless network. Based on extremely short-range, Near Field Communications (NFC) wireless technology, BlueSpot can help configure new devices for the encryption schemes of a WiFi network or other wireless network. Users simply hold up a device close to the router's BlueSpot reader/transmitter for automatic configuration, says the company.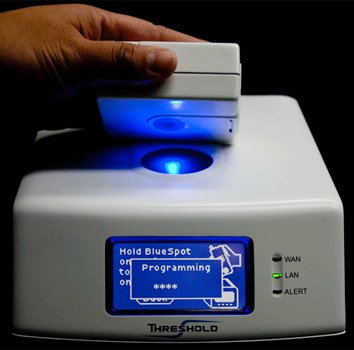 Threshold's BlueSpot-enabled router (yes, it really is a blue spot)
Threshold says it has already developed a BlueSpot-enabled broadband router and network controller device for the OEM market (see image above). The company says that it has created a variety of devices that incorporate BlueSpot, including cameras, power control modules, motion detectors, breakage detectors, temperature and humidity modules, clock radios, and network terminals. It is unclear, however, whether any of these has reached the commercial market.
NFC is an extension of the ISO 14443 standard for RFID-based proximity cards. It is designed to offer a more power-efficient and affordable alternative to Bluetooth for very short-range, low-bandwidth applications. Or from a different perspective, NFC offers a more robust, bandwidth-rich alternative to RFID and other "contactless" technologies.
NFC uses magnetic loop induction technology to transmit data over a few centimeters at up to 424Kbps using the unlicensed 13.56MHz band. There are both passive (one-way) and active (two-way) versions of the technology, the latter being similar to Bluetooth transfers. Presumably, the BlueSpot router would include the active version, while the compatible wireless devices would require only the lower-cost passive transmitters.
Threshold's One-Net open source networking protocol
BlueSpot technology does not appear to be linked to any particular wireless network, but Threshold is also actively pushing its own "One-Net" low-power home networking protocol. (RMI did not, however, mention One-Net as being part of Threshold's energy monitoring system.)
One-Net is touted for its open source nature, and is also billed as being faster, cheaper, lower power, and more secure compared to contending standards in the crowded home automation networking and mesh-networking field. Major players included Zigbee, Z-Wave, and Insteon, with X-10 wireless, 6LoWPAN, CyFi, and others also competing for what is expected to be a hot home automation networking market in the coming years. The market leader appears to be ZigBee, which, for example, is used in Control4's new EMS 100 "smart grid" home automation and energy monitoring system.
One-Net uses a base data rate of 38.4Kbps, with extensions to 230Kbps, and offers a range of 100 meters (indoors) to 500 meters (outdoors), says Threshold. For security, the protocol is said to use the Extended Tiny Encryption Algorithm (XTEA) with 32 iterations (XTEA-32), along with additional encryption extensions. One-Net devices can last three to five years on AA alkaline batteries, claims Threshold.
RMI's Au1250
RMI's Au1250 SoC was announced in January 2007 in versions clocked from 400MHz to 600MHz. The MIPS32-based SoC offers an on-chip media acceleration engine that provides hardware-based D1 (up to 720 x 480) video processing, making it ideally suited for use in personal media players (PMPs), according to RMI. The SoC is offered with the Linux-based Ultra Low Power ADK.
In January 2008, RMI introduced a 700MHz version of the Au1250. While using under 700mW of power, the SoC can simultaneously play digital video at 2Mbps, D1 resolution, while also enabling active IDE hard drive and display usage and keeping all on-chip peripherals active except for USB 2.0 ports, claimed RMI at the time. In January of this year, RMI introduced a similar Au1300 SoC, clockable to 1GHz, and touted for using half a Watt to decode 720p video.
The Au1250 made headlines this spring when Embedded Alley, now a part of Mentor Graphics, announced that it had worked with MIPS to use the platform as the home of the first Android port to MIPS. Target devices for Au1250-based devices running Android are said to range from set-top boxes (STBs) to industrial equipment to a variety of mobile devices.
RMI did not,however, mention the use of Android in Threshold's upcoming energy-monitoring product. The device appears to use the original 600MHz version of the Au1250.
Stated Mike Wodopian, VP and GM at RMI Corp., "We are delighted that Threshold has selected our Au1250 Ultra Low Power Processors and the accompanying Application Developers Kit to accelerate the delivery of its unique energy monitoring and control products to the marketplace."
Stated James Martin, CEO at Threshold Corp. "RMI's Ultra Low Power Au1250 processors offer the best power and performance profile for use in highly power sensitive applications such as the energy monitoring and management products we offer."
Availability
Threshold's energy monitoring system will become available utilizing RMI's Ultra Low Power Processors in October, says RMI, with commercial products using the technology expected in early 2010.
More information on Threshold's BlueSpot technology and One-Net protocol may be found here.
---
This article was originally published on LinuxDevices.com and has been donated to the open source community by QuinStreet Inc. Please visit LinuxToday.com for up-to-date news and articles about Linux and open source.