Apr 30, 2010 — by Eric Brown — from the LinuxDevices Archive — 1 views
Driven by smartphone sales, the mobile phone market rebounded with 21.7 percent year-to-year growth in the first quarter of 2010, IDC says. Meanwhile, as of April 1 Android was available on 34 different devices from 12 manufacturers, with Android ad-view traffic growing at a 32 percent rate over the last year, says AdMob.
According to the International Data Corporation (IDC) Worldwide Mobile Phone Tracker study, 294.9 million mobile phone units shipped worldwide in the first quarter of 2010, compared to 242.4 million units in 1Q 2009. As with IDC's report on the fourth quarter of 2009, smartphone sales were once again said to have towed the mobile phone market out of its recessionary ditch.

According to IDC, market growth was strong worldwide, although it was said to be slightly lower in the U.S. In the States, hot-selling Android smartphones like the Motorola Droid (pictured) were said to have helped offset continuing sluggish sales of feature phones.
IDC continues to project a growth rate of 11 percent in the worldwide mobile phone market this year. No forthcoming quarter is expected to match this quarter's 21.7 percent year-to-year growth rate, however, primarily due to the fact that 1Q 2009 represented the nadir of the handset market in recent years, with a yearly decline of 16.6 percent.
RIM on the rise
Despite all the buzz about Android and the iPhone, it was Research in Motion (RIM) that saw the greatest success in the overall mobile phone market in the first quarter, growing 45.2 percent year-to-year. In fact, RIM moved into IDC's top five vendor rankings for the first time with its BlackBerry phones.
In the process, RIM displaced Motorola from the top five, tying Sony Ericsson for the number four position, according to the research firm. RIM shipped 10.6 million units in the first quarter, compared to 8.5 million for Motorola.

Top five mobile phone vendors, shipments, and market share, Q1 2010 (units in millions); branded shipments, exluding OEM sales


Source: IDC Worldwide Quarterly Mobile Phone Tracker, April 29, 2010
(Click to enlarge)
RIM had particular success this quarter with its BlackBerry Curve 8520 and BlackBerry Bold 9700, says IDC. While typically considered strong in the business world, RIM's BlackBerry phones are also selling quite well in the consumer market, "particularly among text-crazy teens," says the research firm.
"The entrance of RIM into the top five underscores the sustained smartphone growth trend that is driving the global mobile phone market recovery," stated Kevin Restivo, senior research analyst with IDC's Worldwide Mobile Phone Tracker. "This is also the first time a vendor has dropped out of the top five since the second quarter of 2005, when Sony Ericsson grabbed the number five spot from BenQ Siemens."
After RIM, Samsung was the big winner in the mobile phone market, according to IDC. Samsung showed a 40.1 percent growth rate and a 21.8 percent market share, moving closer to number-one Nokia. The latter grew 15.7 percent, but saw its market share decline slightly to 36.6 percent, says IDC. The research firm did not break down sales by OS, nor did it mention how well Nokia did with its Maemo Linux based N900 phone.
LG Electronics, meanwhile, held fairly steady in third place with a 9.2 percent share and 19.9 percent growth. Like Samsung, LG is churning out a lot of Android smartphones these days, and will introduce more later in the years, says IDC. Meanwhile, Samsung has only just begun to ship its first phone based on its Bada operating system.
The big loser this quarter was Sony Ericsson, which saw a 27.6 percent drop year-to-year, plunging to a 3.6 percent share, says IDC. However, the company, which has introduced the Xperia X10 Android phone, has returned to profitability this quarter due to cost cutting and new product introductions, says the research firm.
Motorola earnings on the rebound
While Motorola lost its top-five rating, things are looking up for the struggling company. Yesterday, it company reported first quarter net income of $69 million, rebounding from a loss of $231 million in the same period last year. Revenue dropped six percent to $5 billion, but overall, the earnings report was said to be above analyst expectations.
Motorola's earnings improvement were said to be driven by strong smartphone sales, especially for the Android-based Droid. Smartphones represented 2.3 million of the 8.6 million unit sales in the first quarter, says Motorola.
Android expands
With AdMob expected to be acquired soon by Google, the research firm may no longer be considered a completely unbiased observer of the mobile market. Yet its latest report, which is based on ad requests from mobile traffic, is intriguing to say the least.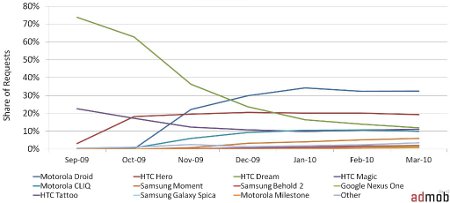 Android traffic by handset, Sept 2009 to March 2010


Source: AdMob
(Click to enlarge)
According to the March report, Android traffic has grown at a compounded monthly rate of 32 percent each month over the last year, increasing from 72 million ad requests in March 2009 to two billion in March 2010. Still, this is about a third of the traffic generated by the iPhone and iPod Touch, which together represented 6.1 billion requests in March, according to the research firm.

March 2010 Android traffic by handset


Source: AdMob
(Click to enlarge)
In March, Android was available on 34 different devices from 12 manufacturers, says AdMob. In September, only two smartphones — the HTC G1 (Dream) and the HTC Magic (presumably including T-Mobile's MyTouch 3G version) — accounted for 96 percent of Android traffic. By the end of March, however, 11 devices represented 96 percent of Android traffic, says AdMob.
The top 11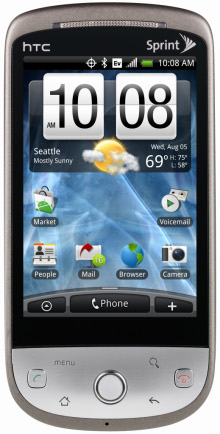 Android phones for mobile traffic, shown in the two charts above, are the Motorola Droid, Cliq, and Milestone; the Samsung Moment, Galaxy Spica, and Behold 2; as well as the HTC Tattoo, Hero (pictured at left), Dream, and Magic. The HTC-manufactured Google Nexus One also edges onto the list.
As in AdMob's previous report, 32 percent of Android OS traffic was represented by the Motorola Droid. According to a story on the AdMob report by our sister publication, eWEEK, Verizon Wireless announced on April 22 that it sold even more Droids during the first quarter of 2010 than it had during the fourth quarter of 2009.
Motorola was the leading Android vendor with 44 percent of traffic in March, primarily based on the Droid and the Cliq, says AdMob. HTC was right behind with 43 percent, and Samsung came in third with 9 percent, says the study.
Among Android phones, the HTC Hero came in second place in traffic, with 19 percent, thanks in part to a strong number-one showing in the UK, while the older HTC Dream and Magic tied for 11 percent of traffic. The Motorola Cliq weighs in next at 10 percent, and Samsung shows a healthy six percent for its Moment phone. According to AdMob, Google's Nexus One represented only two percent of traffic, as did Samsung's Behold 2.
Note, however, that mobile traffic is not necessarily an indicator of unit sales. For example, the Hero and the Cliq may be especially prominent in this report due to their heavy social networking focus, leading to greater ad views.
Availability
The IDC announcement on the Worldwide Mobile Phone Tracker report for the first quarter may be found here.
The AdMob announcement on its March 2010 mobile traffic report should be here, and the eWEEK story on the report should be here.
---
This article was originally published on LinuxDevices.com and has been donated to the open source community by QuinStreet Inc. Please visit LinuxToday.com for up-to-date news and articles about Linux and open source.