Feb 4, 2010 — by Eric Brown — from the LinuxDevices Archive — 50 views
IDC says smartphone sales reached a "new record level" during the fourth quarter of 2009, increasing 39 percent year-over-year to reach 54.5 million units. Meanwhile, Motorola's 4Q sales increased 56.3 percent compared to 4Q 2008, with 80 percent attributed to Android, the research firm added.
According to IDC's Worldwide Quarterly Mobile Phone Tracker, vendors shipped 54.5 million units of "converged mobile devices" (IDC parlance for smartphones) in the fourth quarter of 2009, up 39.0 percent from the same quarter in 2008. For the full year, vendors are said to have shipped 174.2 million units, up 15.1 percent from the 151.4 million units in 2008. In addition, says IDC, smartphones accounted for 15.4 percent of all mobile phones shipped in 2009, compared to 12.7 percent in 2008.
IDC did not list market share by OS; however, last week, quoting from the same general report, IDC announced projections that Android was coming on fast. Starting from only 690,000 units in 2008, total Android handset shipments reached 68.0 million units by 2013, second only to Symbian, said IDC. The 150.4 percent projected growth rate is said to be the highest for the period.
The research firm noted that Android will benefit from "having a growing footprint of handset vendors supporting it." IDC also projected that while Android soars, other Linux phones "will struggle throughout the forecast period."

Top Five Converged Mobile Device Vendors for Q4 2009 (Source: IDC)


(Click to enlarge)
The new IDC announcement focuses on smartphone vendor share, as depicted in the tables above and below. Here, Motorola jumped back into the top five for the quarter after a year-long hiatus, says the research firm.

Motorola's 56.3 percent growth rate for the period trailed only Apple's 97.7 percent, and was based largely on sales of the Android-based Droid (right) and Cliq (below), says IDC. Together, these two phones were said to have represented two million units out of Motorola's total of 2.5 million smartphones shipped during the quarter. The rest of the company's shipments were largely represented by the Windows Mobile-powered Q platform, as well as the Linux-based MING A1800, RAZR 2V8, and Tundra, says the report.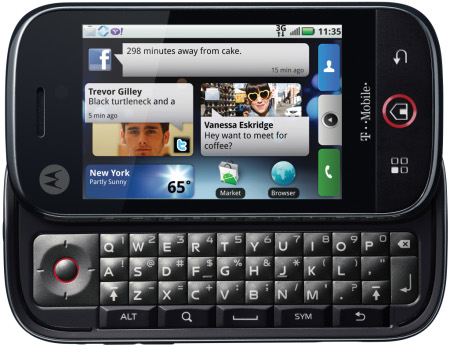 Motorola's Cliq
Mot's 4.6 percent shipment share edged out HTC for the fourth slot, but its 4Q surge was not enough to put the company into the top five for the full year. Nokia, which offers Symbian on all its OS-enabled phones with the lone exception of the Maemo Linux-based N900, remains the smartphone leader with a 20.8 percent unit shipment share for the quarter and a 67.7 percent shipment share for the year. Nokia picked up momentum by introducing more touchscreen-enabled smartphones, including the 5800, N97, N97 mini, and 5530 models, says IDC.

Top Five Converged Mobile Device Vendors for all 2009 (Source: IDC)


(Click to enlarge)
Meanwhile, Research In Motion (RIM) topped the ten million unit mark for the first time in the company's history, thanks to its BlackBerry phones, including the Bold 9700, the touchscreen-enabled Storm 2 9550, and the mass-market targeted 8520, says the research firm. Apple's quarter-leading 97.7 percent for the iPhone was helped in part by the launch of the iPhone at China Unicom, says IDC.
Thanks in part to strong sales for its Android-powered Droid Eris and Hero, HTC continued strong, but dropped from fourth to fifth place, says IDC. For the full year, however, HTC ranked fourth, followed by Samsung. The latter has also launched several Android phones, along with its Windows Mobile and Symbian models, and has introduced LiMo (Linux Mobile) based phones with Vodafone. This year Samsung will introduce phones based on its "Bada" pseudo-open operating system middleware, which can be integrated with a base Linux kernel platform, as well as with other mobile operating system cores.
"Four of the top five vendors established new shipment records for a single quarter, indicating strong demand in the market," stated Ramon Llamas, senior research analyst with IDC's Mobile Devices Technology and Trends team. "To help address demand, carriers took advantage of lower prices on many older devices, ordering additional units and, in turn, offering reduced prices to end users. It was the perfect set of conditions to push shipments to a record level."
IDC anticipates that the 4Q shipment record will be broken in 2010, as newcomers compete for the hot market. "2009 was the coming-out party for Google's Android and Palm's WebOS as both operating systems revealed new ways to surround the users with increased functionality," stated Kevin Restivo, senior research analyst with IDC's Mobile Phone Tracker. "More advances are in store for 2010 as Symbian and Windows are expected to unveil new versions of their respective operating systems."
Trends driving the market this year will include "attention-grabbing intuitiveness and seamlessness, a thriving mobile application library, and a compelling user experience that tightly holds on to the user," stated Restivo. He also noted a growing toward "greater personalization and customization."
Availability
More information on the IDC Worldwide Quarterly Mobile Phone Tracker may be found at IDC, here.
---
This article was originally published on LinuxDevices.com and has been donated to the open source community by QuinStreet Inc. Please visit LinuxToday.com for up-to-date news and articles about Linux and open source.