Mar 1, 2010 — by Eric Brown — from the LinuxDevices Archive — views
All Android phones sold in the U.S. will be eligible for an Android 2.1 update, although some older phones may need to be wiped first, says an industry report. Meanwhile another report says Google's Nexus One is heading to Verizon on Mar. 23, and an AdMob study explores Android users.
News last week that Adobe's Flash Player 10.1 may bypass devices running Android versions prior to 2.0 may not be so dire after all, according to an AndroidandMe story. Citing several unnamed inside sources, Taylor Wimberly writes that every Android phone currently released in the United States will be receiving an upgrade to Android 2.1.
Some phones may be unable to support certain Android 2.1 features, such as live wallpapers, but all will be able to run Android 2.1 firmware, says the story. Unfortunately, some, and possibly most, phones that run versions lower than 2.0 will require a data wipe, writes Wimberly.
According to the story, Sprint has said it will update its Android phones to version 2.1 in the second quarter.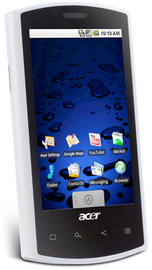 Mobile carriers are said to be working with handset makers to determine if the updates will be made over the air or through a tethered PC client. The story did not say what phones sold outside the U.S. might be candidates for the upgrade.
A salve for the Android fracture?
Google's own Nexus One is the only shipping phone to offer Android 2.1, although most of the major new Android phones announced at Mobile World Congress last month will offer the release. These include the Acer Liquid e (pictured), a version of the earlier Acer Liquid. The only other currently shipping Android 2.0 phone, meanwhile, the Motorola Droid, should receive a 2.1 upgrade quite soon, according to reports.
Standardizing most Android phones on a single platform might answer criticism that Android is in danger of becoming too fractured. Even if there was more standardization on a single version, however, Android continues to splinter off with different UI layers such as MotoBlur and Sense.
The open vendor development strategy and open source Linux foundation of Android has helped the operating system quickly ramp up to match most features of the Apple iPhone 3GS, and in some cases, surpass it. However, Apple has found success in offering a single yearly update for the iPhone, so everyone - consumers, vendors, carriers, retailers — knows what to expect.
Now that Android has bridged much of the gap with the iPhone, Google may push to calm the market with fewer updates. In other words, Android may now be sufficiently rich in features that Google can start reducing the frequency of releases. On the other hand, Google may well release new versions only in conjunction with the announcement of new Google-branded phones. This would be less pleasing to Google's Android partners, but would at least help limit the confusion in deciding between cupcakes, donuts, and eclairs.
Nexus One to Verizon on Mar. 23?
Verizon will release Google's HTC-manufactured Nexus One on Mar. 23, according to Neowin.net. A story by Tom Warren citing unnamed "sources familiar with the matter" says Verizon has chosen the date to match the opening of the International CTIA wireless show. The phone is currently offered by T-Mobile, as well as from Google itself, which is offering an unlocked version. The Nexus One is also expected to be available in Europe from April on the Vodafone network, says the story.

At our sister publication, eWEEK, Clint Boulton followed up on the rumor, as well as other recent rumors from sources such as Unwired View, reporting that the Nexus One (pictured at left) has passed FCC inspection for use on Verizon's CDMA network. When asked for comment, a Google spokesperson told eWEEK, "When we introduced Nexus One, we announced that Verizon would be a carrier partner and the device would be available in the spring. However, we haven't announced a specific date yet."
In a story last week, meanwhile, Boulton reported that Google Earth is now available for Android 2.1. The software, which lets users view satellite and 3D imagery of terrain, roads and other layers all over the planet, will leverage Android 2.1's voice recognition capabilities to execute searches, says the story.
Android and iPhone users download about the same
An AdMob report released last week that conducted opt-in surveys with mobile device consumers found that Android and iPhone users are downloading applications at very similar levels, says a Michelle Maisto story in eWEEK. Apple iPhone users download 8.8 apps per month compared to 8.7 apps for Android users, but only 5.7 apps for WebOS users, says the story. The Apple App Store offers more than 100,000 applications, while Google's Android Market is stocked with 20,000-plus, and the Palm App Catalog has grown to approximately 1,000 apps, writes Maisto.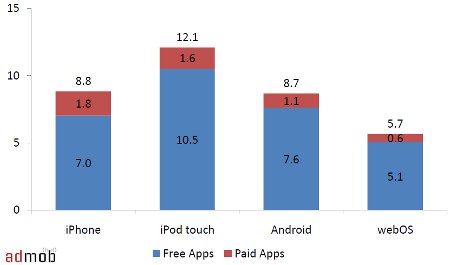 Average app downloads per month
(Source: AdMob)
Android and WebOS users opt for a larger percentage of free vs. paid apps, says AdMob (see chart above). Whereas Android users purchase an average of 1.1 paid apps out of a total of 8.7, iPhone users download 1.8 paid apps out of 8.8, says the report.
The iPhone users are happier with their devices than other mobile users, says the report. Some 91 percent of iPhone respondents said they'd recommend their device, compared to 84 percent of Android users and 69 percent of WebOS users, says AdMob.
The AdMob report also looked at demographics and found larger differences between platforms. Apple iPhone users are said to be older than those using the other devices, while WebOS users are slightly younger than Android users. (The report also covered the iPod Touch, which had the youngest demographics of all.)
Meanwhile, Apple iPhone users comprise a larger percentage of women than the other platforms, says AdMob. Some 73 percent of Android users in the survey are said to be male, compared to 57 percent of iPhone users , and 58 percent of WebOS users, says AdMob. This is not particularly surprising since a large fraction of Android sales have come from the Droid, which was marketed by Verizon in a manner not unlike a truck commercial. (The Droid's not overweight — you're just a wimp!)
Availability
The Neowin.net story on the expected expansion of Android 2.1 may be found here, and the AndroidandMe story on the Nexus One launch on Verizon should be here. The eWEEK story on both topics should be here, and the story on the Android edition of Google Earth should be here.
The eWEEK story on AdMob's demographic report on smartphone users may be found here, and the AdMob report itself may be found here.
---
This article was originally published on LinuxDevices.com and has been donated to the open source community by QuinStreet Inc. Please visit LinuxToday.com for up-to-date news and articles about Linux and open source.