Jan 27, 2009 — by Eric Brown — from the LinuxDevices Archive — 6 views

The Intel-sponsored Moblin Project has released an alpha version of its second-generation "Moblin V2" Linux-based toolkit for mobile devices — and it targets netbooks initially, rather than mobile Internet devices (MIDs). The Moblin V2 Core Alpha for Netbooks is available for testing now, says Moblin.org.
According to this Moblin architecture overview page, the Moblin V2 for Netbooks version will move to beta in April. Meanwhile, the Moblin MID version will not be released until 2010, according to the page. Clearly, the focus for the Linux-based mobile stack has shifted from the still emerging MID format to the hot-selling netbook format (LinuxDevice's Linux Netbook showcase lists 33 models. ABI earlier this week forecast 35 million netbook shipments this year.)
The open-source Alpha release of Moblin 2.0 is said to support multiple-level testing of:
Core Linux OS, boot process, inter-process, and package interactions
New "Fastboot" feature of Moblin, which fundamentally improves boot time
Connectivity and networking, using the new ConnMan connectivity manager.
Kernel 2.6.29-rc2.
Moblin Core Components (first look), including Clutter and all other UI development tools (see video below)
Xserver 1.6 (with DRI2)
New Moblin Image Creator (MIC2) and installation tool

Moblin 2's "Clutter" UI
(Click to play)
The Alpha Moblin V2 Core for Netbooks distribution is said to target a system featuring the following specifications:
CPU — Intel Atom or Intel Core 2 CPU, with support for SSSE3 (Note: Moblin will not work on non-SSSE3 CPUs)
Graphics — integrated Intel graphics (915/945/965)
LAN/wired network adapters:

Intel e100/e1000/e1000e/iXGB
PCNet32 (Vmware)
RealTek 8139/8169
SIS 900/190
Broadcom ATL1/ATL2

Wireless/WiFi adapters:

Intel 3945/4965/5000
Atheros 5K/9K
Broadcom 4300
RealTek 8180/8187
Ralink 2400/2500/61/73
"Various external, USB-based WiFi devices"
The following have been verified as tested platforms, says Moblin.org: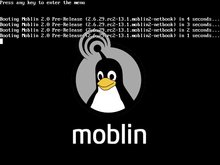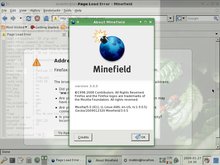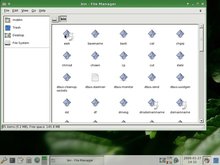 Screenshots of a "barebones" Moblin 2 image, running under kvm, with the lightweight XFCE window manager
(Click any to enlarge)
According to Moblin.org, known issues with the Alpha release include slow 3D performance, no WiFi support currently for the EeePC 901, and lack of support for platforms with the GMA-500 graphics chipset. In addition, cautions the group, the final user interface will look very different than the Alpha version, and will not be based on XFCE.
Available Alpha releases include source code, as well as the following pre-built images. (The images, ending with *.iso or *.img, are hybrid ISOs that can be either written to CD media or USB devices.):
Moblin-core — XFCE desktop images without any development tools (minimal set of packages)
Moblin-core-devel — Images with basic development environment
Moblin-netbook-core-alpha1-vmware — VMDK image with a VMX file that can be loaded into Vmware
Moblin-netbook-core-alpha1-kvm — Raw image file that can be loaded with Qemu (KVM)
Moblin.org has also posted Moblin Image Creation downloads for Fedora 9, Fedora 10, and Ubuntu 8.10.
Moving from MIDs to netbooks?
Moblin.org and the Moblin open-source toolkit were launched in July 2007, targeting Linux-powered MIDs based on Intel processors. Since then, Moblin's focus has expanded to include Linux netbooks, which are the fastest-growing sector of the personal computing market.
Moblin 1.0 consists of a development sandbox, an emulator, and target software including a kernel and middleware, graphics framework, window manager, browser, and a growing set of third-party applications and contributed projects. The tools could be used to build software for any device at all based on Intel Atom processors — including the Z-series embedded parts (Menlow), as well as the N-series mobile parts (Diamondville).
Availability
Moblin V2 Core Alpha for Netbooks is available for free download, says Moblin.org, and may be found here.
Pre-built images for Alpha should be available here.
Instructions on using the repositories to create images may be found here.
The Moblin Tools should be here.
More release notes may be found here.
---

This article was originally published on LinuxDevices.com and has been donated to the open source community by QuinStreet Inc. Please visit LinuxToday.com for up-to-date news and articles about Linux and open source.