Feb 16, 2009 — by Eric Brown — from the LinuxDevices Archive — 2 views
LG Electronics is collaborating with Intel on a new line of mobile Internet devices (MIDs) based on the latter's energy-efficient "Moorestown" processor. Due to ship in 2010, the MID will run a Linux-based, MID-focused Moblin V2 distribution that will add cellular voice capability, says Intel.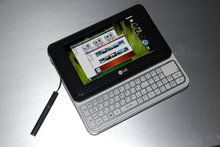 LG's first-gen
MID prototype
The LG MID is predicted to be "one of the first Moorestown designs to market," according to the companies, a claim that has been qualified due to the long lead time still needed for the development of Moorestown, the new Moblin stack, and the next-generation MID itself. The deal is said to be an extension of previous collaborations between the companies on projects including notebooks, netbooks, and MIDs. LG released an "X110" Intel Atom-based netbook in late 2008, but offers it with Windows XP only. At the Intel Atom launch last April, the company showed off a MID prototype (pictured at right), but not much has been heard about it.
Another previous partner of both companies — Ericsson — will develop a 3G module for the new MID, say the companies. Ericsson and Intel announced their collaboration on 3G devices for Moorestown in October.
A more power efficient Moorestown
The heir to the Atom designs, Moorestown consists of a system-on-chip (SoC) and an I/O hub. Codenamed "Lincroft," the SoC will integrate a 45nm core, graphics, video, and memory controller onto a single chip, says Intel, greatly decreasing size and power consumption. The I/O hub, codenamed "Langwell," is said to support a range of I/O blocks such as storage and display, and to provide interfaces to third-party PMICs (power management ICs) and wireless products. Moorestown-based MIDs are expected to draw as little as one tenth the idle power consumed by today's Atom-based MIDs, says Intel, addressing an area in which x86 has historically trailed far behind RISC architectures such as ARM.
Next Moblin to support voice
LG's MID will apparently be one of the first devices to run the Moblin V2 for MIDs mobile device stack, which Intel says will add "cell phone voice capabilities." Many MID developers were disappointed when the open source, Moblin technology developed by the Intel-sponsored Moblin.org shifted its focus from MIDs to netbooks for the first of the V2 releases. Available in Alpha now, Moblin V2 for Netbooks should go Beta in the second quarter. With the MID V2 version recently postponed until 2010, the early LG MID announcement may be Intel's way of reassuring the industry that it has not given up pushing the MID format.
Taking a MID breather?
Considering the phenomenal success of netbooks over the last year, Intel's shift in focus seems reasonable. By comparison, relatively few Atom-based MIDs have hit the market, almost all running Moblin 1.0. While firm sales figures are hard to come by, especially since most of the devices are being subsidized by wireless carriers as a way to push their 3G services, early reports have suggested a modest response from device manufacturers, as well as from the relatively few consumers who have seen the devices.
With Atom-based MIDs being criticized for their limited battery life, and with energy-efficient ARM Cortex-based MIDs arriving, Intel may have decided to postpone its MID push to await the arrival of the power-sipping Moorestown SoC. Meanwhile a year's delay may possibly allow for an uptick to the economy, while providing more time for the spread of 3G and WiMAX services, as well as the further development of Moblin applications.
Stated Jung Jun Lee, EVP of LG Electronics, and head of its Mobile Communications Business division, "The MID segment will drive growth at LG Electronics. We chose Intel's next-generation Moorestown platform and Moblin-based OS to pursue this segment because of the high performance and Internet compatibility this brings to our service provider customers."
Availability
The Moorestown based MID from LG is expected to arrive "in 2010," says LG.
---

This article was originally published on LinuxDevices.com and has been donated to the open source community by QuinStreet Inc. Please visit LinuxToday.com for up-to-date news and articles about Linux and open source.