Sep 3, 2010 — by LinuxDevices Staff — from the LinuxDevices Archive — 4 views
The PCI Industrial Computer Manufacturers Group (PICMG) has announced formal adoption of the COM Express Revision 2.0 spec, ratifying the 3.75 by 3.75-inch COM Express Compact module size and adding Digital Display Interfaces. Concurrently, Kontron announced a revised version of its ETXexpress-AI COM (computer on module), adopting the new COM Express Type 6 pinout.
Kontron's 25 x 95mm (4.92 x 3.75 inch) ETXexpress format became the basis of the PICMG COM Express standard. The company's smaller 95 x 95mm (3.75 x 3.75) microETXexpress format, meanwhile, has also been widely adopted, and last year was proposed for standardization under the COM Express Compact moniker.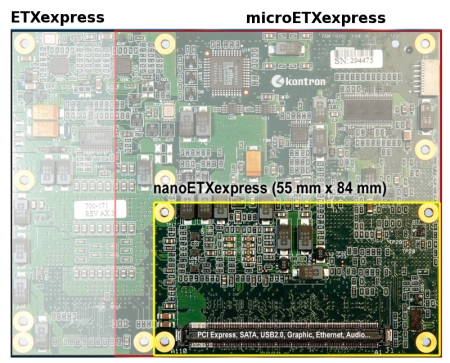 Comparison of COM Express form factors
Source: Kontron
(Click to enlarge)
Well, now it's official: COM Express Compact is part of the COM Express Revision 2.0 spec. In an August 31 release, the PICMG noted that other changes in the new spec include:
enhanced display support
faster Generation 2.0 PCI Express ports
high-definition audio
USB client support
While it offers the new spec for purchase, the PICMG did not provide many other details in its release. However, RadiSys — which, like Kontron, has been involved in defining COM Express since release 1.0 — has endorsed the spec, noting its provision of not only the COM Express Compact module size, but also new Type 6 and Type 10 pinouts.
According to RadiSys, Type 6 addresses the need for digital display and USB 3.0 interfaces and offers a simple upgrade path for existing Type 2-based designs. Meanwhile, Type 10, a single connector version similar to Type 1, optimizes the single connector module display interfaces for future designs, the company adds.
As RadiSys and Kontron both note, the Type 6 pinout can support up to three Digital Display Interfaces DDIs), including SDVO, DisplayPort, and HDMI/DVI. It also adds support for USB 3.0 and two additional PCI Express Lanes, for a total of 23, the companies say.
Kontron adds that the DDIs are now separated from the PCI Express Graphics (PEG) port, allowing for parallel use of the integrated graphics on Intel processors and an external graphics card. Such a graphics card can be used either for connecting additional displays or as a GPGPU (general purpose computation on graphics processing unit) for high-performance data processing, the company notes.
We first encountered a COM Express Type 6 pinout on Emerson Network Power's COMX-CORE module, released back in January. RadiSys, for its part, says it will add Type 8 COM Express 2.0-equipped products to its portfolio during the fourth quarter.
Kontron, meanwhile, announced a COM Express Type 6 product yesterday, as we detail below. The device is a revised version of the company's ETXexpress-AI module, which was first released at the beginning of March.
ETXexpress-AI
The ETXexpress-AI uses four of the embedded-specific, 32nm Core i5 and i7 processors announced by Intel in January. These are:
The dual-core Core i7-610, with a standard clock speed of 2.53GHz, a TurboBoost frequency of 3.20GHz, and a TDP of 35 Watts
The dual-core Core i5-520, with standard clock speed of 2.4GHz and a 2.93GHz TurboBoost frequency, plus a 35-Watt TDP
The dual-core Core i7-620LE, clocked at 2.0GHz with a 2.80GHz TurboBoost frequency, plus a 25-Watt TDP
The dual-core Core i7-620UE, clocked at 1.0GHz with a 2.13GHz TurboBoost frequency, plus an 18-Watt TDP
On the ETXexpress-AI, these 32nm CPUs result in estimated power consumption ranging from 20 to 40 Watts, according to Kontron. Backed up by Intel's QM57 chipset (block diagram, here), they're said to include onboard PCI Express x16 graphics and dual-channel DDR3 memory support, the chipmaker says.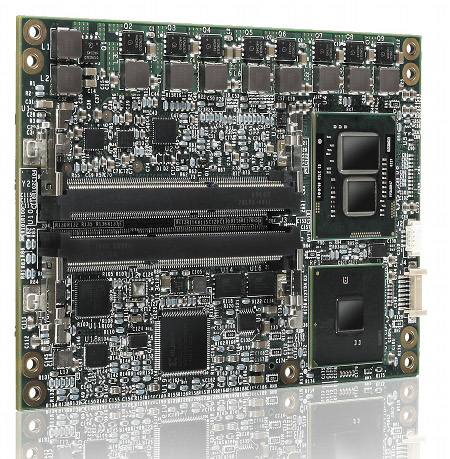 Kontron's Type 6-equipped ETXexpress-AI
(Click to enlarge)
Kontron says the ETXexpress-AI (above) has two DIMM sockets that jointly accept up to 8GB of DDR3 memory. The module includes Intel's Active Management Technology 6.0 and is available with an optional TPM (trusted platform module), the company adds.
According to Kontron, the ETXexpress-AI provides eight USB 2.0 ports, four SATA ports, plus a PCI Express Graphics interface (also configurable as 2 x PCI Express x 8), seven PCI Express x1 interfaces, and Intel high-definition audio. The module is also said to include gigabit Ethernet, and graphics output that includes not only the Type 6-exported DDI interfaces, but also LVDS and VGA graphics output.
The only ETXexpress-AI datasheet on Kontron's website at the time of writing is the one for the previous Type 2-equipped version. However, we're assuming that the 32-bit PCI and PATA interfaces listed there have been dropped on the Type 6 product, and have accordingly deleted them from the spec table below. (Kontron says it will continue to market Type 2 COM Express modules for those whose designs require IDE and PCI implementations.)
Features and specifications listed by Kontron for its revised ETXexpress-AI include the following:
Processor:

Core i7-610, with clock speed of 2.53GHz, TurboBoost frequency of 3.20GHz, and 35-Watt TDP
Core i5-520, with clock speed of 2.4GHz, TurboBoost frequency of 2.93GHz, and 35-Watt TDP
Core i7-620LE, with clock speed of 2.0GHz, TurboBoost frequency of 2.8GHz, and 25-Watt TDP
Core i7-620UE, with clock speed of 1.0GHz, TurboBoost frequency of 2.13GHz, and 18-Watt TDP

Chipset — QM57
Memory — Up to 8GB of DDR3 RAM
Display — Supports LVDS and VGA, plus three DDIs
Expansion (via COM Express Type 6 pinout):

7 x PCI Express x1
1 x PCI Express Gen 2 Graphics (also configurable as 2 x PCI Express x8)

Networking — Gigabit Ethernet
Other I/O (also via COM Express Type 6):

4 x SATA
8 x USB 2.0
HD audio

Power:

Consumption — 20 to 40W depending on CPU
8 to 18VDC input range

Operating temperature — n/s
Dimensions — 4.92 x 3.75 inches (125 x 95mm)
Statements
Joe Pavlat, President of PICMG, stated, "COM Express is truly a great success story for the embedded community. It allows the heavy lifting of getting any platform to an OS prompt to be handled in a modular format, freeing companies to focus on their own specialized innovations with their baseboards. This new revision greatly enhances the viability of COM Express modules for years to come."
Dirk Finstel, chief technology officer of Kontron, stated, "With the new compact form factor and pinouts defined in the COM Express COM.0 R 2.0 specification, we accomplished the implementation of all the features offered by the new processors into future-proof connector types. Customers can fully benefit from the enhanced graphics capabilities and on-board support for three dedicated digital display interfaces — plus the projected USB 3.0 interface and upgrade to PCI Express Gen 2 — as well as from new serial interfaces."
Bob Pebly, RadiSys CTO fellow, stated, "Embedded applications adopting COM Express are continually pushing the performance paradigm. The initial COM Express specification purposefully planned out a course of I/O interface migration to enable the easy adoption of newer technologies. COM Express 2.0 takes an evolutionary step and defines how to implement and take advantage of newly introduced technology needed by the market, especially in video-rich environments."
Further information
The ETXexpress-AI is said to support Linux, including Red Hat Enterprise, SuSE, Red Flag, and Wind River Linux. It also supports Windows 7, Windows XP, and VxWorks, says the company. The Type 6 device is said to be available now, and further information may be found on Kontron's website, here.
The COM Express Revision 2.0 specification may be purchased from the PICMG website, here. An informative whitepaper providing more information about the new Type 6 and Type 10 pinouts is available in PDF format from the Kontron website, here.
---
This article was originally published on LinuxDevices.com and has been donated to the open source community by QuinStreet Inc. Please visit LinuxToday.com for up-to-date news and articles about Linux and open source.