Aug 31, 2007 — by LinuxDevices Staff — from the LinuxDevices Archive — 5 views

Motorola today sent out a mass email inviting recipients to "experience" its Linux-based RAZR2 V8 phone "at your nearest mobile phone store." The phone will be offered by all major U.S. GSM/GPRS providers, including AT&T (formerly Cingular), Sprint, and T-Mobile, according to reports.
vspace=5 hspace=10 cellspacing=0 cellpadding=10 border=2 bordercolor="#DE0000″>

Spread the word:
digg this story
Motorola launched the V8 at LinuxWorld earlier this month in San Francisco. The phone shipped this week in India, Vietnam, and the Sultanate of Brunei on the island of Borneo.
The RAZR2 V8 is a highly multimedia-oriented phone, with features such as Windows Media Player 11 codec, a USB 2.0 interface supporting "high speed" (480Mbps) file transfers, and a "music touchscreen" on the external display. Additional touted RAZR2 V8 features include: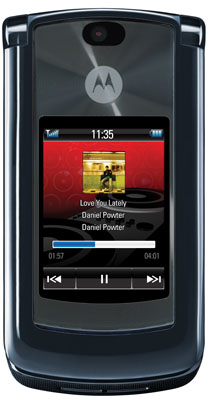 512MB (420MB available) or 2GB of user storage
External display lets users read and reply to text messages
Quad-band GSM/GPRS support for worldwide network availability
Two-megapixel camera with MPEG4 video capture and 8x zoom
Stainless steel frame
"Vacuum metal housing, chemically hardened glass, spun metal, and chrome"
2-inch external QVGA (320×240) 262K color external display with "contextual touch interaction"
2.2-inch internal QVGA 262K color display
MotoSync OTA synch
Optional micro-USB and Bluetooth stereo headsets
"Full" HTML browser
Claimed "speaker-independent" voice dialing (name or digit)
EDGE Class 12
Supports Bluetooth imaging, printing, peer-to-peer gaming profiles
MMS, WV, SMS3 messaging
Class 2, version 2.0 Bluetooth ranging up to 30 feet
Claimed 500 minutes talk time, 280 hours standby
Unlocked versions of the quad-band V8 are already available from various online retailers, priced at about $500. OSNews editor Eugenia Loli-Queru last week gave one such unit a cautiously favorable review.
According to a report at PC Magazine, the RAZR2 V8 will be offered by leading U.S. mobile carrier AT&T (formerly Cingular), priced at $300 with a two-year commitment, with availability expected in "early September." The phone will reportedly support partner services that include iMusic, XM Radio Mobile, The Buzz, and Music Videos, with MobiTV also a potential option.
Verizon, the other major U.S. carrier, will reportedly sell the CDMA version — dubbed the RAZR2 V9 — for $300, with a $50 rebate. That version is not based on Linux, however, but instead uses Motorola's "Synergy" OS, apparently a version of the carrier's aging P2K OS facelifted with a new user interface and buzzy name.
Sprint, meanwhile, which operates GSM/GPRS networks in some U.S. locations, will reportedly dispense with the rebate and offer the V8 for $250 outright, with a two-year contract. Sprint's version reportedly will support Sprints PCS Picture Mail and Sprint's customizable OnDemand service for sports, weather, and news.
In light of Motorola's recent financial difficulties, some analysts have described the RAZR2 as a "make or break" product for Motorola. The company is presently locked with Samsung — another Linux phone vendor — in a dead heat for second place in the global mobile phone market, behind long-time leader Nokia. Motorola recently laid-off 3,500 employees.
Motorola adopted a Linux phone strategy in the early days of Linux as a handheld device OS — on Valentine's Day, 2003. In numerous investor calls since then — including the most recent — beleaguered CEO Ed Zander has billed Linux as a strategic advantage for the company.













A potpourri of non-U.S. Motorola Linux phones
(Click each image for details)
Motorola, among the first large handset vendors to embrace embedded Linux, has already sold over 9 million Linux-based handsets globally, it claims. To date, however, no Linux-based Motorola phones have seen widespread distribution in the U.S., as far as we know.
All of Motorola's Linux phones to date have run MontaVista Linux, together with Trolltech's Qtopia Core graphics stack. Motorola's recently renamed MOTODev Studio development tools for the RAZR2 V8's MotoMAGX OS stack currently support third-party Java apps, with web-based "widget" app support expected this Fall, followed some time next year by native Linux applications, the vendor has promised.
Further details about U.S. RAZR2 V8 availability can be found in PCMagazine coverage, here. Or, to believe Motorola, "at your nearest mobile phone store."
---

This article was originally published on LinuxDevices.com and has been donated to the open source community by QuinStreet Inc. Please visit LinuxToday.com for up-to-date news and articles about Linux and open source.