Jun 2, 2009 — by Eric Brown — from the LinuxDevices Archive — 10 views

[Updated: Jun. 3] — Canonical, Xandros, Linpus, and Red Flag announced versions of their Linux distributions based on the open source Moblin v2 stack for Intel Atom-based netbooks. Novell, meanwhile, demonstrated its previously announced Moblin v2 version of SUSE Linux on Acer and MSI netbooks.
(Click for larger view of Moblin v2 beta's new toolbar)
Released by the Intel-backed Moblin.org in May, the beta version of "Moblin v2.0 for Netbooks and Nettops" introduced extensive upgrades in the user interface (UI), including a new toolbar, and an "m_zone" home page that aggregates social networking content (see below for more details).
First to announce support for the software was Novell, which is readying a Moblin v2 version of SUSE Linux and OpenSUSE based on Moblin v2 (see image below). It now appears that Acer and MSI will be early adopters of the technology. This week at the Computex Taipei show in Taiwan Novell is demonstrating the Moblin v2 version of SUSE Linux on undisclosed Acer and MSI notebooks, presumably versions of two of the leading netbooks on the market, the Acer Aspire One and the MSI Wind.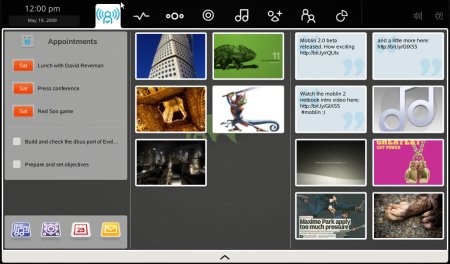 Novell-sponsored OpenSUSE beta incorporating Moblin v2, showing customized version of m-zone interface
(Click to enlarge)
According to a
Reuters
story today, Acer also announced that its long-rumored Android-based netbook will
become a reality
this year. The company was said to have demo'd Android running on a netbook running the x86-based Intel Atom, which appears to be a first for the ARM-friendly Android stack.
The Acer Aspire One netbook currently offers Linpus Linux Lite, but it is unclear whether it will continue to do so or offer both Novell and Linpus versions of Moblin v2. Taiwan-based Linpus yesterday announced support for Moblin v2 on Linpus Linux Lite, saying it will offer optional UI installs with Linpus and Moblin interfaces, respectively. Linpus Linux Lite offers special support for Asian languages, and has been popular in the region.
Beijing, China-based manufacturer, Red Flag, one of the founding companies of Asianux, announced support for Moblin v2 in its Midinux 3.0 distro, and is said to be demonstrating a version at the Computex show. However, the Midinux distribution, which was the default distribution offered with Intel's original mobile Internet devices (MIDs), appears to be aimed instead at next year's Moblin v2 for MIDs, which will be based on Intel's next-generation Moorestown processors.
Ubuntu remixes again
Canonical has now joined the Moblin v2 party with its netbook-oriented Ubuntu Netbook Remix edition, which is based on its newly ARM-compatible Ubuntu distribution. Canonical was an early supporter of Moblin, but so far only for its Ubuntu MID Edition distro. The MID Edition, which like the mobile Internet device (MID) format itself, has seemed to languish while netbooks have taken center stage, was based in part on Moblin v1, which was oriented toward Atom-based MIDs. The MID Edition was also based on the Canonical-sponsored Ubuntu Mobile and Embedded (UME) community project, which similarly shared code with Moblin.
As Moblin v2 arrived with a full complement of UI bells and whistles aimed at netbooks, however, it was unclear whether Canonical would choose it for its OEM-targeted Ubuntu Netbook Remix, or instead go its own way with the Ubuntu interface. Now, it appears, that it will do both. Moblin v2 will offer "the core infrastructure, applications and user experience that Canonical will integrate into an Ubuntu-based product," says Canonical.
In a statement, Ubuntu project founder Mark Shuttleworth, suggested that Moblin will be offered as an alternative install to Ubuntu's traditional UI for netbooks. "Adding it as an option alongside Ubuntu, and eventually sharing elements between the two, means even more rapid innovation on open platforms which will benefit developers, manufacturers and, most importantly, users," said Shuttleworth.


Dell Mini 10v
(Click for details)
Canonical did not mention which netbooks would offer the Moblin v2 version of the Ubuntu Remix Edition, but among other regular customers, Dell uses it for its "Mini" netbooks, including the new Mini 10v (pictured above), and HP has adopted Ubuntu as the basis for its "Mi" netbook install available on its Mini 1000 and new Mini 110 netbooks. An appearance on a netbook called "Mini", therefore, is probably a safe bet.
Xandros brings Moblin to the Eee PC
Xandros, meanwhile, which like Canonical was also an early supporter of Moblin, will bring the Moblin v2-flavored version to the Asus Eee PC, where Xandros Linux has long served as the house Linux install. Xandros plans to combine "core Moblin v2 technologies with Xandros' own proprietary technologies to provide social networking, multimedia content management, PIM, Web, and other services," says the company.
As with Acer, an Asus Eee PC was also seen running the rival Android at Computex, albeit without an announcement of intent. The demo ran on a Qualcomm ARM-based Snapdragon processor at Qualcomm's booth, but the next day the demo was suddenly removed, according to ComputerWorld. According to the story, the Asustek (Asus) chairman apparently apologized to Intel and Microsoft for his company's ARM Linux heresies, although the removal was said by Asus to be due to Android's lack of "maturity."
Linux distro vendors appear to see the revitalized and refocused Moblin stack as the means to win back the Linux netbook market share lost in recent months to Microsoft's Windows XP, as well as preempt Microsoft's upcoming Windows 7, which is being billed as a netbook-capable OS. Moblin v2 should also raise the bar for Google's Linux-based Android, which will soon appear on a Skytone netbook called the Alpha 680.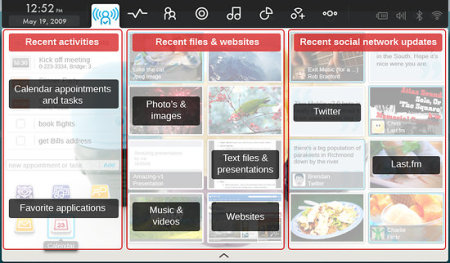 Main m-zone home screen
(Click to enlarge)
Moblin v2 is notable for its fast booting technology, which is said to load the desktop in as little as seven seconds. Starting with the beta release, Moblin added a new user interface (UI), developed using the Clutter animation framework, that is optimized for netbooks and nettops. Moblin's new top-line toolbar appears only when the cursor exposes it, thereby saving screen space. The toolbar is divided into time and date, a selection of icon-like "panels," and system information. The panels include features such as status, people (contacts), Internet, media, pasteboard, applications, and zones.
In addition to new top-of-screen toolbars, the key addition is the m_zone, which acts as a home screen for at-a-glance access to various activities. These include synchronized calendar items, tasks, appointments, recently used files, and real-time updates from social networking sites, says Moblin.org. The display is divided into recent activities, recent files and websites, and recent social network updates.
Other highlights of the Moblin v2.0 beta release are said to include an an optimized Mozilla-based web browser revised into a Clutter shell, plus a zoomable media player. There is also an updated connection manager (ConnMan), and support for a variety of Linux desktop applications via Gnome Mobile technologies.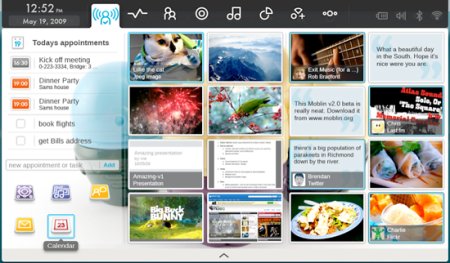 M-zone appointment screen
(Click to enlarge)
In early April, Intel formally handed over control of its Linux-based, Moblin mobile device stack to the nonprofit Linux Foundation (LF). Yesterday, Moblin gained new development support when MontaVista announced a Market Specific Distribution (MSD) of MontaVista Linux 6 based on the the Moblin v2 stack. MontaVista's main focus with Moblin, however, appears to be MIDs and automotive infotainment systems rather than netbooks.
Like Canonical, Xandros announced yesterday that it had signed a deal with RealNetworks to offer the new RealPlayer for Mobile Devices media player on its netbook distributions.
Stated Ubuntu project founder Shuttleworth, "We are very excited about bringing a Moblin v2-based product to market in the near future."
Stated Andreas Typaldos, CEO of Xandros, "The new Moblin 2 for Intel Atom processors provides the foundation to build dynamic interfaces with integrated social networking, to satisfy the media-rich lifestyle of today's mobile users in a timely manner."
Stated Jim Wong, senior corporate VP and president of IT Products Global Operations at Acer, "We are pleased to work with Novell and Intel to demo the SUSE edition of Moblin on Acer devices."
Stated Sambora Chern, senior director of Global Marketing at MSI, "MSI already offers SUSE Linux Enterprise Desktop preloaded on MSI devices and this new Novell version of Moblin offers another interesting desktop computing opportunity for our customers."
Availability
Neither Canonical or Xandros mentioned when netbooks running their Moblin v2-based distributions would be available. Novell's SUSE edition of Moblin running on netbook and nettop devices can be seen at Novell booths M1314-M1318 and M1413-M1417 in the Nangkang Exhibition Hall at Computex through June 6. The Xandros Moblin 2 solution will be showcased at Intel's booth M806, Nangang Hall, says the company.
The Moblin v2 beta for Netbooks and Nettops may be downloaded here. More information, tours, videos, etc. may be found here.
---

This article was originally published on LinuxDevices.com and has been donated to the open source community by QuinStreet Inc. Please visit LinuxToday.com for up-to-date news and articles about Linux and open source.