Dec 20, 2010 — by Eric Brown — from the LinuxDevices Archive — 1 views
Amid rumors that "Honeycomb" will be released in February as Android 2.4, not Android 3.0, Motorola released a teaser video about a Honeycomb tablet due for an unveiling at next month's CES show. Meanwhile, Piper Jaffray projects that Android tablets will comprise 39 percent of the tablet market by 2012, closing in on the iPad's 44 percent share.
Throughout the year, Google has allowed confusion to reign regarding the names, capabilities, and release dates of upcoming Android releases. Earlier this year, it seemed that a tablet-ready Android 3.0 might arrive by now, but instead we got a nifty, but less dramatic Android 2.3.
More recently, the speculation has been that the tablet-enhanced Android 3.0 would arrive in the spring. Now, claims are popping up that "Honeycomb" will ship in February, but will be called Android 2.4.
The rumor arrived on AndroidandMe late last week, based on information from "a developer working on third party software for different versions of Android," according to the publication's Taylor Wimberly. The source was said to have presented reliable tips in the past.
Wimberly had no additional information except to say that several other insiders have told him that he should not miss the next Google I/O conference to be held in May, 2011 in San Francisco's Moscone West. Wimberly took this as a sign that Android 3.0 might be announced then.
If true, however, this would be only a two- or three-month gap between releases, whereas the last two releases — Android 2.2 and 2.3 — were released after five or six-month waits.
Mot teases with tablet video
The prospect of an early Honeycomb release was strengthened by rumors that a number of vendors will show Honeycomb-based devices at the Consumer Electronics Show (CES), to be held in Las Vegas from January 5-9. Motorola will be among them with its first tablet, suggests the company in an amusing video teaser posted today.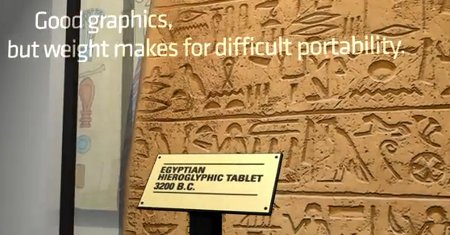 Egyptian tablet pros and cons from Motorola's Tablet Evolution video
The "Tablet Evolution" video, posted on
YouTube
(see below) shows a series of museum exhibits of tablets through history. The 10 Commandments tablet, for example, is annotated with the comment "Excellent durability, but zero flexibility (can't edit), while a Mayan engraved tablet was said to offer "successful Latin American distribution, but rumored 2012 self-destruct feature."
Moving forward in time, the Apple iPad is dinged for being "like a giant iPhone," while the Samsung Galaxy Tab is bashed for offering "Android OS, but Android OS…for a phone."
Motorola's "Tablet Evolution" video


Source: Motorola
(Click to play)
This reference to Honeycomb's presumed tablet features is reinforced by a buzzing bee landing on a device hidden under a black hood. Beneath it is the new red-colored Motorola logo introduced earlier this month. The video concludes simply "CES 2011."
Earlier this month, after months of rumors, a Motorola tablet prototype running Honeycomb was briefly demonstrated by Google's Andy Rubin. All he would say about the tablet, however, was that it was equipped with an Nvidia Tegra 2 processor. A Motorola spokesperson, however, confirmed with our sister publication eWEEK that the company was working on both seven- and 10-inch Android tablets, and intended to introduce a tablet in the first half of 2011.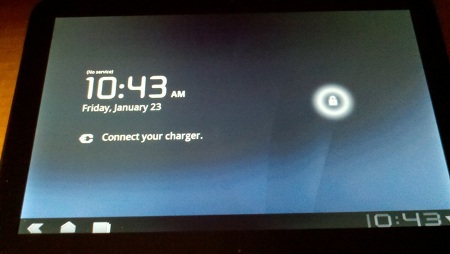 Motorola's Android tablet prototype
Source: HowardForums
A week ago, some photos of the tablet (above) were posted on
Howard Forums
by a "wnrussell," along with specs sourced to
PhoneArena
showing the tablet having a Tegra 2, 512MB of RAM, 32GB of internal flash storage, and a microSD slot. According to the posting, the tablet will offer a 10.1-inch 1280 x 800 multitouch display, a front-facing camera, gyroscope, micro-USB port, mini-HDMI port, and 3.5mm headphone jack.
Piper Jaffray: Android tablets to rival iPad market share
A new Piper Jaffray report projects that Apple's iPad will command 44 percent of a 2012 tablet market that will reach 70.8 million shipments, with Android tablets nipping at its heels with 39 percent, according to a story in our sister publication eWEEK.
Apple has been estimated by some to have sold almost 90 percent of the 14.5 million tablets shipped this year after launching the iPad in April. Piper Jaffray, meanwhile, says that Android 's 2010 market share will be 11 percent, says the story. Android will finish 2011 with 53 percent market share, with Android grabbing 32.5 percent, projects the research firm.
Piper Jaffray apparently did not report what other OSes might consume that remaining 14.5 percent share in 2011 and 17 percent in 2012. The list may include contenders like Windows 7, RIM's PlayBook, or other Linux-based entries like MeeGo or HP's WebOS. Also, it was not clear whether these numbers refer only to general consumer tablets or also cover vertical markets.
Apple itself claims to have sold 4.2 million iPads in the fourth qua

rter alone, which closed Oct. 19, says eWEEK. Worldwide sales of Samsung's Galaxy Tab (pictured) topped one million in December, though the Android 2.2-based, seven-inch screen tablet only launched from wireless carriers in the United States in mid-November.
This came as a surprise to Piper Jaffray researchers, who called the Tab "a weak offering, but finding surprising success," according to the story.
Tablet trends
As with most of the tech world, our friends at eWEEK seem to have gotten tablet fever lately. Relevant coverage in the last ten days includes, in chronological order:
---
This article was originally published on LinuxDevices.com and has been donated to the open source community by QuinStreet Inc. Please visit LinuxToday.com for up-to-date news and articles about Linux and open source.