Dec 14, 2010 — by Eric Brown — from the LinuxDevices Archive — views
ViewSonic's seven-inch ViewPad 7 and 10.1-inch "G-Tablet" Android 2.2 tablets are now on sale in the U.S., starting at $430 and $400 respectively. The ViewPad 7 stands out with its open 3G SIM slot flexibility and dual cameras, while the G-Tablet has already shown blazing speed on one published benchmark, thanks to its dual-core 1GHz Nvidia Tegra 2 processor.
ViewSonic's seven-inch ViewPad 7 tablet is now available for sale at ExcaliberPC for $479 and at Amazon.com for $429. Meanwhile, ViewSonic has posted full specs for the Android 2.2 tablet. The release follows ViewSonic's 10.1-inch, Android 2.2 G-Tablet debut in U.S. stores earlier this month (see farther below).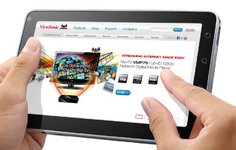 ViewSonic ViewPad 7
The dual-booting 10.1-inch
ViewPad 10
, meanwhile, which runs Android or Windows 7 on an Intel Atom, will not ship until the first quarter of 2011, says the company.
ViewPad 7
Despite the underpowered ARM11 processor, the ViewPad 7 has a lot going for it, according to one early review (see farther below). Pluses include dual cameras, unlocked 3G telephony support, and the Android 2.2 software. In addition ViewSonic justifiably claims it to be one of the few Android tablets to offer the full suite of Google Mobile Services, including Android Market.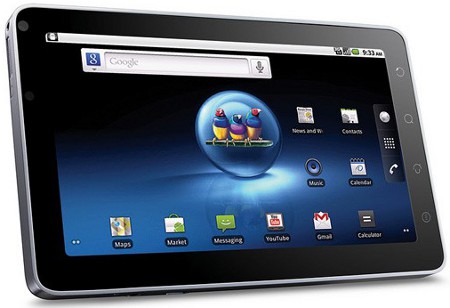 ViewPad 7
Formally announced along with the dual-boot ViewPad 10 in early November, the
ViewPad 7
is built around a 600MHz ARM11-based
Qualcomm MSM7227
. This system-on-chip was a mainstay of the first wave of Android smartphones, but is decidedly underpowered for an over $400 tablet.
The tablet is said to ship with 512MB RAM and a mere 512MB NAND flash, says ViewSonic. A microSD card slot can hold up to 32GB of storage, but customers will need to stock it themselves. As noted, a SIM slot for a 3G radio is also said to be available.


ViewPad 7, bottom view
Unlike many of the Android tablets shipping for the holidays, the ViewPad 7 offers a multitouch capacitive screen. The seven-inch display is said to offer 800 x 480 resolution, and is accompanied by a G-Sensor, E-Compass sensor, and ambient light sensor.
The ViewPad 7 offers a full slate of wireless services, including 802.11b/g, Bluetooth 2.1+EDR, aGPS, and 3G, according to ViewSonic. In addition to the back-facing three-megapixel auto-focus camera, a 0.3 megapixel webcam is available, facing front. Considering the limitations of the ARM11 processor, however, there's no HDMI port or 720p video capture.
The ViewPad 7 provides a mini-USB port, as well as a 3.5mm audio jack, speakers, and microphone, say ViewSonic. Measuring 7.06 x 4.33 x 0.45 inches, the tablet features a 3240mAh battery that provides four to six hours of heavy use per charge, as well as 600 hours standby, says the company.
A CNET review posted yesterday gave the ViewPad 7 three and a half stars out of five. Reviewer Donald Bell calls the device "one of the most flexible high-end Android tablets available."
Interestingly, the review did not slam the tablet too hard for performance — audio and video were disappointing, but web browsing "isn't shabby," writes Bell. His biggest complaints concern the poorly designed virtual keyboard, lack of camera flash, and the relatively high price considering the lack of a bundled memory card.
Pros were said to include the Android 2.2 software and Google services, as well as the bring-your-own SIM card flexibility. Bell concludes in this mixed, but fairly positive review, that the ViewPad 7 is a "legitimate contender among 7-inch tablets."
ViewSonic ViewPad 7 video on YouTube


Source: ViewSonic
(Click to play)
ViewSonic G-Tablet
Since the start of the month, the ViewSonic G-Tablet has been for sale at various U.S. locations, including Amazon.com, where it's been discounted to $400. ViewSonic now offers full specs on the G-Tablet, which was announced with relatively few details back in September.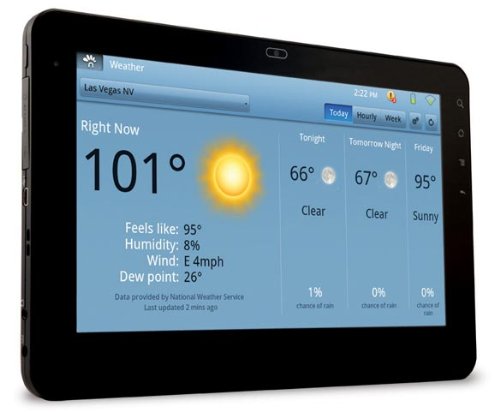 ViewSonic G-Tablet
Like many of the Android tablets that have been announced this year — and a much smaller number that have actually shipped - the G-Tablet offers the dual ARM Cortex-A9
Nvidia Tegra 2
processor clocked at 1GHz.
According to AndroidPolice benchmarks of the G-Tablet posted on Friday, the processor lives up to its hype. The G-Tablet beat the only other tablet in the competition — the 1GHz Hummingbird based Samsung Galaxy Tab — on five out of six tests, and took first place among all contenders in four out of six tests, generally by a wide margin. (The other devices included several 1GHz Snapdragon-based phones such as the HTC Evo 4G, as well as the slowpoke of the bunch, the Texas Instruments OMAP3x-based Motorola Droid 2.)
The G-Tablet ships with 512MB of DDR2 RAM, and instead of the 512MB of internal flash offered by the ViewPad 7, it supplies a generous 16GB, according to ViewSonic.
Why would someone want to spend $30 more for an ARM11-based ViewPad 7 than for a Tegra 2-based 10.1-inch tablet with 16GB of internal memory? Good question. On the other hand, the ViewPad offers several features missing on the G-Tablet, starting with a SIM card slot or 3G support of any kind.
The G-Tablet also lacks GPS, although that is typical of 10.1-inch tablets. Also typical of a larger tablet is the G-Tablet's single 1.3-megapixel webcam, compared to the ViewPad's dual cameras and three-megapixel model. In addition, while the G-Tablet runs Android 2.2, there's no Android Market or other Google services, and some people just plain prefer the more mobile seven-inch format.
Still, the G-Tablet beats the ViewPad 7 in almost every other category. The G-Tablet features a 10.1-inch, 1024 x 600 capacitive multitouch display, and with its powerful Tegra 2 processor is capable of decoding and encoding 1080p video, according to ViewSonic. There's no built-in HDMI port, but an extra-cost dock offers HDMI, a headphone jack, and a USB port, says the company.
The tablet itself provides a USB 2.0 slave port, a mini USB 2.0 host port, a microSD slot, and its own 3.5mm audio port and speakers, says ViewSonic. Wireless features include 802.11b/g/n and Bluetooth 2.1+EDR, says the company.
Equipped with a 3650mAh lithium-ion battery, the tablet is said to weigh a reasonably lap-friendly 1.55 pounds.
CNET has not yet reviewed the G-Tablet, but a number of mostly positive amateur reviews have popped up on YouTube, summarized by Netbooknews.com. One reviewer praised the build quality, features, performance, and display, but dissed the custom GUI job on top of Android.
Availability
The ViewPad 7 is now available for sale at ExcaliberPC for $479 and at at Amazon.com for $429. More information may be found at Viewsonic's ViewPad 7 page.
The ViewSonic G-Tablet is available at numerous locations, including at Amazon.com for $400. More information may be found at ViewSonic's G-Tablet page.
---
This article was originally published on LinuxDevices.com and has been donated to the open source community by QuinStreet Inc. Please visit LinuxToday.com for up-to-date news and articles about Linux and open source.