Dec 16, 2009 — by LinuxDevices Staff — from the LinuxDevices Archive — 5 views
Via announced two motherboards using its Nano processors and VX800 northbridge/southbridge. The mini-ITX Epia M800 and nano-ITX Epia N800 both support HD video and offer a wide variety of I/O connections, according to the company.
Via's new M800 and N800 avowedly represent upgrades to the company's previous M700, introduced in May 2008, and the N700, intro'd in August 2008. Both of these boards employed the company's VX800 northbridge/southbridge, as do their successors, but their CPUs were either the C7 in the case of the M700, or either the C7 or Eden ULV in the case of the N700.
The M800 and N800, on the other hand, upgrade to the 64-bit Nano processors Via introduced in May of last year. According to the chipmaker, the M800 can use either 1.6GHz or 1.2GHz Nanos, while the N800 accepts only a 1.3GHz version. (For more on the CPUs and supporting chipsets, see the background information later in this story.)
Epia M800
Employing the 6.7 x 6.7-inch mini-ITX form factor, Via's M800 is very similar to the earlier M700, apart from processors. According to Via, the board is available in a 1.2GHz version that can run fanlessly, or a 1.6GHz configuration.
As before, both accept up to 2GB of 533MHz or 667MHz DDR2 memory, in a single DIMM slot. Meanwhile, mass storage is catered for by the included Type I CompactFlash connector, a 44-pin IDE connector, and by two SATA connectors, according to the company.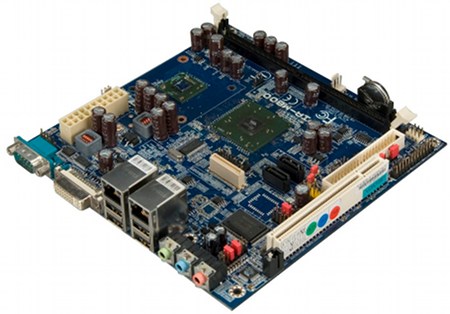 Via's Epia M800
(Click to enlarge)
Yet again, Via has fitted the board with dual gigabit Ethernet ports, both available via connectors at the board's edge. Other "real world" connectors, visible in the picture above, include a serial port, a DVI-I video output, four USB ports, line in/out connectors, and a microphone input.
The M800 also has additional audio and video interfaces. For example, its pin headers accept digital video input and output, provide 5:1 surround sound via S/PDIF, and can be used to extend additional audio inputs or outputs to the front panel of whatever device the board gets integrated into. Headers also give the board two additional USB ports and a second serial port.
If 802.11b/g wireless networking is desired, this can be added internally via USB, according to the company. Meanwhile, there's a single PCI expansion slot that can be converted into two via an optional riser board, adds Via.
Of course, the Epia M800 also has an ATX-style power connector, plus headers that can be used to connect both CPU and system fans. Its system monitor and management capabilities include CPU voltage and system temperature monitoring, fan speed detection, wake-on LAN, keyboard power-on, timer power-on, and a watchdog timer, according to the company.
Features and specifications listed by Via for the Epia M800 include:
Processor — Via Nano clocked at 1.6GHz or 1.2GHz
Chipset — Via VX800
Memory — up to 2GB of 533/667MHz DDR2 RAM
Expansion:

1 x CompactFlash Type I
1 x PCI

Networking — 2 x gigabit Ethernet (back panel)
Other I/O:

Back panel:

1 x serial
DVI
4 x USB 2.0
Audio — line out, line in, mic in

Headers:

2 x USB 2.0
1 x serial
2 x SATA
1 x IDE
Audio header for front-panel headphone out, mic in, or amplifier module
S/PDIF output
Digital video input/output
SPI
PS/2 keyboard/mouse interface
IrDA

Operating temperature — 32 to 140. deg. F (0 to 60 deg. C)
Dimensions — 6.7 x 6.7 inches
Epia N800
Via's Epia N800 is again very similar to its N700 predecessor, which at the time of its release was touted as the "lowest-profile nano-ITX board ever." The board combines a 1.3GHz Nano processor with up to 2GB of RAM, housed in a single SODIMM slot, according to the company.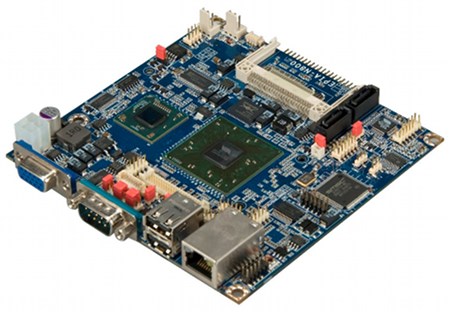 Via's Epia N800
(Click to enlarge)
The N800 (above) offers a combination of real-world connectors on the edge of the board, plus other interfaces served up via pin headers. The photo below illustrates the N800's edge-mounted VGA, serial, RJ45, and dual USB connectors, while also providing another indication of just how compact the 4.7 x 4.7-inch board is.

The Epia N800's "real-world" connectors
Other interfaces, provided via pin headers, include two additional USB ports, three more serial ports, keyboard/mouse and audio connectors, and an LVDS connector. The Epia N800 also has two SATA ports, plus an IDE interface and a slot for a Type I CompactFlash card, says Via.
On the back of the board, hence not shown in our photographs, is a Mini PCI slot. Wireless networking is an optional feature that can be added either via Mini PCI or USB, according to Via.
Features and specifications listed by Via for the Epia N800 include:
Processor — 1.3GHz Via Nano
Chipset — Via VX800
Memory — up to 2GB of DDR2 memory via single SODIMM slot
Expansion:

Type I CompactFlash slot
Mini PCI slot

Networking — 1 x gigabit Ethernet with RJ45 connector
Other I/O:

4 x serial (1 x RS232/422/485 on board's edge; 3 x RS232 via pin headers)
4 x USB (2 on board edge, 2 via headers)
1 x VGA (on edge)
1 x LVDS (via header)
1 x IDE
Audio pin header
Keyboard/mouse pin header
1 x digital I/O pin header (4 x GPI and 4 x GPIO)
1 x SMbus pin header
2 x SATA

Operating temperature — 32 to 140. deg. F (0 to 60 deg. C)
Dimensions — 4.7 x 4.7 inches (120 x 120mm)
Daniel Wu, VP of Via's embedded platform division, stated, "By selecting the Via Nano processor for the Via Epia M800 and Via Epia N800, we've managed to build on a successful product line and address the needs of the market as we move in to 2010. These new board designs will help facilitate the gradual transition toward technologies that are creating a new breed of graphically sophisticated and digitally vibrant devices."
Background
Via's VX800 northbridge/southbridge was released in advance of the company's 64-bit Nano CPU, and supports both the Nano and the earlier Eden, C7, and C7-M CPUs as well. The 33 x 33mm chip includes Via's Chrome9 2D/3D graphics engine, with DirectX 9 compatibility, hardware rotation capability, and the potential for a frame buffer as large as 256MB, according to the manufacturer.
Meanwhile, the 64-bit Nano processors, introduced in May 2008, were the first 64-bit, superscalar, speculative out-of-order processors in Via's x86 platform portfolio. Released in versions clocked from 1.0GHz to 1.8GHz, with TDPs ranging from five to 25.5 Watts, the single-core CPUs gained compatibility with the 64-bit architectures used by Intel and AMD, with SSE3 media processing instructions, and with Intel's VTX architecture for VMs (virtual machines), according to Via.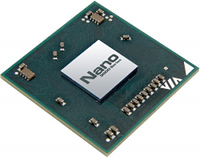 Last month, Via announced the Nano 3000 (right), which comes in the same 21 x 21mm package as the original Nano, but gets a bump to 2.0GHz at the high end. Claimed to offer 20 percent better performance than previous Nanos, clock speed for clock speed, the Nano 3000 is also said to add support for Intel's SSE4 instruction set extensions plus Via's own VT virtualization technology.
Last but not least, Via introduced its VN1000 northbridge and VT8261 southbridge earlier this month, designed specifically to support the Nano 3000, but also said to be backwards-compatible with the company's earlier x86 CPUs. The chipset supports up to 16GB of DDR3 memory, provides smooth HD video playback, and includes dual-channel support for displays including HDMI and DisplayPort, the company says.
As far as we're aware, Via has not yet announced any Epia motherboards using either the newer Nano 3000 CPUs or the VN1000/VT8261 chipset. However, we wouldn't be surprised to see such products emerge during the first quarter of 2010.
Availability
According to Via, the Epia M800 and N800 are compatible with Linux, Windows XP Embedded, Windows CE, and Windows XP. Pricing was not released, but the boards are said to be sampling now.
Further information may be found on Via's website, here and here.
---
This article was originally published on LinuxDevices.com and has been donated to the open source community by QuinStreet Inc. Please visit LinuxToday.com for up-to-date news and articles about Linux and open source.