Jun 27, 2005 — by Henry Kingman — from the LinuxDevices Archive — views

[Updated 12:30PM] — Motorola will ship another Linux/Java phone in Q4 2005. The E895 is a tri-band GSM cameraphone with a 1.3 megapixel camera, large TFT/LCD display, Bluetooth, and rich Internet, multimedia, and web capabilities, Motorola says. The company is demonstrating it at JavaOne this week.
(Click for larger view of Motorola E895)
The E895 is the sixth in Motorola's line of Linux-based phones, which includes business-oriented phones as well as multimedia-oriented phones for consumers. Previous models in the business line include the original A760, the video- and VPN-enabled A768, and the quad-band A780. Multimedia-oriented phones include the original E680 and its Bluetooth-enabled followup, the E680i.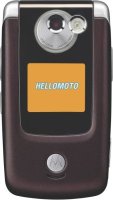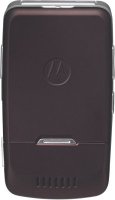 Motorola E896 left, right, front, and back views
(Click each image to enlarge)

The E895 has a flip-phone case similar to Motorola's previous A-series Linux phones, but incorporates rich multimedia capabilities more representative of the company's E-series line. These include a 1.3MP camera with multishot capabilities, video capture, photo and video editing, music playback, and slideshow software that supports adding music to video and photo slideshows.
Unlike Motorola's previous multimedia-oriented E-series models, the E895 does not have a PDA-like touchscreen interface. According to product manager Jim Filicette, this reduces power requirements, not to mention BOM (bill of materials) cost.
Filicette adds that the E895's new "chameleon" user interface is easier for consumers to adapt to and use than the E-series phones' stylus-based interfaces. "We developed chameleon based on extensive user testing," Filicette said. "It makes it easier to use all the applications on the E895."
According to Filicette, the E895's hardware and software is similar to Motorola's previous Linux/Java phones. It runs a MontaVista-supplied 2.4-series Linux kernel on an Intel XScale PXA270 processor clocked at 208MHz. Modem control and signal processing are handled on a separate baseband processor from Freescale running a real-time operating system.
User files are stored on internal Transflash memory, a relatively new kind of internal memory chip that phone users can upgrade, much as PC users might upgrade the size of their harddrive. The device supports up to 10 MB of embedded memory, and up to 512MB of Transflash removable memory, Motorola says.
Remarkably, Motorola claims the E895's 1000mAh battery yields a standby time of 200-250 hours, and enough minutes of talk time to put a serious dent in most users' calling plans on a single charge: 200-250 minutes. These figures suggest Linux is making progress in consumer electronics power management. MontaVista works closely with the Consumer Electrononics Linux Forum to improve Linux power management, boot up time, and other attributes required by consumer electronics manufacturers.
MontaVista has also indicated in April, when it began shipping its Mobilinux Linux phone operating system, that it plans to improve Linux's real-time responsiveness enough to support phones with single-chipset architectures. Filicette confirmed that Motorola is working with its semiconductor partners on single-chipset phones that will run Linux, but says the company is not yet ready to reveal details.
Motorola lists the following features for the E895:
Support for tri-band GSM, GPRS class 10, and EDGE (2.5G) class 10 networks
Internal tri-band antenna
2.2-inch QVGA (320 x 240) TFT display with 262K colors
1.3-inch 128 x 108 phone interface display, with 262K colors
Up to 10MB of user-upgradable internal TransFlash memory, to support user files and downloads
1.3 megapixel multishot camera with flash, full-screen viewfinder, light meter, and 8x zoom
Video capture and playback
Photo editing and multimedia slideshow software with sound
Progressive downloading, to view video clips as the download
Media player with multiple codecs and streaming support
Mini-USB and headset jacks
Bluetooth supports stereo headphones, networking
Speakerphone
Linux OS
Improved user interface
Speaker-independent voice recognition requires no pre-recording
HTML/XHTML browser
IM and MMS
1,000 mAh battery
200-250 minutes of talk time, and 200-250 hours of standby, with Bluetooth off
Measures 2 x 3.7 x 0.9 inches (51 x 93 x 23 mm)
Displaces 88.4 cc
Weighs 4.5 ounces (127 grams)
Optional car kit, bluetooth headset, and other accessories
Motorola's GM of GSM products, Tracey Koziol, said, "Today's mobile users want to create and share their own content, as well as access existing entertainment and information."
Availability
The E895 is expected to be initially introduced in the Asia-Pacific region in Q4 of 2005.
A Motorola official in Taiwan said in January that the company will introduce 8-10 Linux/Java phones in Asia this year. Filicette confirmed that Motorola will "port its Linux/Java environment" to quad-band phones targeting the U.S. market this year, but he said any specific announcements would be up to specific carriers. Major U.S. carriers supporting GSM/EDGE include Cingular (quad-band) and T-Mobile (tri-band).
---

This article was originally published on LinuxDevices.com and has been donated to the open source community by QuinStreet Inc. Please visit LinuxToday.com for up-to-date news and articles about Linux and open source.