Sep 1, 2010 — by Eric Brown — from the LinuxDevices Archive — views
Motorola announced two new 3.7-inch Android phones, set for a fourth-quarter release in Europe. The Defy is a ruggedized dust- and water-resistant smartphone that runs Android 2.1 and MotoBlur, and the Milestone 2, available with Android 2.2 and a slider keyboard, is almost identical to the Verizon-destined Droid 2, but adds 720p video recording.
Motorola has long made ruggedized phones running Linux, but the Defy is only its second such Android model after the Motorola i1 was unveiled in March. The Defy offers a larger display and more features than the 3.1-inch i1, but it lacks the phone's push-to-talk capability designed for Sprint's iDEN-ready Nextel Direct Connect service.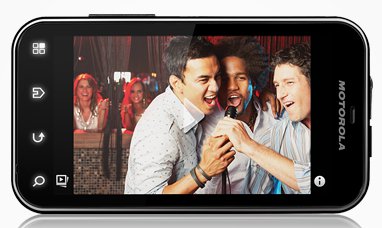 Motorola Defy
Motorola offers full specs for the Defy, but does not list the processor. According to
Engadget,
however, the phone runs on a Texas Instrument (TI)
OMAP3610
system-on-chip (SoC) clocked to 800MHz. (The OMAP3610 is one of the Cortex-A8-based little brothers to the 1GHz OMAP3630.)
Indeed, Motorola lists a video record (and playback) rate of 24-30fps, but does not mention 720p video recording, a feature unavailable on the DVD-video quality OMAP3610. This capability is found, however, on the OMAP3630, and is activated in the Milestone 2 and Droid X, but not in the OMAP3630-based Droid 2 (see farther below).
The Defy (pictured at right) is equipped with 512MB of RAM and 2GB of internal flash, and offers a microSD slot for up to 32GB cards, says Motorola.
The 3.7-inch, 854 x 480 (WVGA) touchscreen is accompanied with accelerometers, plus ambient light and proximity sensors, says the company. Unlike the Milestone 2, however, the phone lacks a physical keyboard.
The Defy supports WCDMA (900/2100) and GSM (850/900/1800/1900) networks, including support for HSDPA 7.2Mbps and HSUPA (2Mbps) 3G services, says Motorola. The phone is further equipped with 802.11b/g/n, Bluetooth 2.1, aGPS, and FM radio wireless technologies.
The supplied five-megapixel camera is said to provide autofocus, LED flash, digital zoom, image optimization, and geo-tagging support. Other hardware features include a microUSB 2.0 port, a 3.5mm headset jack, and Motorola's usual dual microphones with CrystalTalk Plus noise reduction technology, says the company.
The Defy measures 4.21 x 2.32 x 0.53 inches (107 x 59 x 13.4mm) and weighs 4.16 ounces (118 grams), says Motorola. The 1540mAh battery is claimed to offer up to 400 minutes talk time on either WCDMA or GSM networks, or 200 minutes of Wi-Fi usage.
Motorola has stocked the Defy with Android 2.1, which means that it offers features such as pinch-to-zoom, but for now, anyway, lacks Android 2.2's faster browser, Flash 10.1 player, and other goodies.
The phone does supply Digital Living Network Alliance (DLNA) support for streaming, storing, and sharing content with compatible devices such as HDTVs, game consoles, and PCs, says Motorola. Other apps are said to include a "Connected Music Player," Android Market, and Google services including Google Search, Google Maps, and Gmail.
The Defy is also loaded with the latest version of Motorola's MotoBlur UI and social networking stack, whether you asked for it or not.
Stated Alain Mutricy, senior vice president, portfolio and device product management, Motorola Mobility, "With all the features consumers expect in a smartphone, Defy packs advanced web browsing, entertainment and messaging capabilities as well as a design that withstands the challenges of everyday life."
Motorola Milestone 2
Just as the original. Europe-destined Motorola Milestone was a near doppelganger to the Droid, the Milestone 2 is the almost identical European twin of the new Droid 2. Like the Droid 2, it runs Android 2.2 with Flash 10.1 on TI's 1GHz OMAP3630.
As noted, however, it differs from the Droid 2 in one major enhancement: support for 720p video record and playback. Since the processor and five-megapixel camera is the same as the Droid 2's, it would seem that Verizon could upgrade it to offer a similar capability. However, the carrier may not choose to do so for other technical reasons, or to help to differentiate the Droid 2 from the top-of-the-line Droid X.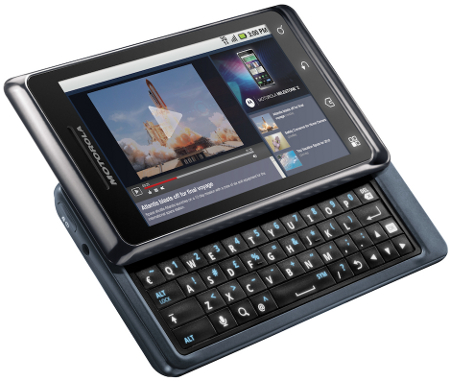 Motorola Milestone 2


(Click to enlarge)
Like the Droid 2, the Milestone 2 ships with 8GB of onboard flash memory, as well as an 8GB pre-installed memory card for its 32GB microSD slot. Other shared features with the Droid 2 include a 3.7-inch WVGA display, 3G mobile hotspot capabilities, and a vastly improved slider keyboard compared to the earlier Milestone and Droid models.
The Milestone 2 offers the same WCDMA 900/2100, HSDPA, and GSM/EDGE support as the Motorola Defy. Other features are said to include 802.11b/g/n, Bluetooth 2.1, and aGPS.
Accelerometers are said to be available on the Milestone 2, as are proximity, light, and eCompass sensors. (For more tech details see the link to a datasheet below, or review or previous coverage of the Droid 2, here.)
Availability
The Motorola Defy and Milestone 2 will be available in Europe beginning in the fourth quarter, says the company.
More information on the Defy may be found here, and more on the Milestone 2 should be here. Pricing was unavailable.
---
This article was originally published on LinuxDevices.com and has been donated to the open source community by QuinStreet Inc. Please visit LinuxToday.com for up-to-date news and articles about Linux and open source.