Feb 3, 2009 — by LinuxDevices Staff — from the LinuxDevices Archive — 2 views

Facing a financial storm, Motorola plans to focus its smartphone efforts on Google's Android, and put Windows Mobile on the back burner until 2010. The beleaguered cellphone manufacturer will postpone Windows Mobile development until version 7 is released next year, said Motorola in today's conference call.
(Click here for a larger view of a Motorola's latest Linux phone, the Tundra VA76r)
Motorola has posted a massive fourth-quarter loss, suspended investor dividends to investors, and announced the departure of chief financial officer Paul Liska. Citing sales of $7.1 billion during the fourth quarter of 2008, the company said it lost nearly $3.6 billion — a glaring contrast to the $100 million profit posted in Q4 2007.
In further bad news, executives said the losses were "primarily attributable to lower sales of mobile devices." According to the company, it shipped 19.2 million handsets during the quarter — fewer than half of the 40.9 million units shipped in Q4 2007 — and market share plummeted to just 6.5 percent.
In a glimmer of good news, the company's Enterprise Mobility Solutions division continues to perform well, with sales of $2.2 billion in Q4 2008, up four percent compared with the year-ago quarter, according to Motorola. Earnings were said to be up to $466 million, compared to $451 million in Q4 2007.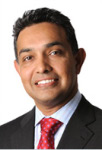 Sanjay Jha (right), CEO of Motorola's Mobile Devices division, told investors the company is on target to release next-generation devices during the fourth quarter of 2009. "We continue to take appropriate action to address the downturn in the global economy as well as the challenges related to our current mobile devices portfolio. We are aggressively developing innovative new products."
In a Q&A following Motorola's earnings announcements, Jha said, "we remain committed to Windows Mobile." But, he added, "more of our effort and focus in 2009 is going to Android. In 2010, when Windows Mobile 7 becomes available, we will then participate in a more focused way."


Leaked photo of
HTC G2 Android phone
(Click for details)
Motorola's decision to dump its MotoMAGX Linux/Java development environment in favor of Android was announced in conjunction with another sour earnings report back in October. At the time, Motorola said it would continue its Windows Mobile development, and mentioned nothing about a postponement. Motorola's first Android phone should be ready by the 2009 holiday season, says the company. Meanwhile, it continues to turn out MotoMAGX-based phones, including its most recent model, the ruggedized Tundra VA76r (pictured at top).
Since Motorola announced its foray into Android, other Android phones have been announced or rumored. These include an upcoming Samsung model, and an update to the G1 phone from HTC and T-Mobile, dubbed the G2 (pictured at right).
Waiting for Windows Mobile 7
Jha's remarks about waiting for Windows Mobile 7 seemed to be a back-handed compliment to Windows Mobile 6.5 — tipped for release at this month's Mobile World Congress (MWC) in Barcelona. This also appears to be the first public confirmation of a Windows Mobile 7 release date.
Apparently, Motorola considers the improvements in Windows Mobile 6.5 to be pretty weak sauce. The operating system upgrade will reportedly include a new "honeycomb" user interface, enhanced music playback, Internet Explorer Mobile 6, and SkyBox, a free service that synchronizes data between a phone, "cloud" servers, and a user's PC.
Meanwhile, few features of Windows Mobile 7 have come to light publicly. Under heavy fire from Android, however, Microsoft is reportedly "guilty" of hyping Windows Mobile 7 features to insiders at private events, such as its own Mobius conference. It has also released videos depicting potential user interface changes, which may include the ability to control a phone via fingers, speech, or a camera.
Ironically, it was Motorola itself that first disclosed the upcoming release of Windows Mobile 6.5. During a conference call announcing the company's Q3 financial results in October 2008, Jha named the OS upgrade and promised a smartphone based on it during the second half of 2009.
Further information
For further information on Motorola's fourth-quarter financial results, including the departure of the company's chief financial officer, see the coverage on our sister site eWEEK.com, here.
To hear Sanjay Jha discussing Windows Mobile 7 in today's investor conference call, see Motorola's website, here. [A discussion of Windows Mobile and Android is located approximately 38 minutes from the beginning of the webcast.]
More information on the devices produced by Motorola's Enterprise Mobility Solutions division may be found on the company's website, here.
---

This article was originally published on LinuxDevices.com and has been donated to the open source community by QuinStreet Inc. Please visit LinuxToday.com for up-to-date news and articles about Linux and open source.