Dec 29, 2010 — by LinuxDevices Staff — from the LinuxDevices Archive — 8 views
MSI has unveiled a netbook using AMD's 1.6GHz E-350 ("Zacate") processor. The MSI U270 features a 10.1-inch display with a resolution of 1366 x 768 pixels, up to 4GB of RAM and 500GB of hard disk storage, plus both VGA and HDMI video outputs, according to NetbookNews.com.
AMD's 1.6GHz E-350 is the top model in a family of four CPUs that use the chipmaker's Bobcat core, with an out-of-order execution engine and on-chip Radeon HD graphics (see later in this story for background). Early reviews based on AMD-supplied development systems have claimed the E-350 can outperform Intel's dual-core Atoms, even when the later are bolstered by Nvidia's Ion 2 GPU (graphics processing unit).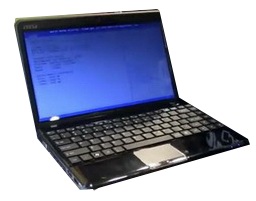 MSI's U270
Source: NetbookNews
According to NetbookNews.com writer Sascha Pallenberg, who reports attending an MSI press event in Taipei "where it showed off an early preview of some of its Consumer Electronics Show wares," MSI is employing the E-350 ("Zacate") in a new netbook known as the U270. The device will leverage the AMD chipset's ability to work with up to 4GB of RAM, and will be offered with hard disk drives ranging from 320GB to 500GB in size, he adds.
The U270 will join a passel of other MSI netbooks, most of them pre-loaded with Windows, but also including the SUSE Linux ready, Atom N450-powered, U135. Pallenberg does not mention operating system support, but says that compared to the U135 and several other MSI netbooks, the U270 gets a screen resolution bump from 1024 x 600 pixels to 1366 x 768. MSI will provide the device with both VGA and HDMI graphics outputs, he adds.
According to NetbookNews, the U270 will have other more typical netbook features such as two USB 2.0 ports, an SD card reader, an Ethernet port, a 1.3 megapixel webcam, plus audio jacks. It will also provide a chiclet keyboard and a single USB 3.0 port, the website adds.

MSI's U270
Source: NetbookNews
Background on AMD's E-350
AMD introduced its Bobcat core during August's Hot Chips conference at Stanford University, though it had been long rumored before then. Unlike Intel's Atom — with which it will compete in netbooks and other devices — Bobcat features an out-of-order execution engine, which breaks data apart and allows for instructions to run in parallel, as well offering improved performance, the chipmaker says.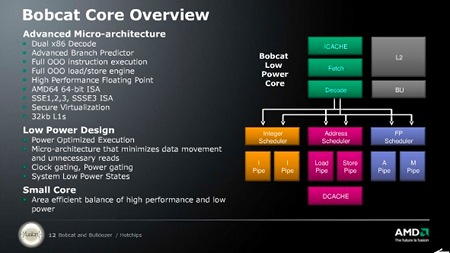 AMD's Bobcat
(Click to enlarge)
According to AMD, Bobcat (above) further features clock and power gating, allowing it to save battery life in portable devices. And, notably, it is the first x86 processor core to work with the chipmaker's APU (accelerated processing unit) design, in which the CPU and graphics are combined on one piece of silicon.
AMD has said the first Bobcat implementation, code-named "Ontario," is scheduled for a 2011 release, but — typical for the chipmaker — still does not offer speeds and feeds on its website, apart from a few blog entries. Complete details of Ontario and the higher-end version called "Zacate" surfaced last month anyhow, courtesy of five different tech blogs: AnandTech, HotHardware, LegitReviews, PC Perspective, and The Tech Report.
Reviewers for all five blogs reported having been invited to AMD's Austin campus in early November, when they were allowed to benchmark both Ontario and Zacate. The websites also provided a common set of specs and slides from an AMD presentation, resulting in a wealth of information.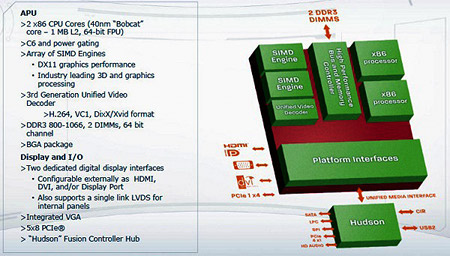 AMD's Brazos platform
(Click to enlarge)
According to the reports, AMD's overall "Brazos" platform (above) consists of an Ontario or Zacate CPU, teamed with the "Hudson" controller hub, a southbridge based on the previously released SB800. Clock speeds range from 1.0GHz to 1.6GHz, as shown in the table below.
| | | | | | | |
| --- | --- | --- | --- | --- | --- | --- |
| Model | CPU Cores | CPU Clock Speed | GPU | Number of GPU Cores | GPU clock Speed | TDP |
| AMD E-350 | 2 | 1.6GHz | Radeon HD 6310 | 80 | 500MHz | 18W |
| AMD E-240 | 1 | 1.5GHz | Radeon HD 6310 | 80 | 500MHz | 18W |
| AMD C-50 | 2 | 1.0GHz | Radeon HD 6250 | 80 | 280MHz | 9W |
| AMD C-30 | 1 | 1.2GHz | Radeon HD 6250 | 80 | 280MHz | 9W |

AMD's Bobcat lineup
As the reviewers noted, the "Zacate" processors will have 18-Watt TDPs, and are offered as the dual-core, 1.6GHz E-350 or the single-core, 1.5GHz E-240. The "Ontario" processors have nine-Watt TDPs, and are the dual-core, 1.0GHz C-50 and the single-core, 1.2GHz C-30.
According to all five testers, the Zacate-equipped Brazos system was less power-hungry than an Intel Atom D525-equipped system featuring an Ion 2 GPU. It also outperformed such a system, reaching the speed of Intel's entry-level CULV and CULV 2010 processors, they added. (For full details of the benchmarks and links to the relevant websites, see our earlier coverage.)
These findings bode well for the performance of MSI's upcoming U270. However, NetbookNews' Pallenberg notes that the engineering sample he examined had only a three-cell battery, which might only last for three or four hours given the E-350 platform's 18-Watt TDP.
---
This article was originally published on LinuxDevices.com and has been donated to the open source community by QuinStreet Inc. Please visit LinuxToday.com for up-to-date news and articles about Linux and open source.