Jun 25, 2009 — by Eric Brown — from the LinuxDevices Archive — 12 views
Texas Instruments (TI) announced a family of multi-core "TMS320TCI648x" digital signal processors (DSPs) that are designed for small-scale wireless base-stations called "femtocells." Supported with Linux development kits, and incorporating VirtualLogix virtualization technology, TI's TCI6485 and TCI6489 can power femtocells that serve between eight and 32 HSPA 3G wireless users, respectively.
Due to ship in the fourth quarter, the TCI648x DSPs are aimed at residential and enterprise femtocells — small-scale base-station devices that extend 3G wireless technology into buildings. The DSPs are backed up with "a full portfolio of complementary analog solutions," as well as a Linux support package and a software reference design from TI partners Continuous Computing and MimoOn, says the company.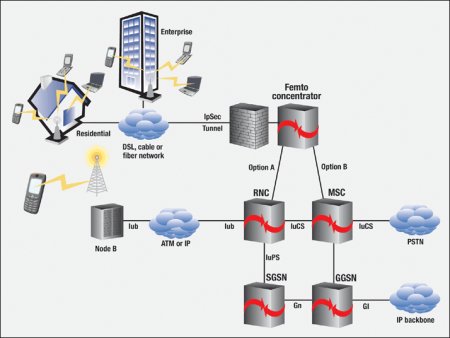 Typical femtocell infrastructure, with the femtocells located at the base of the buildings in the upper left (Source: TI)
(Click to enlarge)
The reference design is said to provide software for Layer 1, 2, and 3 wireless protocol processing, enabling streaming video, interactive gaming, music sharing and other bandwidth-intense multimedia tasks. By offering a single device supporting all three layers, OEMs enjoy reduced BOM (bill of materials), says TI.
From femto to super-femto
The residential-focused TCI6485 version of the DSP is equipped with dual C64x+ DSP cores clocked to 850MHz, and claimed to deliver 1.7GHz of performance over 100 meters. One core is said to be used to perform PHY, MAC-hs, MAC-e, and MAC-I functions, while the second core handles the Linux-enabled data link, IP, IP Sec, UDP, MAC-d, and RLC functions. The cores are supported with 2MB of L2 memory and dedicated accelerators, as well as a third-party software stack for WCDMA that supports all Layer 1, 2 and 3 processing. The TCI6485 offers two lanes of Antenna Interface (CPRI/OBSAI) for analog RF connectivity.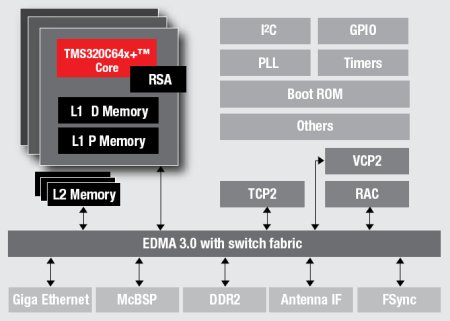 TCI6489 block architecture
(Click to enlarge)
The 32-user TCI6489, meanwhile, offers a range of 200 meters and is designed for enterprise or "super femto" applications, says TI. It is equipped with three of the same 850MHz C64x DSP cores, for a claimed 2.55GHz of performance. The TCI6489 is equipped with 3MB of L2 memory and dedicated accelerators for chip rate and forward error correction processing, says the company. The chip is also said to offer four lanes of Antenna Interface (CPRI/OBSAI) for analog connections.
Avoiding RISC with VirtualLogix virtualization
Instead of implementing separate RISC processors, the TCI648x DSPs substitute a real-time virtualization capability created for the DSPs by VirtualLogix. As a result, a single chip can offer full ISO Layer 1 to Layer 3 support on a single device, claims TI. The Linux kernel and the DSP/BIOS software kernel foundation can run side by side on one of the DSP cores "with negligible performance overhead" using the virtualization technology. In fact, the following features are said to be stored in only 64KB:
2.6 Linux kernel
Linux networking protocols
TCP/UDP, IPv4, IPv6, IPSec
IP multicast
IP forwarding and advanced routing
DHCP/BOOTP/RARP
IP tunneling
Fair packet scheduling (DiffServ, RSVP)
RTP/RTSP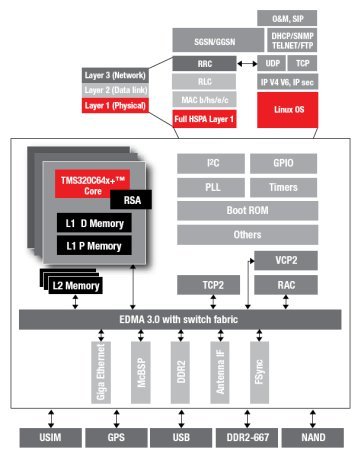 Virtualization implementation in TCI6489
(Click to enlarge)
An
investor in VirtualLogix
, TI has previously released a
DSP Linux development kit
that incorporates the company's VLX-DM virtualization product.
Analog signal chain and reference design
Both DSPs are compatible with all major 2G/3G and 4G systems, including GSM, CDMA, WCDMA, TD-SCDMA, WiMAX, and LTE, says TI. The chips are said to be code compatible with other TI DSPs aimed at the wireless infrastructure market, enabling previous investments in macro or pico base-stations to be reused. TI supplies a complete analog signal chain for femtocell applications, says the company. The latter is said to include data converters, RF products, power management, clocks, and amplifiers.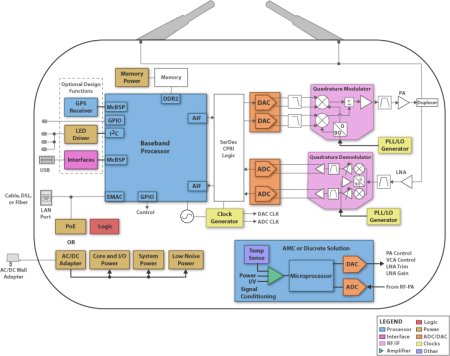 TI femtocell base-station design
(Click to enlarge)
The reference design provided with TI's TCI648x-based femtocell solution includes Continuous Computing's Trillium protocol software, as well as MimoOn's mi!Femto femtocell software. Together, they supply both single and multimode solutions for LTE, HSPA+, and HSPA, says TI.
Trillium is said to be a protocol software package aimed at femtocell access points and gateways, offering protocol stack support for LTE and WCDMA, optimized data and control plane performance, and minimized memory footprint. MimoOn's mi!FemtoLTE and mi!FemtoHSPA software packages encompass both H(e)NB PHY and protocol stack layers, and are based on the latest versions of the 3GPP standards, says MimoOn.
Is it finally time for Femtocells?
Femtocell access points — also known as 3G access points — are small cellular base-stations designed for use in residential or corporate environments. Like WiFi access points, they connect to the customer's own broadband connection. Advantages touted for femtocells include greater network efficiency, better in-building wireless coverage, and a more suitable hosting for fixed-mobile convergence services.
Femtocell trials began in 2006, and products started shipping last year. So far the technology has been slow to take off due to a variety of reasons, including concerns about the ability of "femto" base-stations to co-exist within the macro base-station area without interference. Hand-offs to the macro network can also be a challenge.
According to a TI white paper on femotcells, "the sophisticated algorithms that have been developed to address the problem inevitably add to the computational load of the femtocell." The paper adds that "solutions for access control, security and network integration also raise the performance bar." Meanwhile, low-cost WiFi access points continue to offer more cost effective competition for those customers willing to use VoWiFi or who only require data connections.
Stated Manish Singh, VP of product line management at Continuous Computing, "Trillium femtocell software plus TI DSP femtocell processors equals a compelling combination for equipment manufacturers to participate in the exciting femtocell market."
Stated MimoOn's CEO, Thomas Kaiser, "This collaboration is significant in that TI brings its longstanding presence in the wireless base station market along with robust DSP processors, while mimoOn brings its legacy of MIMO algorithms, cognitive radio sniffers, and advanced schedulers, to offer innovative solutions for the key challenges in femtocells."
Availability
The TMS320TCI6485 and TMS320TCI6489 will sample in 3Q09 and start production in 4Q09, says TI. More information and a link to the white paper may be found here
---

This article was originally published on LinuxDevices.com and has been donated to the open source community by QuinStreet Inc. Please visit LinuxToday.com for up-to-date news and articles about Linux and open source.