Apr 14, 2010 — by LinuxDevices Staff — from the LinuxDevices Archive — 39 views
Cinemo is touting a cross-platform software stack it says will provide full HD video playback and network streaming support on low-power embedded devices. The company announced "technical cooperation" with Imagination Technologies, whose widely used Powervr IP cores have been released with an SDK that has been updated to support Android.
The website for Karlsruhe, Germany-based Cinemo provides relatively few details of the company's software. However, the technology stack is said to offer "multimedia and streaming … [in] a modular architecture with platform-specific optimization." Cimeno further describes its product as "a self-contained streaming architecture (similar to Microsoft's DirectShow) and platform-specific video and audio renderers that are optimized to take full advantage of the available hardware acceleration features of an embedded device."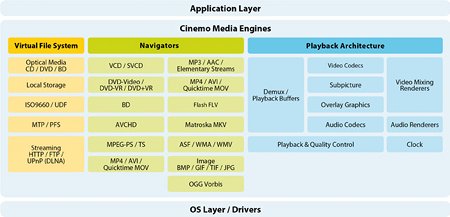 Cinemo's technology stack
(Click to enlarge)
It's said Cinemo software supports an array of formats (listed in the graphic above), and can enable "full media HD streaming" even on low-power embedded devices. The stack can also help enable multi-screen capabilties for applications such as automotive or digital signage, the company adds.
Beyond the above graphic, we couldn't find any real details of the company's special sauce, not what new functionality it actually enables. (For example, there's no claim that Cinemo can squeeze actual 1080p video playback out of Intel's integrated graphics chipsets for the Atom without solutions such as Broadcom's Crystal HD accelerator or Nvidia's Ion graphics processing unit.)
However, the list of partnerships and operating system/device support being cited by Cinemo is impressive. Cinemo's technology stack is compatible with the Debian, Moblin, and Ubuntu flavors of Linux, as well as QNX. Last week, the company announced that it had become a Windows Embedded partner, touting support for Windows Embedded XP, Vista, Standard, and Windows CE 6.0 and above.
Cinemo currently offers its software stack for Intel Atom processors, and says support for ARM processors such as the Cortex-A8 is "possible based on customer request." Today, the company announced a "technical cooperation on enhanced video playback" with Imagination Technologies, whose Powervr video IP cores are used by a bevy of vendors producing both x86 and ARM processors.
Last month, Imagination Technologies announced that more than 250 million devices have shipped with Powervr technology, including those for the mobile phone, media player, and embedded markets. The company also announced an update to its free Powervr Insider SDK (software development kit), which adds support for Android. The updated SDK also adds a PVRTrace utility for application analysis, as well as support for the Blender open source 3D modeling package, says the company.
ARM processors that include Powervr graphics IP are said to include:
Apple's A4
Freescale's i.MX31
Marvell's PXA310/312
NEC's EMMA 3TL, EMMA Mobile/EV2
Renesas' SH-Mobile 3, 3A, G1, G2, G3, Navi1, Navi2G
Samsung's S3C2460, S5L8900, S5PC100, S5PC110, S5PC510
SiRF's SiRFprima
TI's AM3517, OMAP2420, OMAP2430, OMAP2530, OMAP3420, OMAP3430, OMAP3440, OMAP3450, OMAP3515, OMAP3530, OMAP3620, OMAP3621, OMAP3630, OMAP3640, OMAP4430, OMAP440
Intel, meanwhile, has used Powervr graphics IP in its Pentium-based SoCs, the CE3100, CE4100, CE4130, and CE4150. The Imagination Technologies core is also employed in the SCH US15W northbridge/southbridge, notable for accompanying the chipmaker's very first Atom processors, the Z5xx "Silverthorne" chips.
Tony King-Smith, VP of marketing for Imagination Technologies, stated, "Cinemo delivers exactly what is promised, and we've been delighted to demonstrate their multimedia player decoding multiple high-bitrate HD streams … in both Linux and Windows environments utilizing our POWERVR video hardware decoder technologies. We're excited to work with Cinemo to optimise future versions of the Cinemo technology stack to further enhance video playback."
Availability
More information on Cinemo's multimedia and streaming technology may eventually be found on the company's website, here. More information on Imagination Technologies' Powervr cores may be found here.
---
This article was originally published on LinuxDevices.com and has been donated to the open source community by QuinStreet Inc. Please visit LinuxToday.com for up-to-date news and articles about Linux and open source.