Nov 8, 2010 — by Eric Brown — from the LinuxDevices Archive — 7 views
Trinity Audio Group demonstrated a prototype of a tablet running a MeeGo-based version 5.0 of its Transmission audio platform for musicians. Now open for beta testing, the Indamixx 2 tablet runs on an Intel Atom processor with 2GB of RAM, and offers a multitouch display, 160GB of storage, and the Renoise tracking and sampling application.

Trinity Audio Group — which has previously introduced a seven-inch, Indamixx tablet (pictured at right) based on the Samsung Q1 ultra-mobile PC (UMPC), as well as an Indamixx Netbook based on an Intel Atom N270-equipped MSI Wind U100 — says it is now readying a new tablet called the Indamixx 2. Like the previous devices, the Indamixx 2 is aimed at mobile musicians and audio engineers, and runs Trinity Audio's Linux-based Transmission audio stack, which was rev'd to version 4.0 in August.
The company is now soliciting beta testers for the device at a development-unit price of $999. The Indamixx 2 beta runs on a 1.66GHz Intel Atom N450 with 2GB of 533MHz RAM plus a 160GB hard disk drive, says Trinity Audio.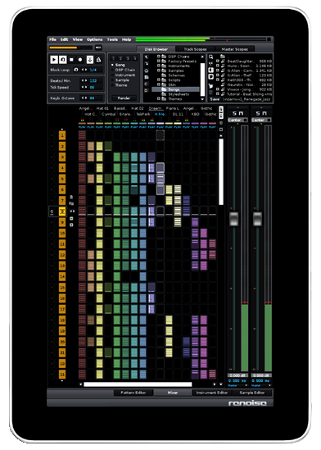 Indamixx 2 beta
(Click to enlarge)
The tablet offers a multitouch display of unstated size. Other specs include three USB ports, a VGA port, and an Ethernet port, says the company. Analog audio I/O is said to be available, including a mic input, a headphone output, and stereo speakers.
The Indamixx 2 ships with a new version 5.0 release of Transmission, says Trinity Audio. For the first time, Transmission will run on the MeeGo Linux mobile operating system instead of Ubuntu, says the company. As before, Transmission supports multi-track audio production, providing a host of mostly open source packages that let users record, edit, equalize, audition, and mix audio at claimed rates of up to 32-bit/96Khz.
According to a report on Creative Digital Music by Peter Kirn, the final commercial device will ship in May of next year. Trinity Audio recently unveiled the tablet at a rooftop pool party at The Standard Hotel in Los Angeles, says the story.
The launch party was said to be themed around the Linux-ready Renoise audio tracking software, which will run on the Indamixx 2. The Renoise community also posted some photos of the device running Renoise, including the one below.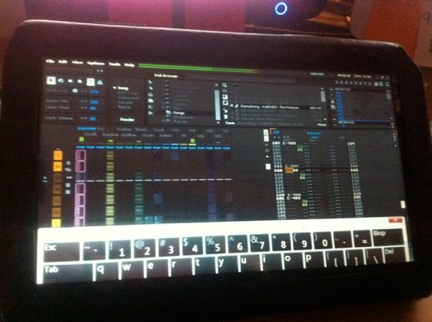 Indamixx 2 beta running Renoise


Source: Renoise
The final version of the Indamixx 2 will move up from the N450 to a dual-core Atom, presumably the
D510
, writes Kirn in
Creative Digital Music.
The current touchscreen used on the beta is said to be based on an "eGalax dual-touch" technology, which offers some pressure-sensitive features.
The Indamixx 2 will likely follow the pattern of previous Indamixx devices and use a commercially available product built by another manufacturer. However, the manufacturer or underlyling platform was not disclosed.
According to Kirn, a tablet aimed at musical production would be in high demand, but the iPad and various Android imitators are either not sufficiently powerful or too oriented toward battery life vs. performance. MeeGo may prove to be a more suitable OS for music production, he speculates.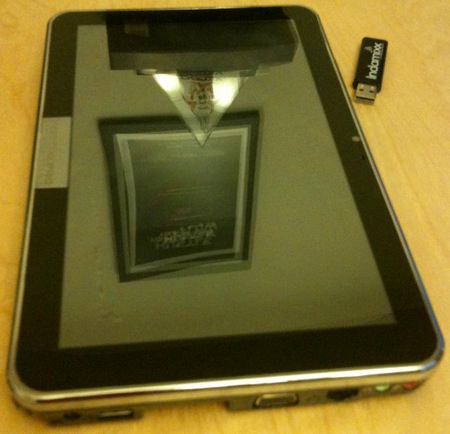 Indamixx 2, showing reflection of the Remix award won by the original Indamixx 2008


Source: Renoise
The tablet will dual-boot to the Ubuntu distro previously used by Transmission, but only as an unsupported option, says the story. All packages currently in Transmission will be ported over, and for the first time, there will be a Live CD / Live USB version that users can preview before installing, writes Kirn.
The story quotes Indamixx lead developer Gabriel Beddingfield as saying, "Unlike any Linux distro we've found so far, MeeGo is from the ground-up about multi-touch, portable devices that compete with iPad and Android. The main 'desktop' user experience is sharp, fast, and finger-friendly."
Beddingfield is further quoted as saying that his team tuned MeeGo for audio production. Transmission 5.0 is "more concerned with a high quality, low-latency audio rather than preserving battery life," Beddingfield adds.
He also notes that MeeGo's Qt-based multitouch framework "is expected to have a relatively smooth upgrade path to Xorg 1.10 or 1.11 when Xorg officially supports multi-touch," an event that is expected to happen in the first or second quarter of 2011. Beddingfield suggests that this was one reason why Trinity Audio chose MeeGo over Ubuntu.
Availability
The beta testing program for the Indamixx 2 beta is now open for applications at Trinity Audio Group's Indamixx site, here. Accepted beta testers can purchase the tablet for $999. No pricing was offered for the final version, which will launch on May 11, 2011, according to Creative Digital Music.
The Renoise Forums post showing images of the Indamixx 2, as well as further notes from Trinity Audio, may be found here.
The Creative Digital Music story on the tablet may be found here.
---
This article was originally published on LinuxDevices.com and has been donated to the open source community by QuinStreet Inc. Please visit LinuxToday.com for up-to-date news and articles about Linux and open source.