Oct 28, 2010 — by Eric Brown — from the LinuxDevices Archive — 21 views
The MeeGo project released version 1.1 of the MeeGo core, plus version 1.1 upgrades for the Netbook, In-Vehicle Infotainment (IVI), and Handset user experience (UX) stacks. Supporting Intel Atom and ARMv7 architectures (starting with the Nokia N900 smartphone), MeeGo 1.1 adds touch support, improved telephony, and Qt 4.7, which includes a QML scripting technology for animated touch-enabled apps.
The open source MeeGo project, which is run by the Linux Foundation, is a merger between the Moblin and Maemo mobile Linux operating systems. Although run by the Linux Foundation, it represents a partnership between Intel and Nokia, and targets both x86 and ARM architectures.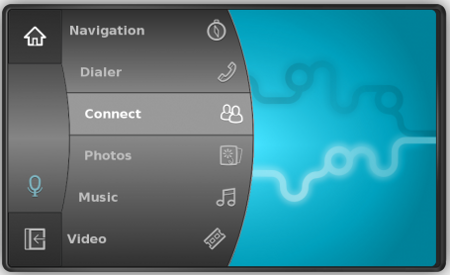 MeeGo IVI UX

1.1 main screen, with carousel interface
The MeeGo 1.1 release includes a Core OS 1.1 release that provides the foundation for the various 1.1 UX releases. MeeGo Core OS 1.1 supplies the MeeGo kernel, device drivers, middleware subsystems, and common API components, says the MeeGo project.
The MeeGo core stack has been updated with Linux kernel 2.6.35, X.org server 1.9.0, Web Runtime, Qt 4.7, and Qt Mobility 1.0.2, says the project. It also supports updated versions of frameworks offered in the MeeGo API, including touch, contacts, location, messaging, multimedia, sensor, and service.
Other leading edge components include an updated version of the oFono telephony stack, the ConnMan connection manager, the Tracker data indexer, the Telepathy real-time communications framework, and the Buteo sync framework, among other technologies.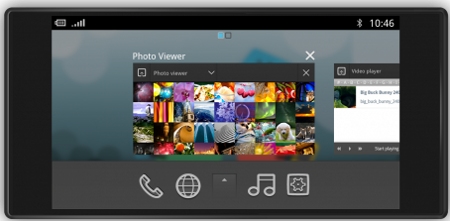 MeeGo Handset UX 1.1 in landsape mode showing photo app
With the integrated
Qt 4.7
development framework, which was announced last month, the MeeGo developer experience is now enhanced with the introduction of QML. This Javascript-based scripting technology is said to support animated, touch-enabled GUI apps.
MeeGo Netbook UX 1.1 showing panel drag and drop


(Click to enlarge)
All three of the UX stacks that have already been formally launched in 1.0 versions, have now been updated to 1.1 versions as well. These include:
Netbook UX 1.1 — The netbook UX, aimed initially at Intel Atom-based devices, offers a "complete set of core applications for netbooks," says the project. Building upon the 1.0 version of the netbook environment, the update features a Google Chrome browser, new touch support, improved social networking aggregation, and power and performance optimizations, says the project. With MeeGo 1.1, MeeGo-based netbooks may well be ready to ship this fall, integrated with some netbook versions of various desktop Linux operating systems.


Navigation on the MeeGo IVI UX 1.1

In-Vehicle Infotainment (IVI) UX 1.1 — As shown in the new IVI 1.1 image farther above, this in-car UX offers a distinctive carousel-like scroll-wheel interface. The UX includes a sample IVI home screen and taskbar built with Qt 4.7 and speech recognition. An early version of the automotive infotainment UX was released in version 1.0 form in August.

Handset UX 1.1 — The 1.1 version builds upon the MeeGo 1.0 Handset UX released in July. The technology implements basic development UX for voice calling, SMS messaging, web browsing, music and video playback, photo viewing, and connection management, says the project. Instead of using Chrome, the Handset UX uses the new Firefox for Mobile ("Fennec") browser.
The earlier Atom-based version of the Handset UX code was more advanced than the ARM version, suggesting that the first MeeGo phone might use the Intel Atom Z6xx-based Aava Mobile reference design as opposed to the ARM-based Nokia N900 (pictured above right). However, as the MeeGo project tipped earlier this month, MeeGo 1.1 is first being offered as a dual-boot option with Maemo Linux on the N900. The new release is said to offer just such an option, although Nokia has so far yet to give it its formal blessing.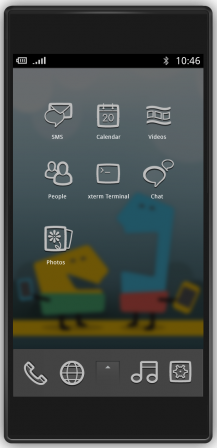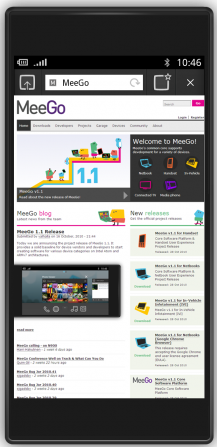 MeeGo Handset UX 1.0 main screen (left) and Firefox for Mobile ("Fennec") web browser (right)
Already, some web-connected televisions and set-top boxes, such as the
Amino Freedom
, have been announced and are expected to ship this fall. Meanwhile, WeTab says it has shipped the first MeeGo-based tablet, called the
WePad
.
A "Connected TV" UX for set-tops and TVs is still said to be on the way, along with a Media Phone UX for desktop phones. It appears, however, that tablets will not receive a UX of their own, but will use a version of the Handset UX. In this, MeeGo appears to be taking a similar approach as Google has with Android, by treating tablets as large phones rather than keyboard-free netbooks.
Due in the coming days is a beta version of the MeeGo 1.1 software development kit (SDK), which is what most developers will need to sink their teeth into MeeGo. Meanwhile, MeeGo 1.2 is scheduled for April 2011 and will include "a Handset UX release with a complete set of applications, and support for other device usage models," says the MeeGo project.
Availability
MeeGo 1.1 is available now, and the SDK will ship prior to the MeeGo Conference in Dublin, Nov. 15-17, says the MeeGo project. The MeeGo 1.1 announcement, with many more images and links to in-depth feature lists and downloads, may be found here.
---
This article was originally published on LinuxDevices.com and has been donated to the open source community by QuinStreet Inc. Please visit LinuxToday.com for up-to-date news and articles about Linux and open source.