Jun 28, 2011 — by Eric Brown — from the LinuxDevices Archive — views
T-Mobile unveiled an Android 2.3-based 4G slider phone with an advanced camera. HTC's MyTouch 4G Slide is equipped with a 1.2GHz dual-core Qualcomm Snapdragon processor, a 3.7-inch, WVGA touchscreen, and an eight-megapixel camera with dual LED flash, "zero" shutter lag, a backside illuminated sensor, and a wide aperture f/2.2 lens, says the carrier.
The MyTouch 4G Slide, which peeked out with few details in a leaked T-Mobile product roadmap last month, updates HTC's MyTouch 3G Slide announced in May 2010 (as well as its MyTouch 4G slab from last November). All these phones are descendants of T-Mobile's original MyTouch 3G, one of the first Android phones to reach market.

MyTouch 4G Slide
Yet, this is more than just a slide version of the MyTouch 4G, or a 4G version of the Slide. The MyTouch 4G Slide not only shares the MyTouch 4G's HSPA+ service, it advances from that phone's 1GHz Qualcomm Snapdragon system-on-chip (SoC) to a
dual-core, 1.2GHz Snapdragon
. The 3.7-inch, WVGA super LCD touchscreen is slightly smaller than the MyTouch 4G's 3.8-inch screen, but a step up from the MyTouch 3G Slide's 3.4 inches.
Fast shutter, improved low light performance touted
These enhancements are welcome, but it's the camera that T-Mobile is hyping most of all, promoting it as a replacement for a standalone digital camera and camcorder. Eight megapixel resolution and dual LED flash may be fairly standard on high-end phones these days, but the 4G Slide's model is touted as having fast response and superior low light performance.
The camera is said to feature a "zero" shutter lag for "instantaneous" response using its dedicated camera button, thereby addressing a common slap against Android phones. As an added precaution, a "BurstShot" modes lets users capture multiple photos in quick succession, says T-Mobile.
T-Mobile also promotes the phone's superior low-light performance, with features including a backside illuminated sensor and a wide (f/2.2) aperture lens. (The rare backside illumination feature appeared previously on Apple's iPhone 4.)
Other touted camera extras include a "SweepShot" panoramic setting, and a "ClearShot HDR" mode for capturing objects in bright, high-contrast lighting. One-touch access to post to Facebook, Picasa, or Flickr is also said to be available.
Thanks in part to the dual-core Snapdragon, the MyTouch 4G Slide features a 1080p camcorder. Audio recording is said to be available, as well as the ability to edit videos directly from the device. Although HTC and T-Mobile have yet to post detailed specs, there also appears to be a front-facing webcam, as the carrier promotes its Qik-based T-Mobile Video Chat "for face-to-face video chat."
HSPA+ speeds up
The MyTouch 4G Slide also adds support for T-Mobile's HSPA+ 4G network. How much bandwidth that will provide depends on where you live. Earlier T-Mobile HSPA+ networks were only nominally 4G, well below WiMAX and LTE, but the newer HSPA+ 21 (theoretically 21Mbps) network, which already reaches more than 200 million Americans in 184 markets, is generally considered a legitimate 4G network.
Earlier this month, T-Mobile announced an expansion of its even faster HSPA+ 42 (42Mbps) network to 41 new markets. Said to offer peak download speeds of 27Mbps, HSPA+ 42 will be available to more than 150 million Americans by mid-2011, says the carrier.
Gingerbread, Netflix, and a Bobsled ride
Powered by Android 2.3 ("Gingerbread"), the MyTouch 4G Slide offers HTC's latest Sense 3.0 UI, which earned high marks in a recent eWEEK review of Sprint's HTC Evo 3D 4G. Other software features include Swype text input, as well as Group Text by Bobsled, a new T-Mobile app for sending and receiving text messages with groups of friends.
The MyTouch 4G Slide offers preloaded T-Mobile TV and YouTube, as well as a "T-Mobile KidZone" feature offering family content filtering, says T-Mobile. It will also be one of the first Android phones to get the new Netflix app.
The revamped "Genius Button" offers "one shot" voice commands, using Dragon Dictation from Nuance, letting users quickly call, text, find a business, or search the web, says the carrier. A hands-free feature now let users choose to have notifications read aloud, and enables them to instruct the phone to text or dial in order to continue a conversation.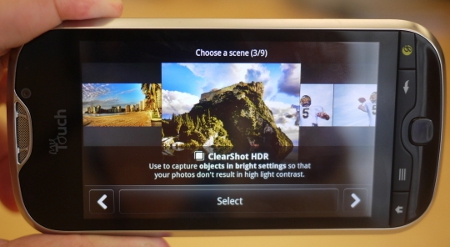 MyTouch 4G Slide's camera app
Source: Cnet
No more details were forthcoming on the 4G Slide, but
CNet
's
Bonnie Cha reports
on a half hour demo from T-Mobile. Only 1GB of the 4G Slide's 4GB of internal memory is available to the user, says Cha. An 8GB microSD card is also preinstalled, and is expandable to 32GB.
Cha liked the look and feel of the phone overall, which is available in black or khaki, with a "soft-touch finish on the back," according to the story. She notes that it feels lighter and slimmer than one would expect with the slide-out keyboard. The camera response seemed fast, she writes, although she says a full review will be required to fully explore the camera's features.
Stated Andrew Sherrard, senior vice president, marketing, T-Mobile USA, "Our newest MyTouch device takes capturing and sharing memories to a new level by combining high-quality smartphone hardware with features that customers would expect from a top-of-the-line digital camera."
Availability
The HTC-manufactured T-Mobile MyTouch 4G Slide is expected to be available in July for $200 plus two-year contract. The phone will be available exclusively at T-Mobile retail stores, online at T-Mobile, and from select national retailers and dealers.
More information and notification sign-up is available T-Mobile's MyTouch 4G Slide page.
---
This article was originally published on LinuxDevices.com and has been donated to the open source community by QuinStreet Inc. Please visit LinuxToday.com for up-to-date news and articles about Linux and open source.