Jun 22, 2011 — by LinuxDevices Staff — from the LinuxDevices Archive — 1 views
Sprint will begin selling the HTC Evo 3D 4G on June 24 for $200 on contract. According to this eWEEK review, the phone offers a lot to like, including a super 4.3-inch qHD screen, a dual-core 1.2GHz Snapdragon processor, and a surprisingly good Sense 3.0 UI — but the battery gets buried under 4G, and the touted 3D capability can be rather dizzying.
The HTC Evo 3D 4G is a mouthful to say — and it can prove weighty on the eyes, too, if you don't use the smartphone's 3D camera in moderation. The Android 2.3 ("Gingerbread") handset, which goes on sale from Sprint June 24 for $200 and a two-year deal, is the first smartphone in the U.S. that can shoot and display 3D still pictures and videos that may be viewed without special glasses.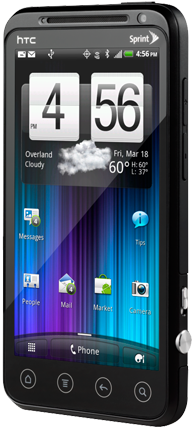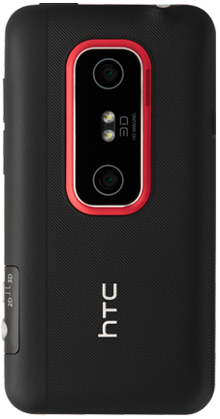 HTC Evo 3D 4G, with dual stereoscopic cameras shown on right
While the 3D camera is this phone's differentiation point in a sea of 300-plus Android handsets and tablets, it needn't be the only reason to buy it. There is enough to enjoy here for any Sprint user looking for a phone that processes data with fluidity, and is also pleasing to the eye.
The Evo 3D has average physical specs: five inches long, 2.6 inches wide, and nearly half an inch thick. At six ounces, the phone is no lightweight, thanks in part to the chunky 1730mAh battery required to fuel 4G data for a decent chunk of time.
Don't hold it against HTC. Six ounces represents the low-end among 4G phones — and as we see farther below, the battery still isn't powerful enough to withstand frequent WiMAX interactions.
When I held the phone for the first time, I was put off by the rubberized, dark gray enclosure. It felt a bit like holding a chalkboard eraser. The camera bevels on the back, outlined in lipstick red, might bother some folks as well. Frankly, I didn't care for this device… until I turned it on.
The Evo 3D boasts a clear, crisp 4.3-inch 960 x 540 qHD (quarter high-definition) resolution 3D display, and it is powered by a snappy 1.2GHz Qualcomm Snapdragon processor. No biggie. qHD displays have become de rigeur for high-end Android phones, as have dual-core processors. Still, they're nice to have, and they keep this phone competitive.
Sense 3.0 finally gets it right
The HTC Sense 3.0 user interface blew me away. I have yet to see something so graphically pleasing and intuitive on a handset.
Once I synced my Google account with the Evo 3D, and the handset ported my wallpaper, apps, contacts and calendar appointments, I don't think I picked up my regular Android phone for a week. Better than any other phone maker, HTC has realized Google's vision for cloud-based data on a smartphone.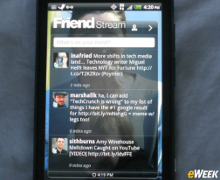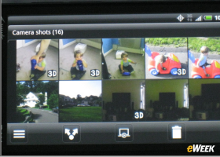 Evo 3D 4G showing Sense 3.0's FriendStream (left) and camera interface (right)
(Click on either to enlarge)
Sense 3.0 turns the seven customizable homescreens into a whirling dervish of a carousel. A long swipe from left to right will run a user through every screen really fast. The homescreens include a weather widget, calendar, music screen, contacts, bookmarks, and HTC's FriendStream social network aggregator (see image above).
One neat new perk here is a Lock Screen feature that lets users customize their lock screen with their photo gallery, FriendStream, wallpaper, clock, or stocks. When you choose the gallery lock screen and unlock the phone, the pictures come floating up, providing the user with a snazzy slideshow of their stills.
App icons have been retooled in Sense 3.0, and Facebook and Twitter for HTC Sense are a treat, running cleanly and efficiently. Sense has come a long way.
4G, 3D, and now I can't see
Supported by Sprint's 4G WiMAX network, the device moves data at a rapid clip. I got 6Mbps upload speeds and 7Mbps download speeds for apps and other content. All of my apps ported smoothly from my own phone.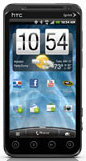 On 3G, the 1730mAh lithium-ion battery lasted 10 hours with regular use. 4G is another matter, especially after shooting video, watching video or playing games. I received about four hours at the most. That's not so atypical on a 4G phone, but it's still not good.
There are actually three cameras on this phone: two five megapixel cameras, which combine to offer a 3D shot, as well as a 1.3-megapixel front-facing camera for video chat. There is a toggle switch on the right side to move between 2D and 3D modes, next to a pronounced metal shutter button for easy picture taking.
As a 2D camera, the Evo 3D is run of the mill, with solid HD video capture at 720p. Playback is available in 1080p via HDMI-out, made available via a special USB adapter.
As a 3D camera, the Evo 3D is a trip — literally. I found myself vacillating between being wowed by taking 3D stills and shooting 3D video without needing glasses and becoming incredibly dizzy.
It's tough to look at 3D for a long time, especially when you're moving your field of vision, or the screen. Or maybe it's just me.
Still, this phone is driven largely by 3D. It comes with a free 3D version of the "Green Hornet" film via an HTC Watch application, as well as "Ultimate Spider-Man" from Gameloft. Playing Spider-Man in 3D was cool for about 10 minutes. Then it just became annoying to look at. Unless, you're a 3D-happy kid it's hard to see the joy in using 3D for a long period of time.
Normally I would warn people off a one-trick pony gadget, but using this Evo 3D absent the 3D camera was a joy. I would recommend it on the basis of the Sense 3.0 user interface, apps, fast data processing, and 4G network alone.
Availability
The HTC Evo 3D 4G goes on sale June 24 for $200 and a two-year deal, says Sprint. More information may be found on Sprint's Evo 3D 4G page, as well as on HTC's Evo 3D site.
More Evo 3D 4G images and further review notes may be found on this eWEEK slide show page.
Clint Boulton is a writer for eWEEK.
---
This article was originally published on LinuxDevices.com and has been donated to the open source community by QuinStreet Inc. Please visit LinuxToday.com for up-to-date news and articles about Linux and open source.