Nov 11, 2009 — by Eric Brown — from the LinuxDevices Archive — 43 views
[Updated: 1PM] — After a delay of several weeks, Nokia is shipping its Maemo Linux-based N900 smartphone, says eWEEK. Meanwhile, a research note supports rumors of an upcoming Maemo-based, mass-market smartphone designed to compete directly with the iPhone, says an industry report, and LWN.net reports on last month's Maemo Summit.
It's been a little over two months since Nokia announced the N900 smartphone as an heir to both the Symbian-based N97 smartphone and the Maemo-based N810 Internet Tablet. Nokia originally targeted October as the ship date, but the phone is finally shipping this week, available SIM-free in North America, Europe, the Middle East, and Russia, says a Scott Ferguson story in eWEEK. Aiming the phone primarily at Maemo developers, Nokia was said to have stated that it expects to announce "plenty of contract deals making it available at a reduced cost and in some cases gratis."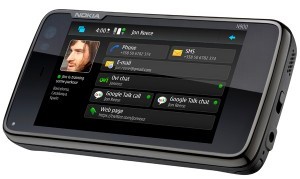 Nokia N900
Running on an ARM Cortex-A8-based OMAP3430 system-on-chip (SoC) with 1GB of memory and 32GB flash, the N900 offers 3G HSPA data and voice, and includes a 3.5-inch, 800 × 480 touchscreen and five-megapixel camera. Measuring 4.4 x 2.4 inches, with a thickness of 0.8 inches tapering down to 0.7 inches, the phone also provides a slide-out QWERTY keyboard, plus WiFi, GPS, Bluetooth, and accelerometers.
In short, it's competitive with the latest high-end smartphones, including the iPhone, Samsung's LiMo-based Vodafone 360 H1, or Motorola's much-touted Android based Droid.
The phone is based on the open source Maemo 5, a major upgrade from the Maemo 4 stack that ran on Nokia's previous Internet Tablets. Touted as being more of a fully formed desktop-like Linux distribution than competing mobile Linux stacks like WebOS, LiMo, or Android, and offering a greater focus on open source apps, Maemo 5 provides a Mozilla-based browser and Adobe Flash 9.4, and adds 3G and video capture support.
With the N900, Nokia's Maemo now joins at least four other new Linux-based open source smartphone operating systems. The market leader is Android, which diverges the farthest from Linux, and is being supported by handset vendors including HTC, Samsung, Motorola, LG, Acer, Dell, Huawei, among others. Meanwhile, Palm offers its WebOS-based Palm Pre and Palm Pixi, and Samsung has joined with Vodafone to announce two LiMo (Linux Mobile) smartphones in the 360 H1 and 360 M1 phones. The Garmin-Asus partnership has shipped its Linux-based Nuvifone G60 for AT&T, although the collaborative venture appears to be shifting its focus to Android for its next Nuvifone model.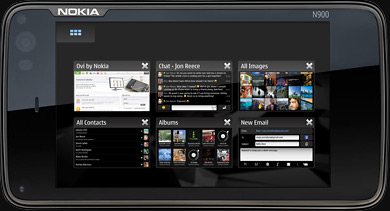 Nokia N900 running Maemo 5
Nokia is targeting the N900 more at developers than business users or even consumers, says
eWEEK.
"The goal is to get developers to develop third-party applications for the device that utilize Maemo," writes Ferguson. "Nokia then plans to make the application available through its Ovi store by the end of this year."
Nokia prepping second Maemo phone?
The recent rumors about a second Maemo Linux phone coming from Nokia have been supported by UBS analyst Maynard Um, says a story in FierceWireless. Due the second half of 2010, the "mass-market" smartphone will compete with Apple's iPhone, Um was said to have written in a research note to investors.
The development is "a recognition that the ability to rely solely on the more standardized Symbian to compete is limited," Um was said to have written.
When asked to comment by FierceWireless, Nokia spokesman Joseph Gallo declined, but was said to have stated, "We are absolutely committed to Symbian as our smartphone platform."
Maemo Summit: oFono inches forward
At the Maemo Summit held in Amsterdam in October, Nokia announced that it had ported its cross-platform Qt development framework to Maemo 5 in a Qt for Maemo preview release. Based on the upcoming Qt 4.6, the port will be offered in a final release in the first quarter of 2010. Developers will be able to use the software to port Qt applications to the N900 phone or write N900 apps with Qt and port them to Maemo 6, Symbian, or Windows Mobile.
Recently, LWN.net published a summary of the Maemo Summit, which naturally enough, was primarily concerned with the N900, the first Maemo device with cellular voice capability. The report by Nathan Willis noted there was also considerable discussion of Maemo 6 and the Qt port at the developers conference.
Nokia was said to have explained the shift to Qt, which it now owns as part of Qt Software (formerly Trolltech), as a way to include OpenGL ES hardware acceleration for the entire interface, writes Willis. Nokia was also said to have noted that Qt enables easier integration of multi-touch and gesture input support, as well as an application state machine API.
While the move was generally welcomed at the Summit, some questioned whether it would "short-circuit developers' desire to build their applications for Maemo 5 with the current framework," writes Willis.
There was also much talk about oFono, the open source cellular telephony project that has become a cornerstone of Nokia's partnership with Intel on mobile Linux technology. oFono is only one of several collaborative projects between Maemo and the Intel-backed Moblin project. The oFono technology makes use of D-Bus, "and has a small core with a plugin system that handles functions like network registration, SMS formatting, and call handling," says the story.
Maemo developers are hotly anticipating the chance to work with an open source cellular modem stack, but were informed at the Summit that oFono was unlikely to be ready for Maemo 6, says the story. The N900 and Maemo 5 instead use a closed-source stack called the cellular service daemon (CSD). Asked why Nokia couldn't just open up CSD for developers, Nokia's Remi Denis-Courmont responded that they were not satisfied with the code, and wanted to start from scratch, says the story.
Despite Nokia's control over Maemo, more developers are contributing open source code to the community than for either Android or Maemo, writes Willis. Maemo is said to share approximately 80 percent of its code with the standard desktop and enterprise Linux distributions, whereas LiMo, and even more so Android, have fewer connections to the larger open source Linux code base and community, says the story.
Availability
The Nokia N900 is available now for 433 Euros ($649 U.S.) More information should be available here.
The eWEEK story on the N900 may be found here, and the FierceWireless story on Nokia's next Maemo phone should be here. The LWN.net story on the Maemo Summit should be here.
---
This article was originally published on LinuxDevices.com and has been donated to the open source community by QuinStreet Inc. Please visit LinuxToday.com for up-to-date news and articles about Linux and open source.