Jul 13, 2010 — by Eric Brown — from the LinuxDevices Archive — 18 views
NetGear announced a new family of network-attached storage (NAS) devices, touting faster performance and support for streaming to TiVo digital video recorders (DVRs) via Skifta technology. The ReadyNAS Ultras are available with four or six storage bays, offer single- or dual-core Intel Atom "Pineview" processors, and integrate Orb technology for transcoding content to remote devices, the company says.
At the time of writing, NetGear had yet to respond to our request for information on the embedded operating system running on its new ReadyNAS Ultra systems. However, previous ReadyNAS devices, such as the ReadyNAS Pro, have run on embedded Linux.
Netgear acquired the ReadyNAS line in 2007 when it bought Infrant for $60 million. ReadyNAS devices have previously run an Infrant-developed Linux distribution called RAIDiator.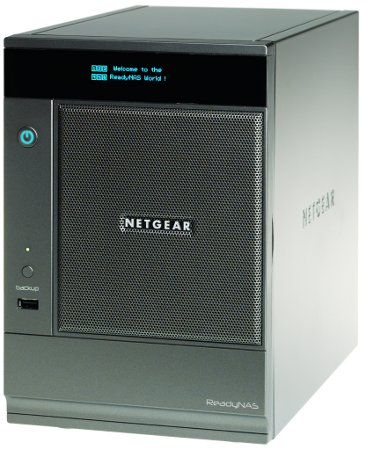 ReadyNAS Ultra 6


(Click to enlarge)
The NetGear ReadyNAS Ultra products are the first TiVo-compatible network storage systems, claims NetGear. Users can now stream video programming, music, and photos to any TiVo box in the house, says the company.
As Chris Preimesberger puts it in a story on the Ultra in our sister publication, eWEEK, "If you're into saving a lot of broadcast and cable TV content and have been frustrated by capacity limitations on a TiVo device, this may be an option to consider."
Preimesberger quotes Drew Meyer, NetGear's director of storage marketing, as saying the company, which has focused on the SoHo NAS market in recent years, hopes to re-establish itself in the "prosumer" market. "With the ReadyNAS Ultra, we're focused on the prosumer geeks who have complicated home entertainment systems," said Meyer.
According to NetGear, the Ultra systems, which will also include a two-bay system due in October, are the first storage systems with Skifta "media-shifting" software. The Skifta technology, provided by the Qualcomm-owned startup of the same name, lets users access private media libraries remotely from any DLNA- and UPnP-certified device without knowing the physical location of their content, says NetGear.
A number of other recent NAS devices, such as the Qnap Systems TS-639 Pro Turbo NAS, offer different DLNA and UPnP network discovery and media streaming technologies, although none that we know of supports TiVo.
The ReadyNAS Ultra devices are also the first NAS systems to include transcoding via Orb integration, claims NetGear. The Orb remote access transcoding software enables the Ultra device to automatically format and size streaming video content for mobile devices or browsers on the fly, says the company.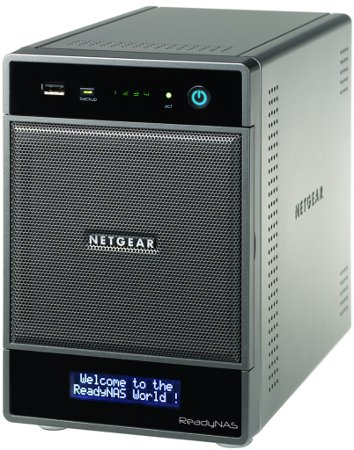 ReadyNAS Ultra 4


(Click to enlarge)
Additional software offered for the systems, which are compatible with Linux, Windows, or Mac desktop PCs, includes NetGear's X-RAID2 self-managing volume expansion technology and Rsync synchronization software. The devices also supply the company's ReadyNAS Remote secure, drag-and-drop remote access technology, as well as the ReadyNAS Vault online backup and recovery service, says the company. Memeo Premium cloud backup is also available, but apparently only on Windows and the Mac.
Other software features offered with the Ultra systems include an Apple iTunes server, encrypted network logins, and Secure Sockets Layer (SSL) support, says NetGear. The Ultra devices also provide a variety of power management features as well as support for a variety of storage protocols, including NFS on Linux.
ReadyNAS Ultra 4 and Ultra 6 hardware
The ReadyNAS Ultra systems ship with one of Intel's two new "Pineview" versions of the Atom — the single-core Atom D410 for the Ultra 4 and the dual-core Atom D510 for the Ultra 6, both clocked at 1.66GHz. Dual-core Pentiums are also said to be available upon request.
The company claims the systems are twice as fast as legacy ReadyNAS systems, although it did not state which ones. The SoHo-oriented ReadyNAS Pro ran on Intel Core 2 Duo processors, which would likely offer faster performance, so perhaps the company was referring to earlier consumer ReadyNAS devices, such as the prosumer-oriented, circa-2007 ReadyNAS NV+, which ran on a IT3107 Network Storage Processor.

The ReadyNAS Ultra 4 (left), and Ultra 6, revealing their inner drives


(Click to enlarge)
The Ultra devices are said to be further equipped with 1GB of DDR2 memory. They offer four (Ultra 4) or six (Ultra 6) hard disk drive (HDD) bays supporting 1TB or 2TB drives, for up to 8TB or 12TB respectively, says NetGear.
The devices will support 3TB drives when these higher-capacity drives ship later this year, says the company. RAID 0, 1, and 5 are offered on both devices while the Ultra 6 also sports RAID 6 protection.
Each of the Ultra models are equipped with two gigabit Ethernet ports and three USB 2.0 drives, says NetGear. The Ultra 4 and Ultra 6 sport 8.07 x 5.28-inch and 10.0 x 6.7-inch desktop footprints respectively, and consume either 48 Watts (Ultra 4) or 75 Watts (Ultra 6) in idle mode, says the company. Cooled by fans, the devices are said to handle operating temperatures between 32 and 104 deg. F.
Specifications listed for the ReadyNAS Ultra devices include:
Processor — Intel Atom D410 (Ultra 4) or dual-core Atom D510 (Ultra) @ 1.66GHz; Pentiums are available on request
Memory — 1GB DDR2 in 1 x SODIMM
Storage:

4-bay (Ultra 4) or 6-Bay (Ultra 6) supporting 1TB or 2TB drives for up to 8TB or 12TB respectively
Diskless or half-populated configurations available
Will support 3TB drives later this year
RAID 0, 1, 5; RAID 6 on Ultra 6 only
80Mbps (Ultra 4) or 90MBps (Ultra 6) throughput

Networking — 2 x gigabit Ethernet ports
USB — 3 x USB 2.0 ports
Power — 100-240V AC, 50/60 Hz input; 120 W supply (Ultra 4); 300 W supply (Ultra 6)
Power consumption — 48 W (Ultra 4) or 75 W (Ultra 6) with 4 x 2TB drives in idle state
Dimensions:

Ultra 6 — 11.2 x 10.0 x 6.7 inches (285 x 250 x 170mm)
Ultra 4 — 8.78 x 8.07 x 5.28 inches (223 x 205 x 134mm)

Fan — 92mm (Ultra 4) or 120mm (Ultra 6) fan
Operating temperature — 32 to 104 deg. F
Stated Norm Bogen, industry analyst, In-Stat, "These are the first storage devices we've seen of this kind on the market — no one else is doing this yet."
Stated Shawn Markins, a beta tester and long-time advanced ReadyNAS user, "The ReadyNAS Ultra 4 is a tech-head's dream come true; it lets me encode, decode, stream HD video, and no matter where I am, play music and video to any DLNA certified device and a large number of mobile devices
Stated Drew Meyer, director of storage marketing at NetGear, "Users may now shift media from any networked location onto nearly any device and unplug their direct-attached disks."
Availability
The NetGear ReadyNAS Ultra systems are available now for pre-order at Amazon.com, with shipping starting in mid-July, says NetGear. The Ultra 4 costs $600 diskless and $900 half populated with dual 2TB drives (4TB), and the Ultra 6 costs $900 diskless and $1,350 half-populated with three 2TB drives (6TB). The dual-bay ReadyNAS Ultra 2 will begin shipping in October, says the company.
More information on the ReadyNAS Ultra 4 and Ultra 6 systems may be found here, with links to individual product pages and datasheets.
The eWEEK story on the ReadyNAS Ultra devices may be found here
---
This article was originally published on LinuxDevices.com and has been donated to the open source community by QuinStreet Inc. Please visit LinuxToday.com for up-to-date news and articles about Linux and open source.