Feb 4, 2009 — by Eric Brown — from the LinuxDevices Archive — views

[Updated, Feb. 5] — Personal navigation device (PND) vendor Garmin and AsusTek (Asus) have merged their smartphone development efforts. The "Garmin-Asus Nuvifone G60" will run a proprietary operating system (OS), but the companies say they will evaluate Linux, Android, and Windows Mobile for… future Nuvifones.
(Click for larger view of the Nuvifone G60)
Last year Garmin had announced that it was prepping a "Nuvifone," with Asus as its OEM manufacturer. Now the firms say they have already begun joint development on the Nuvifone, and "will together design, manufacture, and distribute co-branded location-centric mobile phones." The companies plan to formally announce the Nuvifone G60 at the Mobile World Congress show in Barcelona, Spain, on Feb. 16-19, and plan to ship the phone in the first half of the year.

Nuvifone doing
the accelerometer flip
So far, the companies have released few details on the Nuvifone G60. It is said to offer a quad-band GSM phone capability with 3.5G data connectivity. Other listed features include a touchscreen, WiFi, GPS, stereo Bluetooth, a Webkit-based Internet browser, and personal messaging. Judging from the image at right, it also includes the now-typical iPhone-esque accelerometers for automatic portrait/landscape adjustments. The companies say they plan to differentiate the Nuvifone series from other smartphones with location-based services (LBS) technology (see farther below) similar to that found in Garmin's high end PND devices, including the Linux-based Nuvi 8XX series.
An Asus spokesperson told our sister publication WindowsForDevices.com "the Nuvifone will be running on various operating systems, definitely including Windows Mobile." And, a PC World story quoted company CEO Jonney Shih at the Garmin-Asus press conference in Taipei, Taiwan, saying that the companies are considering offering Nuvifone smartphones with different OS platforms, specifically mentioning Linux, Google's Linux-based Android, and Windows Mobile.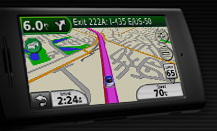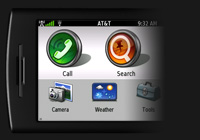 Nuvifone in landscape mode, looking much like a Garmin Nuvi 8xx PND
Asus has developed numerous Windows Mobile phones in the past, including its recently released, GPS-enabled Asus P552w. Other possibilities may include the Gnome Mobile Linux stack used in Garmin's Nuvi 8xx PNDs (pictured below). Asus had previously been rumored to be working on an Android phone, and the company had a huge hit with its Linux-compatible Asus Eee PC netbooks.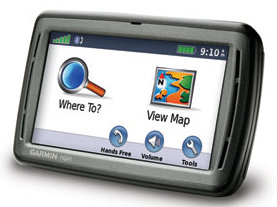 Nuvi 880
Converging the PND and the smartphone
The Nuvifone promises to offer location-based features that outshine even the Android-ready HTC G1, sold by T-Mobile. (Since the Nuvifone is a GSM device, T-Mobile would be a likely candidate to carry the Nuvifone, along with AT&T).
The Nuvifone provides turn-by-turn and voice-prompted navigation, preloaded maps, millions of points of interest, and search by street address, name, or category, say the companies. The Nuvifone is also said to offer Internet-enabled local search, as well as Garmin's "Ciao!" social networking application, which "bridges the gap between multiple location-based social networks and integrates them." Location information is also integrated in the phone's email, SMS, and photo sharing apps, say the companies.
Additional Nuvifone features are said to include traffic and weather alerts, flight status, and "Panoramio" geo-tagged photos. It even offers proximity alerts notifying drivers of "upcoming safety cameras" — helping European drivers avoid speeding tickets.
Garmin and Asus will not create a joint development company to build and sell the Nuvifone, but will both offer co-branded devices in a partnership, say the companies. Garmin claims to have sold more than 43 million devices around the world. The company cites a Canalys study on the 3Q 2008 PND market, claiming that Garmin held 35 percent of the worldwide PND market with an approximately 50 percent share in the U.S. and a 20 percent share in Europe. Asus, meanwhile claims to have fielded the fastest growing notebook brand for the past eight consecutive quarters, ranking fifth in the world in Q3 2008.
Stated Dr. Min Kao, chairman and CEO of Garmin, "We've been working with ASUS for over one year on the initial nuvifone that was announced in 2008 on the basis of an ODM relationship. Learning from this experience, we concluded that by leveraging and combining our respective industry-leading areas of expertise at a higher level, we will be able not only to significantly expand our product line, but also to shorten our product development time."
Stated Jonney Shih, CEO of Asus, "This alliance allows ASUS and Garmin to seamlessly combine the strengths of both companies to offer market leading mobile phone solutions that are of the best design and highest quality."
Availability
The Garmin-Asus Nuvifone G60 will ship in the first half of this year and will be demonstrated at the Garmin-Asus booth (7C37, hall 7) at the Mobile World Congress trade show in Barcelona, on Feb. 16-19, say the companies. More information should be available at the new Garmin-Asus site, here.
---

This article was originally published on LinuxDevices.com and has been donated to the open source community by QuinStreet Inc. Please visit LinuxToday.com for up-to-date news and articles about Linux and open source.