Apr 2, 2009 — by Eric Brown — from the LinuxDevices Archive — 2 views

Intel shipped its long-awaited Intel Xeon processor 5500 series, codenamed "Nehalem EP," including several extended-lifecycle embedded versions. The embedded Xeon 5508 and Xeon 5518 processors are already available in a communications-oriented 6U CompactPCI board (pictured) from Concurrent Technologies,… called the PP 66x/071.
(Click for larger view of Concurrent Technologies' Nehalem-based PP 66x/071 board)
The "dynamically scalable," 45nm Nehalem EP architecture is billed by Intel as being its biggest breakthrough since the Pentium Pro some 15 years ago. Intel has published some 30 benchmarks from various server manufacturers for the Intel Xeon 5500 series, and claims it more than doubles the performance of the previous generation (the Intel Xeon 5400). Offering clock speeds ranging from 1.86GHz to 3.20GHz in both dual-core and quad-core configurations, the CPUs are accompanied by the Intel 5520 I/O Hub and the Intel ICH10R I/O Controller Hub.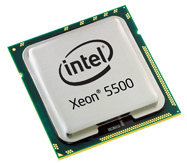 Xeon 5500
The Xeon 5500 series adds major new features to the Xeon platform, including Intel Turbo Boost Technology, which is said to increase performance based on user workload and environment, dynamically boosting the clock speed of one or more of the four processing cores. Turbo Boost enables processor cores to automatically run faster than the base operating frequency in cases where the Xeon is operating below power, current, and temperature specification limits, says Intel.
New Intel Hyper-Threading Technology, meanwhile, enables multi-threaded software applications to execute threads in parallel within each processor core. The technology is enabled with a variety of tools such as Intel's Linux-compatible Threaded Building Blocks (TBB) cross-platform, portable library aimed at improving the performance of C++ applications on multi-core processors.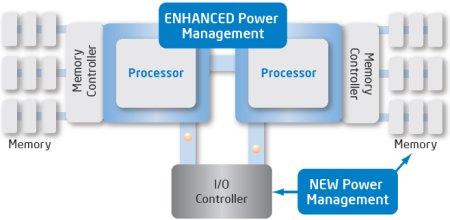 Xeon 5500 integrated power gates
(Click to enlarge)
The Xeon 5500 processors are also billed as being more power efficient than the 5400 series, offering a processor idle power level of only 10 Watts, which is said to enable a claimed 50 percent reduction in system idle power. Meanwhile, integrated power gates have been added, based on Intel's High-k metal gate technology, enabling idle cores to power down on their own (see diagram above). In addition, the 5500 series is said to offer up to 15 automated operating states for intelligent power management, allowing adjustments to system power consumption based on real-time throughput.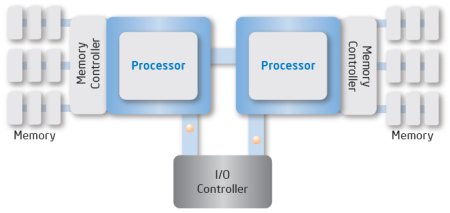 Intel QuickPath offers a high-speed, point-to-point link between the Xeon and the Intel 5520 I/O Hub
(Click to enlarge)
Intel has provided an integrated memory controller combined with its Intel QuickPath Technology (see above), said to speed traffic between processors and I/O controllers by up to 350 percent. Other new features include improved Intel Virtualization Technology (VT) technology, which now offers extended page tables, allowing the system to adapt to a broad range of workloads, the company says.
Four embedded 5500 models
Intel released four embedded versions of the Xeon 5500, offering seven-year extended lifecycle support and aimed primarily at the communications infrastructure market. The chips are heir to the embedded (seven-year lifecycle) E5440/L5408 versions of the 5400 series that shipped early last year.
The two low-power chips are the L5518 (2.13GHz, 60 Watt TDP) and the L5508 (2.00GHz, 38 Watt TDP) available with the Concurrent Technologies PP 66x/071 board (see farther below). Both processors ship with 8MB of third-level cache. Intel also offers the 2.53GHz E5540 (8MB L3 cache) and 2.00GHz E5504 (4MB L3 cache) extended lifecycle Xeons, both of which run at 80 Watts.
Developed by Intel's embedded business division, the low-power quad-core L5518 and dual-core L5508 are designed for the thermal and space constraints typical of communications infrastructure environments, says Intel. Typical applications are said to include communications blades and appliances; security, storage and medical applications; carrier-grade rack-mounted servers; as well as router modules and submarine technology.
Both the L- and E-series embedded Xeons offer Intel Turbo Boost and Intel Hyper-Threading Technology, as well as Intel VT for Directed I/O, which enables virtualized integration of dated telephony applications with new software. As a result, communications infrastructure can be deployed with a smaller footprint and greater energy savings, says Intel. The embedded Xeons also provide for 10-gigabit Ethernet performance, and are able to handle high-bandwidth services including VoIP, 3G, 4G, video-on-demand, and even holograms.
Concurrent Technologies PP 66x/071
One of the first products to adopt Intel's embedded quad-core L5518 and dual-core L5508 Xeon processors is Concurrent Technologies' PP 66x/071 6U CompactPCI board (pictured at top). The Linux-compatible board offers up to 64GB of 1066MHz DDR3 EEC memory, and dual 10-gigabit Ethernet ports, as well as SAS (serial attached SCSI) and SATA300 disk interfaces, says the company. The board is said to be aimed at CPU-intensive processing applications in telecommunications, defense, and homeland security.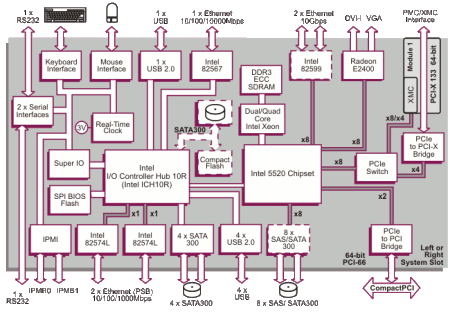 PP 66x/07x block diagram
(Click to enlarge)
The PP 66x/071 takes advantage of the Xeon's 8MB last-level, on-die cache, as well as its direct 1066MHz memory bus, says the company. The board is claimed to achieve 17GB/sec memory bus speed, thanks to the Intel Quick Path interface to the Intel 5520 I/O Hub, rated by Intel as offering up to 20GB/sec throughput.
Front panel I/O includes a PMC/XMC expansion site, with 133MHz PCI-X and up to x8 PCI Express (PCIe) lanes. The optional 10-gigabit Ethernet ports support either copper or optical cabling. Meanwhile, rear connectors are said to include an interface to an optional onboard eight-port hardware RAID controller, supporting SAS and SATA300 drives.
According to Concurrent, the PP 66x/071 can act as a system controller board in either the left or right slot, as well as a peripheral board or a satellite board/blade. Support is also provided for a CompactPCI backplane interface operating at 33/66MHz PCI signaling speeds.
Specifications listed for the PP 66x/071 board include:
Processor — 2.13GHz quad-core Intel Xeon L5518 or 2.0GHz dual-core Xeon L5508
Chipset — Intel 5520 with Intel I/O Controller Hub 10R (Intel ICH10R)
Memory — up to 64GB DDR3-1066 ECC SDRAM, via four DIMM sockets (max. 32GB using VLP DIMMs); peak bandwidth of 17GB/sec
Flash — 4MB BIOS flash EPROM
Graphics — Radeon E2400 graphics controller via x8 PCIe link; supports dual independent analog displays; front-facing DVI-I and VGA connectors
CompactPCI interface — 33/66MHz, 32/64-bit interface accessed via J1/J2 connectors
PMC/XMC interface — 1 x PMC site; XMC PCIe link supports up to x8
Storage interfaces:

8-port SAS/SATA300 RAID controller via LSI SAS1068E and x8 PCIe link
8 x SAS/SATA RAID interfaces
6-port SATA300 controller via Intel ICH10R
4 x SATA interfaces via J3
Optional 1 x SATA for on-board 2.5-inch SATA300 drive
1 x SATA port (via EIDE) used for on-board CF site under PMC/XMC site
Optional USB Flash disk module on the RTM

Networking:

Optional dual 10-gigabit Ethernet interface module, via Intel 82599 and x8 PCIe link
2 x gigabit Ethernet controllers (rear), via dual Intel 82574L controllers and x1 PCIe links
Front-panel RJ45 interface, via Intel 82567

USB — 5 x USB 2.0 interfaces (one front-facing)
Serial — 2 x RS232 serial channels
Other I/O — RTC; watchdog timer; system fan monitor; legacy speaker output; keyboard/mouse interfaces
IPMI/PICMG support — PICMG 2.16 (Ethernet fabric); PICMG 2.9 (IPMI); PICMG 2.1 (hot swap)
Operating temperature — 32 to 131 deg. F (0 to 55 deg. C)
Dimensions — 9.2 x 6.3 inches (233 x 160mm); 6U
Power — [email protected] A (typical for Quad-Core 2.13GHz with 16GB DRAM); +5%/-3%
Operating sytems — Linux, Windows XP, Windows XP Embedded, Windows Server 2003, Windows Server 2008, QNX, VxWorks, Solaris
Stated Steve Price, marketing director of Intel's Performance Processor Division, "The L5518 and L5508 processors provide the performance, low power and robust thermal profiles required for many communications and embedded applications. New single board computers, such as the Concurrent Technologies family of 6U CompactPCI boards, have the high performance memory, networking and storage interfaces to provide an appealing solution for processing intensive applications such as deep packet inspection."
Availability
The PP 66x/071 appears to be available now from Concurrent Technologies at an undisclosed price. More information may be found here.
The embedded, long lifecycle Intel Xeon L5518, L5508, E5540, and E5504 processors are available today, priced at $530, $423, $744, and $224, respectively, in quantities of 1,000, says Intel. More information on the Intel Xeon 5500 series may be found here. A PDF fact sheet on the four extended lifecycle embedded Xeon 5500 chips can be found here.
For further information on products including the Xeon 55xx processors, see our sister publication eWEEK.com, here.
---

This article was originally published on LinuxDevices.com and has been donated to the open source community by QuinStreet Inc. Please visit LinuxToday.com for up-to-date news and articles about Linux and open source.