Jul 24, 2008 — by Eric Brown — from the LinuxDevices Archive — 5 views

Intel has launched a system-on-chip (SoC) processor that integrates typical northbridge and southbridge functions with a Pentium M core clocked up to 1.2GHz. Targeting storage, networking, automotive, and industrial applications, the single-chip Intel EP80579 (formerly "Tolapai") optionally boasts an ultra-highspeed… FPGA co-processor interface dubbed "QuickAssist."
(Click for larger view of the Intel EP80579 and Intel EP80579 with QuickAssist)
More specifically, the initial Tolapai chips integrate a memory controller hub (MCH) supporting DDR2 RAM up to 800MHz, an SPI interface to boot flash, up to eight lanes of PCI Express expansion, dual SATA and USB 2.0 interfaces, UARTS, GPIO, and SMBus. There's also an "I/O complex" boasting three Ethernet MACs, two Controller Area Network (CAN) interfaces, and a local expansion bus interface.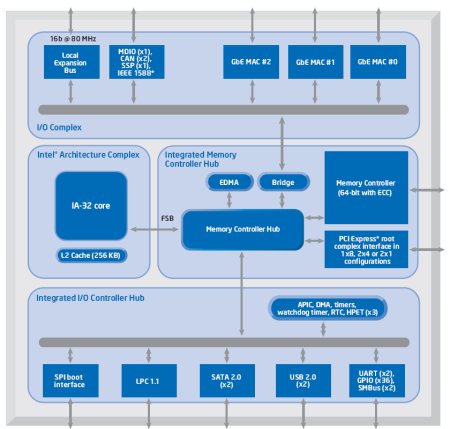 Intel EP80579 block diagram
(Click to enlarge)
The Tolapai will be offered with embedded lifecycle support, and boasts pin-compatibility within the family. The chip is "software-compatible with previous members of the Intel microprocessor family," Intel says — a smug nod toward the great mass of well-tested x86 software out there.
"QuickAssist"
For customers with esoteric processing requirements, a "QuickAssist" version adds a co-processor interface designed for the attachment of custom FPGAs "directly to the FSB" (front-side bus). Being able to hook co-processor chips directly to the FSB seems to be the key to Intel's claim that Tolapai will improve throughputs up to eight times, compared to a traditional "four-chip" VPN router designs. Other claims include a tenfold reduction in CPU utilization, 20 percent power savings, and 45 percent board real estate reduction — to about 110cm2.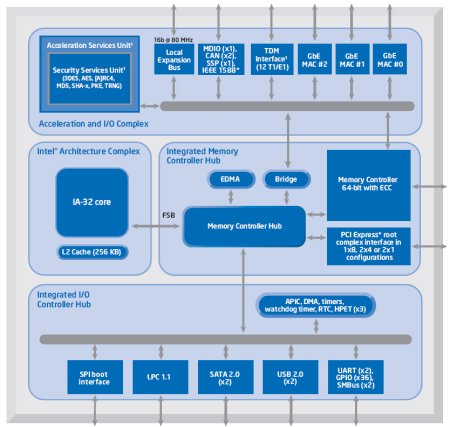 Intel EP80579 with QuickAssist block diagram
(Click to enlarge)
Intel will provide third-party FPGA vendors with RTL (register transfer logic), to help them connect their designs to Tolapai chips equipped with the QuickAssist interface, it says. It will also offer a QuickAssist Technology "Accelerator Abstraction Layer" (AAL), described as a set of software services (Linux only, for now, and tested on Red Hat Embedded Linux 5) aimed at helping programmers exploit FSB-attached FPGA accelerator modules.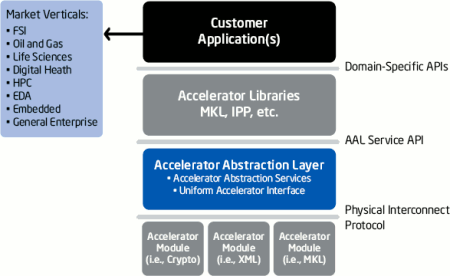 Intel's QuickAssist AAL high-level diagram
Some potential applications for QuickAssist accelerator modules suggested by Intel include:
Security acceleration — Algorithms for bulk encryption, hashing, authentication, IKE/PKE, and random number generation

Data-path acceleration — Forwarding, QoS, and protocol management acceleration for communications applications

TDM acceleration — HDLC channel and voice time slot management with T1/E1 WAN connectivity for channelized packet or voice time slot connectivity
Other specifications
Both the base-level EP80579 and QuickAssist versions provide the following features, according to Intel:
CPU — Pentiums M clocked from between 600MHz and 1.2GHz
Cache — 256KB
Package — 1088-ball Flip Chip BGA
Memory — DDR2 from 400- to 800 MHz; MCH supports DIMM or memory down with optional 32-/64-bit and ECC configurations
Bus — One local expansion bus for general control or expanded peripheral connections
PCI Express — PCIe root complex interface in 1×8, 2×4, or 2×1 configurations
Storage — 2 x SATA (Gen1 or Gen2) interfaces
Networking — 3 x 10/100/1000 Ethernet MACs supporting RGMII or RMII, and Management Data Input/Output (MDIO)
USB — 2 x USB (1.1 or 2.0) interfaces
GPIO — 36 x General-Purpose I/O (GPIO) ports
CAN — 2 x CAN 2.0b interfaces
High Speed Serial — 3 x HSS ports for T1/E1 or FXS/FXO connections
Serial — 1 x synchronous serial port (SSP)
UARTS — 2 x 16550-compatible UARTs
SMB — 2 x System Management Bus (SMBus) interfaces
LPC — 1 x Low Pin Count (LPC 1.1) interface
SPI — 1 x Serial Peripheral Interface (SPI) boot interface
RTC — Integrated real-time clock (RTC) support
EDMA — Enhanced DMA (EDMA) engine with low latency memory transfers; supports multiple peer-to-peer configurations
Operating temperature — 0 to 70 degrees C (most models); -40 to 85 degrees C (some models)
Operating Systems — Red Hat Enterprise Linux (RHEL) 5 (QuickAssist version); EP80579 (non QuickAssist) Linux (RHEL 5 and Wind River 2.0), Microsoft Windows XP Embedded SP2, Wind River VxWorks 6.6, FreeBSD 6.2
Perspective and positioning
A long time in the making, Tolapai details were leaked in February 2007. The Intel EP80579 Integrated Processor appears to strive for a middle ground in power usage and performance between Intel's new low-powered Atom, and its traditional embedded Core 2 Duo and Xeon processors. The on-chip peripheral interface mix, with multiple CAN and Ethernet interfaces, hints at an automotive infotainment focus, although Intel and Linux partner Wind River have also positioned Atom in that market.
Officially, the base-level EP80579 supports Linux, Windows XP Embedded, VxWorks, and FreeBSD, says Intel. It is targeted at communications equipment for small-to-medium business (SMB) and enterprises, as well as transaction terminals, interactive clients, print and imaging applications, access applications, SMB and home network-attached storage (NAS), and industrial automation. The EP80579 with QuickAssist, meanwhile, officially targets SMB and enterprise security appliances, including VPN/firewall and unified threat management, as well as wireless and WiMax access applications, NAS devices, converged IP PBX and access platforms, IP media servers, and VoIP gateways.
Product info
The EP80579 and its QuickAssist variant are offered initially in four models ranging from 600MHz to 1.2GHz, each with 256KB cache. The processors offer DDR2 memory support ranging from 400MHz to either 667MHz or 800MHz. The EP80579 offers a stated TDP of between 11.5 and 19 Watts, while the QuickAssist models range from 13 to 21 Watts, depending on the model.
| Part No. | Core Speed | DDR2 Speed | Temp. Range | L2 Cache | TDP (estimated) |
| --- | --- | --- | --- | --- | --- |
| NU80579EZ600C | 600 MHz | 400/533/667 | Commercial 0 to 70° C | 256 KB | 11 W |
| NU80579EZ600CT | 600 MHz | 400/533/667 | Industrial -40 to 85° C | 256 KB | 11 W |
| NU80579EZ004C | 1.066 GHz | 400/533/667/800 | Commercial 0 to 70° C | 256 KB | 18 W |
| NU80579EZ009C | 1.2 GHz | 400/533/667/800 | Commercial 0 to 70° C | 256 KB | 19 W |
| NU80579EB600C | 600 MHz | 400/533/667 | Commercial 0 to 70° C | 256 KB | 13 W |
| NU80579ED004C | 1.066 GHz | 400/533/667/800 | Commercial 0 to 70° C | 256 KB | 20 W |
| NU80579ED004CT | 1.066 GHz | 400/533/667/800 | Industrial -40 to 85° C | 256 KB | 20 W |
| NU80579ED009C | 1.2 GHz | 400/533/667/800 | Commercial 0 to 70° C | 256 KB | 21 W |
EP80579 family, with QuickAssist parts in gray
Intel provides the following software packages for the EP80579 platform for use in embedded, security, and IP telephony designs, each of which incorporates the previous driver set:
Intel EP80579 Software Drivers for Embedded Applications — A general embedded driver set
Intel EP80579 Software for Security Applications on Intel QuickAssist Technology — Adds to embedded driver set with support for cryptographic and packet processing acceleration
Intel EP80579 Software for IP Telephony Applications on Intel QuickAssist Technology — Adds to embedded and security driver set with support for converged IP PBX, converged access, IP media servers, and VoIP gateways
Availability
Intel did not provide details on the availability or price of the Intel EP80579 Integrated Processors. More information may be found here.
---

This article was originally published on LinuxDevices.com and has been donated to the open source community by QuinStreet Inc. Please visit LinuxToday.com for up-to-date news and articles about Linux and open source.