Sep 14, 2011 — by Eric Brown — from the LinuxDevices Archive — 3 views
Netgear announced a dual-band 802.11n Wi-Fi router, aimed at home users but featuring a 3×3 antenna array and high-power amplifiers for greater bandwidth and range. The N900 Wireless Dual Band Gigabit Router runs Linux on a new Broadcom processor, offers dual USB 2.0 ports, provides four gigabit Ethernet ports, and supports up to 900Mbps combined throughput, claims the company.
The N900 is aimed at consumers with demanding bandwidth requirements, including those who use wireless for 3D and HD video streaming, multiplayer gaming, and data backup, says Netgear. The company recently announced a N600 home router selling for the same $180 price. Like the N900, the N600 runs on embedded Linux, and is a dual-band router that that simultaneously operates on 2.4GHz and 5GHz bands.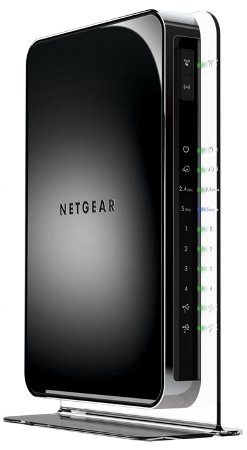 NetGear N900
(Click to enlarge)
Each device has its own strengths, however. The N600 stands out with its "Clear Channel Selector" feature aimed at consumers who frequently run into wireless interference issues. Said to be previously available only on costly, business-class wireless routers, the feature automatically detects when a Wi-Fi channel has become overcrowded, and then switches to another less-crowded channel.
The N900 appears to lack this channel-hopping feature, but instead excels in sheer bandwidth and reach, says NetGear. Home users are increasingly using up shared Wi-Fi bandwidth, with much of the growth occurring from Netflix streaming, IPTV boxes, and Wi-Fi enabled smartphones and tablets, says the company.
The N900 offers 30 percent to 50 percent more speed in the 2.4GHz band than the current generation of 750Mbps routers, claims NetGear. The N900 can support 450Mbps in both the 2.4GHz and 5GHz bands, providing a cumulative 900Mbps of bandwidth, say the company. The N600, by comparison, is said to offer download speeds of up to 300Mbps on each band.
Six "highly sensitive" internal antennas arrayed in a "3×3" configuration help provide more Wi-Fi speed and greater range than other competing home routers, while also reducing dead spots, claims NetGear. The range is further boosted by ultra-high-power radio amplifiers, says the company.
"This is the first 3×3 router for the consumer market," claimed Som Pal Choudhury, worldwide director of product marketing and management, consumer networking, in an interview with LinuxDevices.
Improved antennas were key to much of the speed gain, he added. "We were able to achieve this performance in part by adding better, more powerful antennas and a better amplifier with higher gain," said Choudhury. "We also added a low noise receiver to help pick up acknowledgements from client devices with weak return signals."
At 2.4GHz, real-world typical download speeds are said to range between 55Mbps at long range — defined as 108 feet plus five intervening walls — and 150Mbps at short range (three feet, line of sight). This is compared to 40Mbps to 105Mbps, respectively, on a competing router, claims the company.
On a 5GHz channel, the range goes from 5Mbps to 170Mbps for those same scenarios vs. no connection at all at long range to 160Mbps at short range for a competing router, claims Netgear. The biggest improvement gain at 5GHz is at the middle range (59 feet) where the differential is said to be 97Mbps vs. 60Mbps.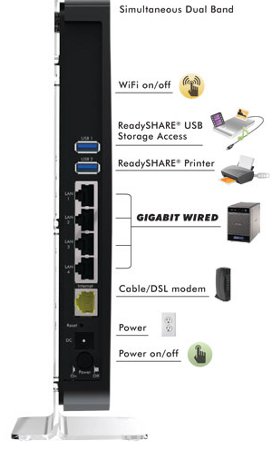 N900 port detail
While the N600 and most other home routers offer one USB port at the most, the N900 supplies two USB ports. This is useful, for example, when simultaneously sharing a printer and a USB or flash drive across the network, says NetGear.
Thanks in part to a new, unnamed Broadcom processor, the router can also pass data to and from a USB drive at up to 30 percent faster than earlier NetGear models, claims the company. The faster USB connection begins to blur the line between routers and USB media servers such as the Cloud Engines Pogoplug, and even SATA-equipped home network attached storage (NAS) devices such as NetGear's own ReadyNAS devices.
The router also offers four gigabit Ethernet ports and a WAN port, says NetGear. Under the hood, the device is equipped with 128MB of RAM and 128MB of flash memory, says the company. The 10.15 x 6.79 x 3.18-inch device is said to weigh 1.5 pounds. No power consumption figures were cited.
Firmware and features
Most of the firmware features offered by the router are similar to those provided with the N600, and are similarly compatible with Linux, Mac, and Windows desktop systems. No CD is required for installation, and the router can be configured through a browser on desktop computers, smartphones, the iPad, and other tablets, says NetGear.
A NetGear Genie utility that runs on a desktop PC presents a simple dashboard for monitoring, controlling and repairing home networks. In addition, Genie lets users view devices connected to the router via a network map, says the company.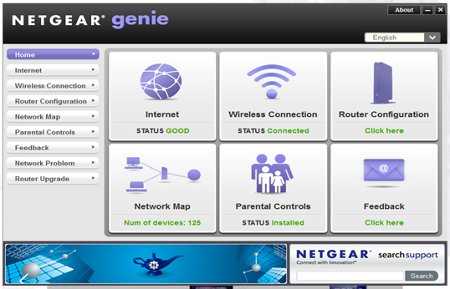 NetGear Genie utility
Additional Netgear N900 features are said to include:
ReadyShare Printer — enables USB printers plugged into the N900 to be accessed by any computer linked to the network
NetGear Genie — lets users monitor, control, and repair a network (see above)
NetGear Live Parental Controls — tracks website visits, including time of day and time online, spanning all devices on the network including Windows and Linux PCs, Macs, smartphones, and tablets
guest network — allows visitors to go online without requiring access to a home network password, thereby protecting access to networked computers, printers, and storage
DLNA — supports the DLNA (Digital Living Network Alliance) standard for streaming media to DLNA-enabled HDTVs, Blu-ray players, and game consoles
automatic Quality-of-Service (QoS) — prioritizes video streams over other home network traffic, said to improve video quality
automatic WiFi security — preconfigured wireless security, featuring double firewall protection, denial-of-service prevention, Wi-Fi Protected Access (WPA/WPA2-PSK), WEP, and multiple SSID guest networks
scheduled shut-downs — Wi-Fi radio turn-off to save power, including scheduled automatic turn-offs
access point support — access point configuration, for example, to connect to a gateway from an Internet service provider
Like the N600 and other NetGear routers, the N900 is supported by a MyOpenRouter community, says NetGear. The site offers open source Linux firmware for tweaking and customizing the router, as well as forums, reviews, and other features, says the company.
Stated Sandeep Harpalani, senior product line manager for Wireless Networking at NetGear, "The NetGear N900 stands alone in delivering ultimate wireless speed, range and premium features."
Availability
The Netgear N900 Wireless Dual Band Gigabit Router (model WNDR4500) is available now in the U.S. at $180, and will be available worldwide this winter, says NetGear. More information may be found at this Netgear N900 product page.
---
This article was originally published on LinuxDevices.com and has been donated to the open source community by QuinStreet Inc. Please visit LinuxToday.com for up-to-date news and articles about Linux and open source.