Jul 29, 2010 — by Jonathan Angel — from the LinuxDevices Archive — 18 views
While Amazon announced a smaller, lighter version of its Kindle e-reader today, the device still has a monochrome-only screen. Color E Ink displays are on the way, however, as today's announcement of a relevant controller chip — the Epson S1D13524 — made clear.
Monochrome electrophorescent (EPD) displays sourced from E Ink Corporation have been used in the majority of e-readers to date. Examples include Amazon's market-leading, Linux-based Kindle — updated today to become smaller and lighter.
Electronic paper offers a bright, high-contrast, thin, lightweight display technology that remains legible under "any lighting condition" — much like newsprint. Once an image has been "printed," no power is needed to hold it, reducing energy requirements by 99 percent compared to LCDs, E Ink claims.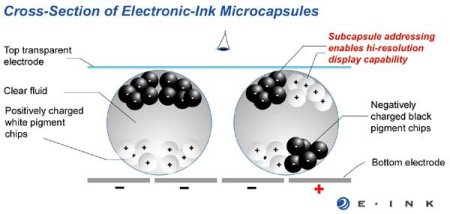 E Ink's electronic paper requires no power to hold images
Source: E Ink Corporation


While EPD displays substantially extend battery life, they weren't originally supported directly by the ARM-based SoCs employed in e-readers. As a result, separate Vizplex display controller ICs were required, such as the Epson S1D13522 (right) jointly developed by E Ink and Epson. (Introduced last September, the 10 x 10mm S1D13522 was said to cost $20 in sample quantities, include 2MB of embedded memory, and improve on previous EPD controllers by including onboard touch/pen support.)
Last November, Marvell announced its Armada 166E, touted as "the industry's first SoC with an integrated e-paper display controller." The device combines an E Ink Vizplex controller with an 800MHz, ARMv5-based Sheevacore, a 10/100 Ethernet MAC, and support for a 5-in-1 memory card reader, the company says.
Also last fall, Freescale announced an agreement with E Ink Corp via which it would integrate Vizplex controllers in forthcoming i.MX system-on-chips (SoCs). Last March, the chipmaker promised it would begin sampling its i.MX508, which includes both an E Ink controller and an 800MHz ARM Cortex-A8 core, in the third quarter of this year.
The wonderful world of color …
When the Freescale i.MX508 was launched, Freescale touted the SoC as having "the potential performance to quickly handle … color processing," but provided no further details. However, a fact sheet now available from the company's website, here, says the i.MX508 will support displays with resolutions up to 4096 x 4096 pixels, adding, "Whatever products E Ink launches, be it flex, large panels, high-resolution panels, even color, this EPD controller will be able to drive it."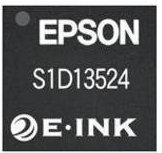 Further confirmation that color E Ink displays are on the way came today from Epson, which announced its new S1D13524 (right). Said to be "targeted for next-generation E Ink active-matrix panels," this follow-on to the earlier S1D13522 supports the following modes, according to the company:
color, with resolutions up to 2560 x 2048 pixels @ 85Hz
monochrome, with resolutions up to 3200x 2560 pixels @ 50Hz
maximum resolution greater than 8000 x 8000 pixels
Supplied in an 11 x 11mm TFBGA (thin film ball grid array) package, the S1D13524 is available with optional SPI flash memory "for auto boot display support and a customizable boot screen," the company says. With a core voltage of 1.5 Volts and I/O voltages ranging from 1.65 to 3.6 Volts, the device supports a variety of power management solutions, the company says.


A block diagram of the Epson S1D13524
(Click to enlarge)
According to Epson, E Ink will offer an S1D13524 prototype kit "that will enable engineers to rapidly prototype and develop next-generation color e-paper products," though further details were not announced. In its statement, the company also quoted Hanvon Technology as saying it will launch a color e-reader by the end of this year, presumably using the S1D13524 and new screens from E Ink.
Meanwhile, Amazon still hasn't decided when it will release a color model, according to an item by Stuart Miles on the Pocket-Lint website. "We continue to look at ton of stuff in the labs," Amazon Senior Vice President Steve Kessel is quoted as saying, adding, "We won't add color if it compromises the reading experience."
Asked whether Amazon was evaluating Qualcomm's Mirasol technology as well as color screens from E Ink, Kessel is said to have responded as follows:
"Any color technology that exists we take a look at. And we are there at shows, exhibits, and people coming through our offices that are showing us lots of different things. I won't comment on any specifically, but none of them is ready to come to market in a way that's a great reading experience."
Further information
According to Epson, its S1D13524 will be sampling in June for $24. Production quantities will be available in December, the company says.
More information on the S1D13524 may be found on Epson's website, here.
---
This article was originally published on LinuxDevices.com and has been donated to the open source community by QuinStreet Inc. Please visit LinuxToday.com for up-to-date news and articles about Linux and open source.