Jul 6, 2010 — by LinuxDevices Staff — from the LinuxDevices Archive — 1 views
Pixel Qi has begun shipping its power-saving, transflective LCDs to do-it-yourselfers, who can install them in 10.1-inch netbooks. The displays work in both color and monochrome e-paper modes, and are said to require up to 80 percent less power of an ordinary display.
Pixel Qi (pronounced "Pixel Chee"), which describes itself as a "fabless developer of a new class of screens," is a spinoff from OLPC (One Laptop Per Child), where the former's founder Mary Lou Jepsen is said to have invented the sunlight-readable display technology used on the XO-1 laptop (pictured below). The technology allows a portable computer's screen to be switched from a standard, backlit color mode to a reflective monochrome mode, saving power and allowing the device to be used even in direct, strong sunlight.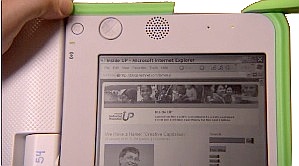 The XO-1's monochrome eBook mode
Pixel Qi first showed off its screens at the 2009 Computex show in Taiwan, at which time it claimed the displays would be available in netbooks later in the year. The company also said that production would have reached "hundreds of thousands a month" by early 2010.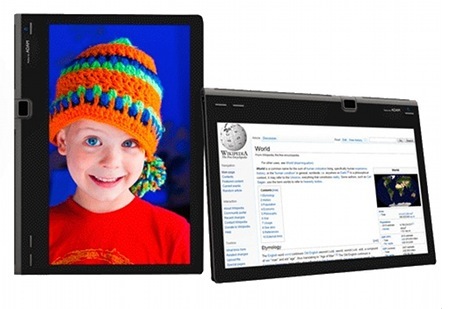 Notion Ink's Adam
None of that appears to have transpired, and, as far as we're aware, just two Pixel Qi-equipped devices have been announced. The first was an Android-based tablet, the Adam (above), from India-based startup Notion Ink. An early version of the Adam was shown at January's Consumer Electronics Show (CES), but the device still hasn't shipped.

Jepsen (left) admitted in an April blog entry that "our initial manufacturing partner did get slowed down in the midst of the economic crisis," but added that Pixel Qi would reward the faithful by releasing kits allowing do-it-yourselfers to install the screens on their netbooks. On July 1, she blogged, "as of today these screens are available to the DIY community through O'Reilly Media's Make magazine and its online DIY store Maker Shed."
According to Jepsen's posting, the screens are designed to fit typical 10.1-inch netbooks with a resolution of 1024 x 600 pixels. They're viewable even in direct sunlight, are "ideally suited for e-reading applications," and, when in reflective mode, consume 80 percent less power than the standard screens they replace, she adds.
Jepsen warns that replacing a netbook's existing display with a Pixel Qi screen will likely void any warranty and is "a DIY project at your own risk." But, she claims, "changing the screen of your netbook is easy; the process takes about five to ten minutes using a small screwdriver."
According to the data sheet for Pixel Qi's PQ 3Qi-01, the DIY screen includes a LED backlight unit and a 40-pin LVDS interface. As well as operating in a conventional mode where the backlighting is used, the device operates in a transflective color mode — still with 1024 x 600 pixels — and in a reflective black and white mode with 64 grayscales, the company says.
Pixel Qi says the PQ 3Qi-01's black and white mode can offer resolution of up to 3072 x 600 pixels for e-reading purposes. On an otherwise unmodified netbook, there would presumably be no way to invoke this mode, however. As a Make forum posting further warns, if a netbook was designed so it cannot completely disable display backlighting, some of the potential for power savings will be lost.
A pricey experiment
What's most likely to deter would-be experimenters at this point is that the PQ 3Qi-01 costs $275, according to the Maker Shed website. That's almost as much as the price of the netbooks likely to be used with the upgrade.
Still, high cost didn't prevent the initial batch of PQ 3Qi-01s from being sold out in about 24 hours. Maker Shed says it is currently accepting pre-orders and will ship more of the displays in several days.
According to Maker Shed, the kits are guaranteed to work only with two netbooks, the Samsung N130 and Lenovo S10-2. A Make video (below), however, shows the PQ 3Qi-01 being installed in an Acer netbook, and describes the process as being "only slightly more complicated than changing a light bulb."

Installing a Pixel Qi screen on an Acer netbook
Source: Make
(click to play)
Background
Unlike the electrophorescent displays offered by E Ink Corporation, Pixel Qi's screens use conventional LCD technology. Thus, they require at least some power whenever they're on.
The delayed Pixel Qi screens will apparently face competition from another reflective, power-saving technology, the Mirasol displays created by Qualcomm's MEMS (micro-electro-mechanical systems) division. Already produced in 1.2- and 1-4-inch versions for simple devices, Mirasol screens will be manufactured this year in a 5.7-inch, 1024 x 768 pixel version aimed at tablet PCs, DigiTimes reported in April.
Like Pixel Qi screens, and unlike E Ink displays, the Mirasol panels can display video at 30 frames per second, Qualcomm claims. In addition, the Mirasol screens are touted as using little or no power when a static image is being shown.
Meanwhile, in addition to the Notion Ink Adam mentioned earlier in this story, a second Pixel Qi-equipped tablet is in the works, according to Engadget. The website reported last month that Taiwan-based Innoversal used June's Computex event to show off the "Lattice," a 10.1-inch tablet that combines a Pixel Qi screen with capacitive touchscreen technology.
Said to support Windows 7, Android, Ubuntu, or Chrome OS via a 1.66GHz Intel Atom N450 processor, the Lattice could go on sale in September for between $530 and $550, Engadget claims. Hoping that the story's accurate, we think we'll hold off on ripping about our netbooks, at least for now!

A demonstration of the Innoversal Lattice
Source: Engadget
(click to play)

Further information
The blog entry cited above by Pixel Qi's Mary Lou Jepsen may be found here.
The Maker Shed page for ordering the Pixel Qi PQ 3Qi-01 kit may be found here.
More about the Notion Ink Adam may be found on the company's website, here. More about the Innoversal Lattice may be found in the Engadget story, here, and on the Innoversal website, here.
---
This article was originally published on LinuxDevices.com and has been donated to the open source community by QuinStreet Inc. Please visit LinuxToday.com for up-to-date news and articles about Linux and open source.