Jul 26, 2011 — by LinuxDevices Staff — from the LinuxDevices Archive — 2 views
SanDisk announced a 2.5-inch SSD (solid state drive) aimed at the retail market, with capacities ranging from 60GB to 240GB. Meanwhile, Intel reported a rare problem with its similar SSD320 devices, some of which have been erroneously claiming they have only 8MB of capacity.

SanDisk says its new Ultra SSDs (pictured) for the retail market are "designed to extend the life of desktop and notebook PCs and offer greater performance, durability and power efficiency than a hard-disk drive." The drive comes in 60, 120 and 240GB sizes, list-priced at $130, $220 and $450, respectively, according to the company.
Touting silent operation and long-term reliability, Sandisk says the Ultra SSDs have a MTBF of up to 1,000,000 hours. Data can be read at up to 280MB/sec. and written at 270MB/sec., the company adds. (As you'll read later, Intel has claimed a somewhat better MTBF but slightly slower transfer rates for its rival SSDs.)
Kent Perry, director of product marketing for SanDisk, stated, "Replacing a computer's hard-disk drive with the SanDisk Ultra SSD is more cost effective than buying a new PC. Our new SSD delivers greater speed and reliability than a hard disk drive."
In June, SanDisk expanded its Lightning EFD (Enterprise Flash Drive) family with six 2.5-inch 6Gbps SAS (serial-attached SCSI) models. The Lightning products are part of the new ESS (Enterprise Storage Solutions) division that SanDisk created following its recent acquisition of Pliant Technology.
The Lighting EFD drives include three SLC (single-level cell) flash drives with capacities of 100, 200, and 400GB; and three MLC (multi-level cell) flash drives with capacities of 200, 400, and 800GB. SanDisk noted that HP has qualified and integrated the new Lightning 6Gb SAS drives into its HP Qualified storage drive offerings.
According to SanDisk, the Lighting EFD drives include: a full duplex, fully independent, dual-port SAS interface; wide-port support for integrators needing to aggregate bandwidth from both SAS ports; and a write cache-less design that eliminates data loss on power interruptions. Data protection and reliability features include background Patrol Read and Memory Reclaim, extended ECC, triple-redundant ECC-protected metadata, and support for the T10 Data Integrity Field standard, the company adds.
Intel SSDs sometimes downsize themselves to 8MB
Intel says it has been investigating a "Bad Context 13x Error," seen on select units of the company's SSD320 drives and previously noted in an Intel community post as an "SSD Power Loss." The company summarizes the error by saying that after an unexpected power loss, a "small percentage" of SSDs may report themselves to a PC's BIOS as having only 8MB of storage — not exactly what a customer had paid for.
The company adds that it has reproduced the Bad Context 13x Error using "strenuous" testing methods, and will address it via a firmware update which is in the process of being validated. Users with SSD320 drives who are concerned but currently unaffected by the error should back up their data regularly, be sure to follow a system's standard shutdown process, and minimize unplugging the SSD while their computers are powered, according to Intel.
The Bad Context 13x Error appears to be rare, we're relieved to add. (All the stories that appear on WindowsForDevices.com or its sister publication LinuxDevices.com have been written or edited on a computer whose boot disk is a 160GB SSD320, suggesting we should change our backup schedule from "weekly" to "nightly.")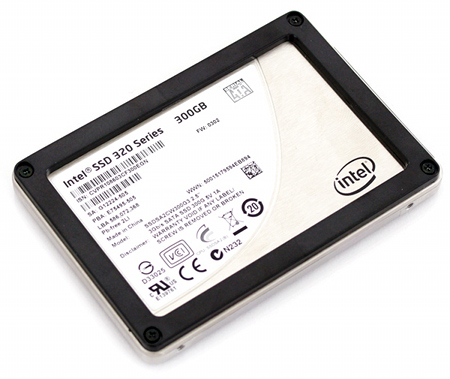 The 320GB version of Intel's SSD320
(Click to enlarge)
Launched at the end of March, the SSD320 drives use 25nm fabrication. Compared to previous SSDs from Intel, they were touted as offering lower pricing, sequential write speeds that have doubled in speed, plus new encryption and data protection features.
At the time, Intel said reliability had been improved two different ways:
an array of surplus NAND flash is provided on the drive, so that if and when the controller encounters a faulty NAND array, it can reconfigure itself to reduce the prospect of data loss
small onboard capacitors provide enough reserve power for the drive to complete any data writes that were in progress, even if power fails
The SSD 320 devices — all SATA II-interfaced — are offered in hard disk-rivaling 300GB and 600GB sizes, as well as the 40GB, 80GB, 120GB, and 160GB capacities that were found in Intel's previous X25-M generation. Read and write speeds vary, as this [PDF-formatted] data sheet shows.
For all but the entry-level drive, however, 270MB/sec. reads are cited. The top 600GB offering is claimed to write data almost as fast (200MB/sec.), while the 160GB drive has a 165MB/sec. write speed, according to Intel.
Nathan Eddy is a writer for eWEEK. Jonathan Angel added reporting to this story.
---
This article was originally published on LinuxDevices.com and has been donated to the open source community by QuinStreet Inc. Please visit LinuxToday.com for up-to-date news and articles about Linux and open source.