Dec 22, 2010 — by LinuxDevices Staff — from the LinuxDevices Archive — 3 views
The ZigBee Alliance announced a new standard touted as a milestone in allowing IR (infrared) remote controls to be replaced by more modern RF (radio frequency) equivalents. "ZigBee Input Device" includes native support for multitouch and gestures, the ability to define special functionality, and mechanisms for updating devices that are already in the field, the group says.
The San Ramon, Calif.-based ZigBee Alliance calls its new ZigBee Input Device "the global standard for greener, innovative and easy-­to-­use mice, keyboards, wands, touchpads and other input devices used with computers and consumer electronics devices." Compared to 30-year-old IR technology, it will offer extended battery life, longer range, two way communications, and non-line-of-sight operation, adds the organization.
Using 2.4.GHz ZigBee technology — which, it's claimed, can co-exist with 802.11 Wi-Fi and Bluetooth without problems — ZigBee Input Device is said to build on the earlier ZigBee Remote Control standard. The latter, in turn, was built on top of the ZigBee RF4CE (Radio Frequency for Consumer Electronics) standard announced in March 2009 (see later in this story for details).
According to the Alliance, ZigBee RF4CE was designed for devices ranging from keyless entry systems, to garage door openers, to home entertainment devices. The upward-compatible ZigBee Input Device standard adds native support for multitouch and gesture commands, including pinching and zooming, the organization says.
It's said ZigBee Input Device-compliant products will provide the ability to define special functions "and enhanced performance beyond the standard behavior of a mouse, keyboard, or similar input device." Downloadable updates will allow new features to be added to devices at any time, the Alliance further claims.
Devices will be easy to use via simple push-button pairing, says the Alliance. They'll have no trouble interoperating with existing ZigBee Remote Control-equipped HDTVs, set-top boxes, and other products, the organization adds.
Bob Heile, chairman of the ZigBee Alliance, stated, "ZigBee Input Device offers CE and computer accessory manufacturers a standard that makes their products greener and more intelligent. It builds on the existing ZigBee Remote Control standard, adding features to enable a richer entertainment experience. It also gives set-­top boxes, HDTVs and other consumer electronics device manufacturers a significant additional market capability."
The new standard is now available to the approximately 400 members of the ZigBee Alliance, according to the group. However, no word was provided about when products employing it will be marketed.
Background on RF4CE
Based on the 2.4GHz PHY/MAC IEEE 802.15.4 standard, ZigBee RF4CE was the result of a merger between the RF4CE consortium — whose founding members were Panasonic, Philips, Samsung, and Sony — and the ZigBee Alliance. It's said one of several factors driving its adoption was the increasing screen sizes on plasma and LCD televisions, whose stray IR output was forcing manufacturers to use multiple, larger LEDs on their remote controls.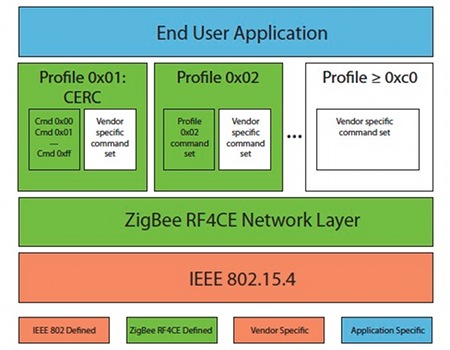 ZigBee RF4CE network architecture
According to the Alliance, ZigBee RF4CE (see backgrounder in PDF format) uses three channels (15, 20, and 25) in the 2.4GHz range, being able to operate on one or more of them. The technology uses PANs (personal area networks) with two types of devices, the group adds: target devices, which can start networks in their own right, and controller devices, which can join previously started networks.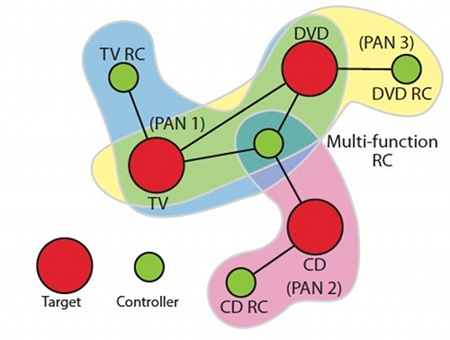 A sample ZigBee RF4CE network
The Alliance-supplied figure above illustrates three target devices — a TV, a DVD player, and a CD player, each of which creates its own ZigBee RF4CE PAN. Dedicated remote controls are paired to each target device, but a multifunction remote control may be added to the network by successively pairing to each target, the organization explains.
Among the many vendors involved with ZigBee RF4CE is Freescale, which created SynkroRF, the lightweight networking stack that was built on top of 802.15.4 and formed the basis of RF4CE. In August, Freescale announced its MC1323x family of ZigBee RF4CE SoC (system on chips), incorporating 8-bit microcontrollers, 802.15.4 radios, flash memory, and RAM.
In September, meanwhile, Texas Instruments (TI) announced what it touted as "the first fully optimized IEEE 802.15.4 system-on-chip." The company says its CC2533 includes a "best-in-class transceiver," 64KB or 96KB of programmable flash for ZigBee RF4CE, a downloadable "RemoTI" protocol stack, plus peripherals including five-channel DMA, 23 GPIOs, two USARTs, SPI, I2C, and four timers.
Both the Freescale and TI devices for ZigBee RF4CE are said to be sampling now. We haven't seen word, however, on whether the newly announced ZigBee Input Device standard will require additional hardware that has yet to be announced.
---
This article was originally published on LinuxDevices.com and has been donated to the open source community by QuinStreet Inc. Please visit LinuxToday.com for up-to-date news and articles about Linux and open source.