Sep 21, 2009 — by Jonathan Angel — from the LinuxDevices Archive — views
Via has announced two new motherboards for products it calls "netnotes," splitting the difference between the netbook and notebook monikers. The Surfboard VT6549 and VT6552 offer HD video playback, courtesy of the VX855 chipset, and are also offered inside built-up "NetNote Turnkey Systems," the company says.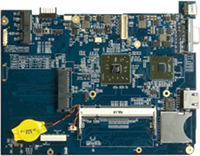 Hoping to spur adoption of its 32-bit C7-M ULV and 64-bit Nano CPUs in portable computers — the "NetNote" mashup only serves to underline the fact that Via doesn't really care what the devices are called — Via has released a variety of appropriate motherboards and cases recently. For example, in March the chipmaker came out with the Surfboard C855 pictured at right.
A key feature of the Surfboard C855 touted by Via was the board's "flawless playback of high bit-rate 1080p HD video," courtesy of the recent VX855, a core-logic chip that combines northbridge and southbridge functionality, uses just 2.3 Watts, and measures only 27 x 27mm. According to Via, this chip permits decoding of H.264, MPEG-2, MPEG-4, and VC-1 video, while using only 40 percent of a host CPU's resources.
While the VX855 supports Via's Eden, C7, and Nano processors, the Surfboard C855 was disappointing in that it apparently supported only the C7-M ULV. Meanwhile, a subsequent reference design — the eNote Turnkey Solution announced just last week — stepped up to a 1.3GHz Nano CPU, but used Via's earlier VX800 northbridge/southbridge instead of the VX855.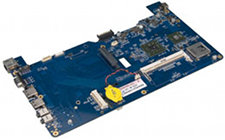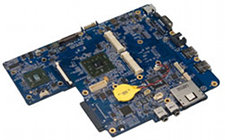 Via's VT6549 (left) and VT6552 (right)
(Click either to enlarge)
Now, Via has united the Nano (the C7-M is still offered, for those who prefer it) and VX855 on two new mainboard designs for portable computers, the VT6549 (above left), and the VT6552 (above right). The company hasn't released dimensions, but the VT6549 appears to target 12-inch notebooks — sorry, netnotes — and the VT6552 appears to target 10-inch devices.
As the amount of empty real estate on the VT6549 underlines, the two boards offer near-identical components and functionality. (For those who care, Via explains that the VT6549's card reader chip is a Genesys GL827S, while that on the VT6552 is an ITE IT1337E. Similarly, the PATA-to-SATA chip on the larger board is a Sunplus SPIF223B, and a Marvell 88SA8052-TBC2 on the larger one.)
Both boards team the processors and chipset already mentioned with a single SODIMM socket (up to 2GB of RAM), support for LVDS displays, and dual Mini PCI Express slots. Both also offer SIM card slots, and are available with unspecified WLAN and WAN capabilities, according to Via.
Via says the VT6549 and VT6552 include VGA outputs, microphone inputs, headphone outputs, dual USB ports, and RJ45 connectors for gigabit Ethernet. The boards both support either three-cell, 24.4Wh batteries, or six-cell, 48.8Wh batteries, according to the company.
NetNote Turnkey Systems
For customers who don't want to design their own cases, Via offers the simultaneously announced NetNote Turnkey Systems (pictured below), which presumably have the VT6549 and VT6552 inside, though this wasn't spelled out. Like the boards, the Turnkey Systems are said to offer either the C7-M ULV or Nano processor, feature the VX855 companion chip, and support up to 2GB of RAM.

Via's NetNote Turnkey Systems
Via says the NetNote Turnkey Systems are available with either 10.1-inch or 12.1-inch screens, with resolutions of either 1024 x 600 or 1366 x 768 pixels. VGA-resolution webcams are fitted, and hard drives may be either 160GB or 320GB, according to the company.
Other specifications provided for the NetNote Turnkey Systems are as you'd expect from having read the above details of the main boards, and include the following:
802.11b/g wireless networking
EVDO/WCDMA wide area networking
Ethernet port with RJ45 connector
VGA port
2 x USB 2.0 ports
Audio I/O and stereo speakers
3-cell or 6-cell batteries
Via says that the Turnkey Systems will weigh under 2.2 pounds, but didn't provide case dimensions. The devices will run all popular Linux distributions, as well as Windows XP and Windows Vista, the company adds.
Richard Brown, VP of marketing for Via, stated, "NetNotes are illustrative of the type of device that is possible after artificial restrictions on screen size, resolution and connectivity are removed. Light, snappy ultra mobile devices with notebook-level functionality are what consumers want and what the NetNote category of device provides."
Availability
Via didn't reveal when products based on the Surfboard VT6549 and VT6552 or NetNote Turnkey Systems will be released, but says the devices will be on show at its "Via Global Mobility Bazaar Alliance" event, scheduled for Sept. 25 in Shenzhen, China.
Information about the Surfboard VT6549 and VT6552 may be found on the Via website, here. Information about the NetNote Turnkey Systems may be found on the Via website, here.
---
This article was originally published on LinuxDevices.com and has been donated to the open source community by QuinStreet Inc. Please visit LinuxToday.com for up-to-date news and articles about Linux and open source.