Oct 3, 2007 — by LinuxDevices Staff — from the LinuxDevices Archive — 46 views
ARM Ltd has started shipping a multicore-enabled version of its top-of-the-line application processor core for complex OSes such as Linux. The "Cortex A9" will support four-way architectures, clockspeeds over 1GHz, and single-core applications requiring four times the performance of ARM11 within a 250mW power envelope, ARM claims.
The A9 succeeds ARM's A8 core, introduced two years ago at the high end of ARM's "Cortex A" portfolio of processor cores. The A8 in turn succeeded ARM11, which just within the last year has started to appear in shipping consumer devices such as mobile phones.
Like the A8, the A9 core is touted as having a similar power envelop and silicon cost to ARM11, while delivering lots more performance — three times more, in the case of the A8, and "four to 16 times more," in the case of the A9.
Unlike the A8, the A9 arrives with support from the outset for ARM's MPCore interconnect technology. MPCore technology can support SoC (system-on-chip) designs with up to four A9 cores, initially.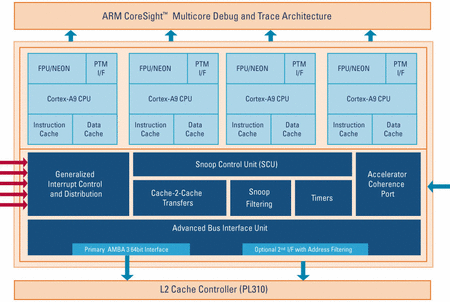 ARM Cortex A9 in MPCore configuration
(Click to enlarge)
Used standalone, on the other hand, the A9 will offer about 2,000 DMIPS (Dhrystone MIPS) of performance, within the same 250mW power budget found in today's handsets and set-top boxes, ARM claims — presumably referring to devices based on ARM11 cores built on process technology smaller than 90nm.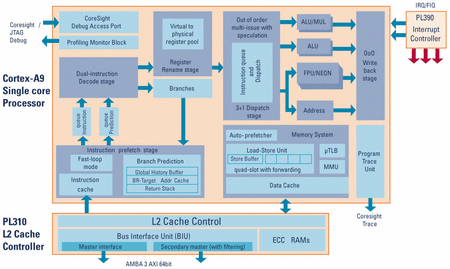 ARM Cortex A9 in single-core configuration
(Click to enlarge)
The A8 core was
selected by Broadcom
for use in unspecified SoCs earlier this year, and will begin to ship in consumer devices later this year and early next year, ARM said. The A9 reportedly has amassed customer wins that include NEC Electronics, NVIDIA, Samsung, STMicroelectronics, and TI, with product shipments not expected before 2009, however.
ARM says the A9 is compatible with other Cortex family processors, and with software, middleware, and operating systems developed for them. ARM's own compatible intellectual property is said to include Neon media processing engine, Thumb-2 8- and 16-bit instructions, TrustZone pre-boot security features, Jazelle Java acceleration, Mali graphics, and the Program Trace Macrocell, potentially enabling use with the recently announced RealView Profiler dynamic code analysis tools.
Additional touted features and specs include:
Dynamic length, 8-stage superscalar, multi-issue pipeline with speculative out-of-order execution
Can execute up to four instructions per cycle in devices clocked at more than 1GHz
Available with ARM Advantage standard cells and memories "for a traditional and convenient synthesizable flow
1.5 square mm of silicon area, when implemented on TSMC's 65nm process technology
In a statement released by ARM, IDC analyst Mario Morales commented, "Multicore support for the Cortex family will help extend the range in performance and power to support the growing demand for converged services and devices."
Mike Inglis, executive VP of marketing at ARM, added, "The Cortex-A9 processors will allow innovation with efficient, cost-sensitive uniprocessor and high-performance multicore implementations for end equipment in the 2009/10 timeframe."
MontaVista CTO Jim Ready added, "We support multiprocessor platforms today, and are committed to supporting ARMv7 and the Cortex series of intelligent processors."
Availability
The Cortex-A9 single core and MPCore processors are available for licensing now, along with supporting products such as ARM's RealView SoC Designer, RealView System Generator, CoreSight debugging tools, and RealView Development Suite, and Trace/ICE hardware tools. Pricing was not disclosed.
---

This article was originally published on LinuxDevices.com and has been donated to the open source community by QuinStreet Inc. Please visit LinuxToday.com for up-to-date news and articles about Linux and open source.